Programming News and Views
Send your programming press releases, news items or comments to: NewsDesk@i-programmer.info
---
Android Development - Constant Churn


14 Nov

|

Mike James



With the Android Dev Summit just over it is a good time to reconsider where we are in the light of what was, and was not, announced.
---
Explore More on Complexity Explorer


14 Nov

|

Sue Gee



There's a new facility on Complexity Explorer that lets you browse over 700 Complex Systems Science Resources. This will help anyone wanting to learn more locate relevant courses, tutorials, videos and web content at levels from beginner to technically advanced.
---
Dremio 3.0 Adds Data Catalog


13 Nov

|

Kay Ewbank



There's a new version of Dremio, an open-source project designed to give business analysts and data scientists a way to explore and analyze data no matter what its structure or size. New in this release are a data catalog, prioritized workload management, and Kubernetes support.
---
Help For Mobile App Devs From Text Mining


13 Nov

|

Lucy Black



Mobile app developers need to react quickly to reviews that reflect dissatisfaction. Statisticians at Cornell have found a faster way for developers to respond, with a new text-mining method that aggregates and parses customer reviews in one step.
---
FSF Update Rules Commons Clause Non-Free


12 Nov

|

Sue Gee



The Free Software Foundation has added the Commons Clause to its list of non-free licenses among a number of recent updates to its licensing materials. Other changes clarify the GNU GPL position on translating code into another language and how to handle projects that combine code under multiple licenses.
---
Visual Studio Code Python Gets Data Science Kit


12 Nov

|

Kay Ewbank



Microsoft has added new features to the Python extension for Visual Studio Code that can be used to work with data interactively in Visual Studio Code. The feature can be used to explore data sets or to incorporate machine learning models into applications.
---
Facebook Dead Will Inevitably Outnumber Live Users


11 Nov

|

Lucy Black



Facebook has had a huge impact on the lives of its users, connecting individuals to their family and friends as never before. As time passes so do people, and there will come a point when more Facebook profiles will belong to deceased users than to living ones.
---
AI News Anchor - A First For China


10 Nov

|

Sue Gee



Two AI avatars that can read news in English and Mandarin were unveiled last week. This adds TV News Anchor to the long list of jobs in which machines will soon replace humans.
---
November Week 1


10 Nov

|

Editor



Every day I Programmer has new material - book reviews, articles and news - written by programmers, for programmers. Each week our digest gives a handy summary of the latest content. While you are here there's plenty more to explore, whatever topics you are interested in.
---
£84 Million To Bring Code Into Classrooms


09 Nov

|

Sue Gee



The UK Government's Department for Education has announced an investment of £84 million to improve the teaching of computing and drive pupil participation in computer science with the launch of the National Centre for Computing Education.
---
Ring UI Adds Light And Dark Support


09 Nov

|

Kay Ewbank



There's an updated version of the Ring UI controls for use when building web applications in JetBrains. The updated version handles light and dark environments as well as supporting CSS properties and modules.
---
Facebook GraphQL Gets Own Foundation


08 Nov

|

Alex Denham



Facebook has set up a new open source foundation for its GraphQL project, hosted under the Linux Foundation. The aim is to enable widespread adoption and help accelerate development of GraphQL and the surrounding ecosystem.
---
TimescaleDB Production Ready


08 Nov

|

Kay Ewbank



TimescaleDB, an open-source PostgreSQL extension for time-series that is optimized for fast ingest and complex queries, has been released as production ready by its developers.
---
Can You Build A Self-Driving Car In Six Months?


07 Nov

|

Mike James



Building a self-driving car is difficult. It has to be or they would be all around us driving us to places at our command. So can you build one in just six months? It seems you can.
---
Register For Google's First Ever DevFest OnAir


07 Nov

|

Sue Gee



Google Developer Groups has announced an online conference featuring sessions from DevFest events around the globe taking place on December 11th and 12th. Simply register with your Google account to be reminded of the event and be able to watch at the time.
---
Learning to Sound like a Fender


06 Nov

|

Harry Fairhead



Bassman 56F vacuum tube amplifier, that is. Yes, neural networks go where no network has gone before. It is now officially amazing what you can think up for a neural network to do.
---
Java 8 Still Dominates


06 Nov

|

Kay Ewbank



Most Java developers are sticking with Java 8 or older versions despite Java 11 now being available, according to a new survey of Java developers. More than 10,000 developers completed the survey, making it the largest JVM survey ever undertaken.
---
Node.js Updated


05 Nov

|

Kay Ewbank



Node.js 10.x has become the latest long term support (LTS) release, and Node.js 11 has moved into its place as the current release line for the next six months.
Other Articles
Book Review
---
Visual Data Storytelling with Tableau
Tuesday 13 Nov
Author: Lindy Ryan
Publisher: Addison-Wesley
Pages: 272
ISBN: 978-0134712833
Print: 0134712838
Audience: Data users
Rating: 3
Reviewer: Kay Ewbank
This is a book that is more about the author's thoughts on why and how you can present information in a way that will get your audience's attention than it is about Tableau.
Featured Articles
---
Fundamental C - Condition Variables
Harry Fairhead
Condition variables seem to be hard to understand and tricky to use when you first meet them. However, they allow you to do things that are difficult to do any other way. This extract is from a forthcoming book on C in an IoT context.
---
PHP Control Structures 1 - if and else
Mike James
Getting to grips with programming or a new language is a matter of mastering the flow of control. This is the key idea in programming and understanding it makes the difference between a programmer and a non-programmer.
---
JavaScript Async - Custom Async
Ian Elliot
If you want to write JavaScript apps that are responsive, you have little choice but to master the art of creating your own non-blocking asynchronous functions. In this chapter extract we look at ways of working with the event queue to keep the UI working.
---
The Paradox of Artificial Intelligence
Harry Fairhead
What do we mean by "intelligence" in practical terms. And once we adopt an operational definition does it defeat the whole idea of "artificial intelligence"? The solution might be to realize that intelligence isn't a property, but a relationship.
---
The Programmers Guide To Kotlin - Anonymous and Lambda Functions
Mike James

Languages that don't allow functions to exist as entities in their own right make things difficult without many advantages. Kotlin introduces features to allow functions to be treated in more flexible ways, in particular to be used as parameters to other functions.
Unhandled Exception!
Modified Bayes' Theorem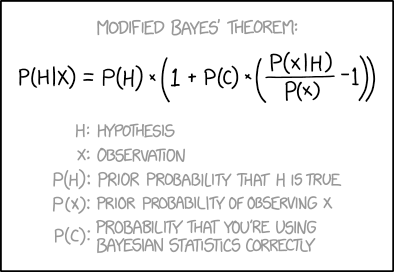 Click for larger image
This is amusing. Of course, data scientists, or statisticians as we use to call them, aren't perfect and many mistakes are made and so it makes sense to factor in the probability of such a misunderstanding into the calculation of the posterior. But, and this is a very big but, if you can find yourself a Bayesian look them in the eye, use a mirror if you are a Bayesian, and ask them
"What is this P that you keep calculating? Does it have a real physical interpretation in all cases? What is the P that the sun will rise tomorrow and where is your replication?"
Beliefs are dangerous things.
More cartoon fun at xkcd a webcomic of romance,sarcasm, math, and language
---
Book Watch

Follow Book Watch on Twitter

Book Watch is I Programmer's listing of new books and is compiled using publishers' publicity material. It is not to be read as a review where we provide an independent assessment. Some but by no means all of the books in Book Watch are eventually reviewed.
---
R for Data Analysis (In Easy Steps)
Wednesday 14 Nov
This book is aimed at anyone who wants to produce graphic visualizations to gain insights from gathered data. Author Mike McGrath begins by explaining core programming principles of the R programming language including the storing of data in vectors from which simple graphs can be plotted. Next he describes how to create matrices to store and manipulate data from which graphs can be plotted to provide better insights and then demonstrates how to create data frames from imported data sets, and how to produce advanced visualizations.
<ASIN:1840787953>
---
Julia 1.0 Programming 2nd Ed (Packt)
Monday 12 Nov
This book shows how to use Julia to tackle numerical and data problems. Author Ivo Balbaert starts from how to set up a running Julia platform, before exploring its various built-in types. With the help of practical examples, this book walks you through two important collection types: arrays and matrices. In addition to this, you will be taken through how type conversions and promotions work, be introduced to the concepts of homoiconicity (ability to manipulate a program written in Julia as data) and metaprogramming in Julia.
<ASIN:1788999096>
---
Designing Across Senses (O'Reilly)
Thursday 08 Nov
With a subtitle of 'A Multimodal Approach to Product Design', this book looks at how to use different interaction modes to connect speech, touch, haptic, and gestural interfaces into products that engage several human senses at once. Authors Christine Park and John Alderman explain the basic principles behind multimodal interaction and introduce the tools you need to root your design in the ways our senses shape experience. The book explores examples from current designers and devices to describe how these products blend multiple interface modes together into a cohesive user experience.
<ASIN:1491954248>
---
Tableau Unlimited: Basics to Advanced (Books Distinct)
Wednesday 07 Nov
This book is aimed at readers who want to learn to use Tableau, including those new to Information Technology or Data Analytics. Author Chandraish Sinha covers Tableau from basics to advanced, including advanced visualizations and maps. The book contains over 50 exercises based on ten datasets that are provided for readers to practice and become proficient in Tableau.
<ASIN:0999244914>
More Book Watch
---
Previous Book Watch.
Follow Book Watch on Twitter.
Publishers send your book news to:
bookwatch@i-programmer.info
---