UK College For Cyber Security To Open At Bletchley Park
Written by Sue Gee
Friday, 25 November 2016
A National College of Cyber Security to address the critical skills gap in the cyber security industry is planned to open in 2018. It is to be based at Bletchley Park, home of the UK's World War II code breaking effort using the currently derelict Block G, which is undergoing a £5 million restoration.
The plans for an educational facility for talented 16 to 19 year olds where 40% of the of the curriculum would be devoted to cybersecurity alongside on maths, physics and computer science come from, QUFARO, new not-for-profit group designed to help deliver the cyber workforce necessary to protect British citizens and organisations against the increasing threat of cyber-attack.
The organisation's name was devised by the late Tony Sale who made it up of random letters on a keyboard. It brings together of senior figures from the Cyber Security Challenge UK; the National Museum of Computing; the Bletchley Park Science and Innovation Centre; the Institute of Information Security Professionals; BT Security; and Raytheon and as well as forming the college plans to nurture new British cyber businesses with the launch of a £50m cyber innovation investment fund next year,
The first intake of 100 students for the National College is expected in 2018. It is intended to be free to all students with around 10% of places being available to day students with the rest being borders enabling those from further afield to apply. Prospective candidates won't need to meet specific academic qualifications, but will be selected through aptitude tests, or on the basis of exceptional technology skills - such as self-taught coders. Over a three-year study period the students will work towards qualifications including A levels or Extended Project Qualification (EPQs). In addition to its boarding school QUFARO will also offers virtual courses, the first of which, the EPQ in cyber security, developed in collaboration with the Cyber Security Challenge UK, is already live. This is a qualification for school pupils and independent learners wishing to study cyber security between GCSE and university degree/vocational level. Having been over subscribed in 2016, its first year, it is expected to be expanded on 2017.
These educational initiatives complement the efforts of government-sponsored Cyber Security Challenge UK, which as we have previously reported runs contests to identify talented code breakers. Its CEO, Stephanie Daman, explained:
There is a critical skills gap in the cyber security industry, which will become ever more pressing as the world around us moves further into an online-first environment. With so much at stake, from personal data to the country's critical national infrastructure, now is the time to act. Initiatives such as the Challenge are successful in identifying those who have great cyber skills to find jobs in the industry; but there is a clear need for a programme to compliment this which looks at cyber education specifically and helps individuals to carve different pathways into the sector – be that through apprenticeships, entrepreneurship or traditional education. It is only once a full cyber education ecosystem is developed that the skills issue can begin to be resolved.
Bletchley Park, with all its associations with Alan Turing, the Enigma Code, Colossus will be the site of the National College and G-Block, one of its largest buildings will house it. A £5m restoration project, funded by the Bletchley Park Science and Innovation Centre, is already underway to convert the building into a pioneering security technology hub.
According to Tim Reynolds, deputy chairman of the National Museum of Computing, also housed in the Bletchley Park grounds, and a director of Qufaro:
"Bletchley Park [is] a natural home for a cyber security college because it's building on the innovation and the work that took place in the Second World War, bringing it up to date and making it relevant again,"

Margaret Sale, a non-executive direction of QUFARO and a founding member of both the Bletchley Park Trust and The National Museum of Computing, said:
Through initiatives such as the National College and the Cyber Investment Fund we can effectively combine the principles of heritage, education and innovation for which everything on this site stands. Previous generations are deeply proud of their contributions at Bletchley Park. I am keen to see what the next cadre will achieve.
---
A Clock For 2023
05/03/2023
I have to admit I have a small passion for freaky clocks. They used to be hard to make, but now with powerful single-board computers and low cost displays they are not so difficult and the fun is inve [ ... ]
---
GNU Octave Improves Graphics Backend
23/03/2023
GNU Octave 8.1 has been released with improvements including changes to the graphics backend, better compatibility with Matlab and a number of new and improved functions.
More News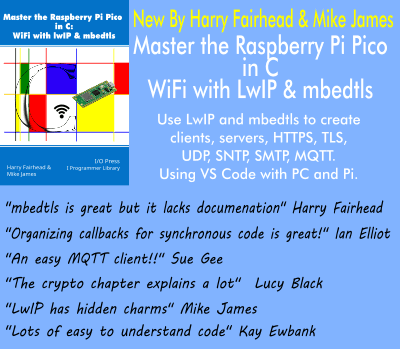 Comments
or email your comment to: comments@i-programmer.info
Last Updated ( Tuesday, 29 November 2016 )