Google Shuts Services But Quietly
Written by Lucy Black
Wednesday, 22 May 2013
Over the past week Google has quietly shut down a number of services while getting us to focus on its shiny new offerings. But there have been some important casualties. The mentality of slash and burn seems to be alive and well at Google.
Google seems to have learned the lesson that putting a load of cuts in a single "spring cleaning" announcement attracts a load of negative attention. In fact it is surprising that it has taken this long to learn the closures and shut downs are generally taken as bad news even if you try to make light of it all.
So for the latest round of closures Google is keeping them isolated in the hope of passing them off unnoticed.
To foil this plan we've gathered them together. If we have missed any, or any of the ramifications, please comment
SMS Search shut down without notice on May 9
SMS Search was a service mainly intended for feature phones without data connections. It allowed users to send search queries by text message to a short number and search results - for example currency conversions, weather and local listings - also came back as text messages.
Users who discovered it no longer worked after it was suddenly withdrawn were disappointed and annoyed. There hasn't been an announcement from Google, although a posting on the Google Search Forum on May 10 by Jess is a tacit acknowledgment that it has indeed been shut without forewarning: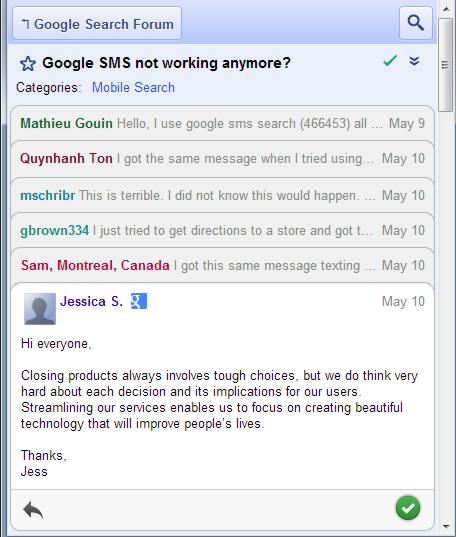 Google+ Games will be shut down on June 30
This is an unwanted side effect of the new Google Play Game Services, announced at Google I/O. Play Game Services involves installing a new SDK to your game - be it Android, iOS or HTML5. You can modify your game so that the player can move from one device to another, share scores with friends and build Android multiplayer games.
The only slight drawback or advantage depending on your point of view is that you game must support Google+ sign in. This is the sign in that oils the social aspects of the game. You also have to use Google+ branding - its part of the terms and conditions. So basically if you want to play a game that uses Google Play Game services you have to sign up to Google+ and this is clearly what Google hopes to gain from the new API. The problem here is that Google has just dropped a games service available to existing Google+ users in the hope of gaining some new Google+ users.

Google Checkout is being discontinued on November 20
Checkout, which was launched in 2006 as a way to make online payments easier, has already merged with its more recent counterpart Google Wallet, but remained as a service to merchants for accepting payments for online shopping. In its announcement of the closure, Google notes that it has arranged migration deals to some third party payment processors and US merchants can apply for Google Wallet Instant Buy, which uses a pre-paid debit card and therefore doesn't involve Google in processing payment. The blog post also says:
Developers selling through other Google properties (such as Google Play, Chrome Web Store and Offers Marketplace) will continue to be supported and will automatically transition to the Google Wallet Merchant Center in the next few weeks.
This seems to be an example of Google dropping one service that is costly to operate to boost another that is presumably more lucrative.
Google Hangouts drops XMPP protocol
Hangouts is Google's new unified messaging solution that replaces Google Talk. Hangouts. On the new Hangouts page, Google advertises the fact that it works on Android and Apple devices and on computers - but only in conjunction with Chrome, but relegates the fact that it does not support XMPP to one of its all-too-familiar warning notices on the Google Talk for Developers page.
XMPP (aka Jabber) was an open standard that Google had helped pioneer. According to Google's director of real-time communications, Nikhyl Singhal, speaking to The Verge, switching away from XMPP for Hangouts was a difficult decision to make.
It is also a decision that has angered Microsoft, which recently announced that its new Outlook.com, the replacement for Hotmail, would integrate to Google's instant messaging using the XMPP protocol. Perhaps Google's motivation is to prevent interoperability with Microsoft - or at least block it when it isn't a two-way channel. In his contribution to the Google I/O keynote, Larry Page said:
"we struggle with people like Microsoft ...I've personally been quite sad at the industry's behavior around all these things [referring to interoperability]. If you take something as simple as IM, we've had an open offer to interoperate forever. Just this week Microsoft took advantage of that by interoperating with us. You can't have people milking off of just one company."
Users of Google Voice are another group that is upset by Hangouts, which breaks the system they have been using. However Google is working on incorporate Google Voice into Hangouts as revealed in a post on Google+ by Nikhyl Singhal:
Hangouts is designed to be the future of Google Voice, and making/receiving phone calls is just the beginning. Future versions of Hangouts will integrate Google Voice more seamlessly.
He also advises that during the period that Hangouts doesn't support outbound calls Google Voice users can continue using Google Talk in Gmail. But Given that Hangouts replaces Google Talk, as well as Google+ Messenger and Google+ Hangouts, we can expected to see a deprecated notice there sometime soon.
What other shut downs is Google hiding in the footnotes to technical documentation?
Certainly moving away from the spring cleaning model makes if more difficult for us to track what is going on. Many developers are now suspicious of Google's moves to introduce any new API as so many are being engineered to drive traffic to another Google property - usually Google+. This generally means that the new API doesn't always provide something better and it usually means it kills off something that is already working.
In sunnier times Google could do no wrong and its introduction of advanced, innovative, and often open, services was exciting and invigorating. Now Google has to be seen as a Machiavellian plotter designing services not for straightforward reasons of opening up new technical areas, but for reasons that are to do with marketing. Google may not do evil but it is certainly looking increasingly evil in the minds of many developers.
More Information
Google SMS not working anymore?
What's happening to Google+ Games?
Related Articles
Google Reader To Close July 1, 2013
Google Apps Drops Microsoft Formats
Google Not Interested in Screwing Over Developers
More Spring Cleaning from Google
Google continues its mass clearout
More Casualties of Google's Clearout
Google Insists On Google Wallet
Google Wallet - developer unfriendly
To be informed about new articles on I Programmer, install the I Programmer Toolbar, subscribe to the RSS feed, follow us on, Twitter, Facebook, Google+ or Linkedin, or sign up for our weekly newsletter.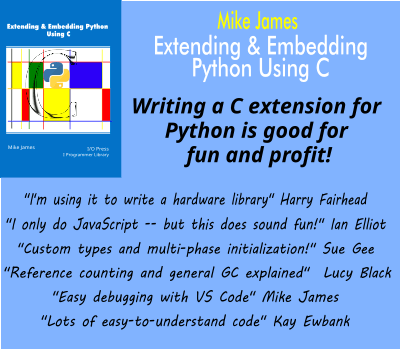 Comments
or email your comment to: comments@i-programmer.info
---
AI Ready - Certification From Amazon
29/11/2023
Amazon aims to provide free AI skills training to 2 million people by 2025 with its new 'AI Ready' commitment. Building on its existing scholarship program with Udacity, next year Amazon is [ ... ]
---
Amazon Working On Olympus LLM
24/11/2023
According to Reuters, Amazon is working on a large language model (LLM), codenamed "Olympus". With, reportedly, 2 trillion parameters, it is twice the size of OpenAI's GPT-4 model.
More News
Last Updated ( Wednesday, 22 May 2013 )