The Life and Times Of Admiral Grace Hopper - Infographic
Written by Rebecca Hill
Friday, 09 December 2016
Today we celebrate the 110th anniversary of the birth of Grace Hopper. In programming circles she is often referred to as Amazing Grace. This infographic, which provides a timeline of Hopper's many and varied contributions shows why.
Grace Murray was born in New York City on December 9th, 1906. During a career spanning more than 60 years she earned the titles of PhD graduate, computer engineer, software developer and decorated Naval officer.
Storagepipe Solutions created this infographic to provide a timeline of Hopper's greatest achievements, and her integral role in the military and tech industry.
(click infographic for larger version)
Hopper was a trailblazer for women in tech. In 1944, a year after she enlisted in the U.S. Navy, Hopper and her team began work on Mark I, the first computer in America. In the same year, she led a team which solved an equation to make the atomic bomb function – a feat she accomplished in just three months.
Her expertise was also put to use in the development of Mark II and UNIVAC I, the first computer produced for commercial use. During her time on UNIVAC I, Hopper developed the first ever compiler, a software system which translated complex source code into binary code. Seven years later, in 1959, Hopper helped to create COBOL – a primary programming language for business applications.
However, Hopper isn't only defined by her technological expertise, but also her Naval duty. Hopper worked for the Navy until age 60, only to be called to return one year later. At age 65, she retired again – and was called back one more time. She retired for the last time at the age of 79 in 1986 with the title of Rear Admiral - Lower Half.
In 2009 Computer Science Education Week selected Grace Hopper as its icon because of her success in communicating ideas about computer science. If you've never previously seen the Nanosecond video, you'll quickly understand why it went viral and has had over a million views:
Although she died on January 1992, Grace Hopper was recently awarded the Presidential Medal of Freedom, the highest honor the US awards to civilians, which recognizes her legacy as the first lady of software.
Rebecca Hill, a graduate from York University, Ontario who loves all thing tech, is a blogger and outreach coordinator for Storagepipe Solutions, a provider of corporate data protection solutions including online backup and recovery.
---
Gordon Moore Dies Aged 94
26/03/2023
Gordon Moore, the co-founder of Intel who pioneered microprocessor technology and whose name is known for Moore's Law, passed away on March 24, 2023. The announcement of his death was made jointly by [ ... ]
---
Pi Day - Irrational And Transcendental
14/03/2023
It's Pi day again... Even after so many, I still have things to say and think about this most intriguing number. The most important things about Pi is that it is irrational and one of the few transcen [ ... ]
More News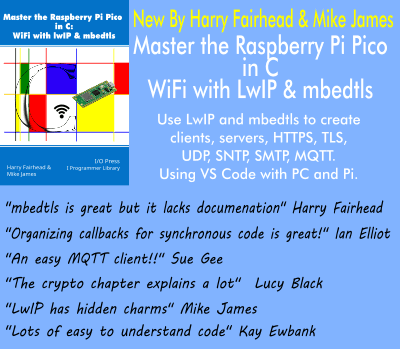 Comments
or email your comment to: comments@i-programmer.info
Last Updated ( Monday, 09 December 2019 )