Play With Your Pet With Telepresence
Written by Lucy Black
Sunday, 24 May 2015
iPetCompanion is a web-based system that lets people view and play with pets remotely. Already a success in animal shelters, it is now looking to provide a home version with a Kickstarter campaign.
A cat called Spot can be given the credit for iPetCompanion, which is an offshoot of Reach-in, a company that has developed technology that can control almost any mechanical device over the internet instantly, and in real time. When one of its engineers was testing a remotely controlled robot arm, it attracted Spot's attention, resulting in hours of play, and this led to the idea the idea of build a pet play system that combines live web viewing with remotely controlled pet toys.
The iPetCompanion website gives anyone, anywhere in the world to play with kittens and puppies in pet institutions located in the United States and has proved a special success with hospitalized children
As people discovered iPetCompanion, requests began to be received for a home version so that owners could both keep an eye on their pets and amuse them while they were out at work or away for any other reason.
Although the existing technology works well it is described as "industrial", that is too expensive and too clunky - large and unattractive - to be a consumer product. So, as Reach-In founder Scott Harris, explains in this Kickstarter video, crowdfunding is being sought to bring a domestic version to market. You can also pledge funds towards putting more iPet systems into animal shelters or to bring its remote pet therapy to more hospitals.
The HomePlay system consists of a high definition, pan and zoom camera and a control box that you plug into your home network and a 3-plug accessory outlet. One toy comes included with the system and suggestions for what you might plug in to the other two are a food/water dispenser, a tennis ball thrower and a hanging mobile.
Design of the HomePlay system is still in development but this is an idea of what it might look like:
(Clockwise from left) Camera; Smart Wall Adapter; Toy Motor with 1/4" quick connect; Control Box. Note: the toy's 1/4" quick connect allows you to change out any 1/4" wand toy that you find at your local pet store.
Although the first batch of Super Early Bird HomePlay systems have been snapped up, there are still savings to be made with Early Bird (expected delivery February 2016) and Kickstarter Special versions (March 2016). Expected retail price is around $250.
Among the limited rewards, and at the top-end of the scale of pledges, is the opportunity to collaborate with iPet as a toy designer/creator and help decide which toys will be available in future.
The campaign is hoping to raise $150,000, of which around15% has been raised so far. It still has three weeks to go so if spread the word among the pet lovers you know, particularly those who are also potential makers and designers.
Of course if you have some skills with the likes of an Arduino then you could put your own version together as part of a nice "automate the pet" project.
---
Advent Of Code 2023 Unlocked
01/12/2023
December 1st is the day on which, each year, Eric Wastl opens a very special advent calendar. You don't get rewarded with chocolates in the Advent of Code - instead it's stars for solving coding puzzl [ ... ]
---
Grafana Adds New Tools
14/11/2023
Grafana Labs has announced new tools to make it easier to analyze application data on Grafana Cloud. The announcements are an Application Observability tool for Grafana Cloud, and Grafana Beyla, the e [ ... ]
More News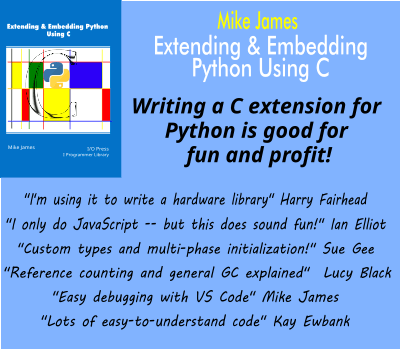 Comments
or email your comment to: comments@i-programmer.info
Last Updated ( Sunday, 24 May 2015 )