Podcasts Explore Impact of IoT
Written by Kay Ewbank
Tuesday, 22 September 2015
The rise of the Industrial Internet as an opportunity for developers is behind Pivot, a new podcast series from GE Digital intended to pique your curiosity about Predix, GE's cloud platform for the Industrial Internet.
GE says that developers creating projects for the Industrial Internet could have a major impact on cities and industries, and that developers should consider moving from targeting the consumer Internet of Things, and think big in terms of large, complex projects for the Industrial Internet.
The term Industrial Internet is simple enough to understand; like the Internet of Things, this refers to combining physical equipment with sensors and software that can be used to interact with the equipment and control it.
Unlike the Internet of Things, the Industrial Internet is about large-scale, industrial equipment and machinery. The Industrial Internet Consortium, founded in 2014 by AT&T, Cisco, GE, IBM, and Intel, is working to spread the message about the Industrial Internet and to:
"coordinate vast ecosystem initiatives to connect and integrate objects with people, processes and data using common architectures, interoperability and open standards".
GE has also been a pioneer of the Industrial Internet in other ways. It has invested $1billion globally in the concept over a three-year period, including research at its software R&D center in San Ramon, California. Projects there include research on identifying the warning signs to predict when GE jet engines will need maintenance to avoid flight delays. Other researchers are developing new user interfaces so that workers in industry will be able to visualize industrial data more easily using visualizations such as maps, simulations, and social networks for equipment. GE's research suggests that using the Industrial Internet could help increase worker productivity by up to 1.5 percent a year.
GE is also working to persuade developers to investigate the Industrial Internet and to work on projects using Predix, GE's cloud-based platform for creating Industrial Internet applications that analyze real-time operational data to create output aimed at business users, access to which is due to open in 2016. GE has created Pivot, a podcast series illustrating the ways developers could use Predix. The podcasts are described as 'semi-fictional', which means they are stories about developers at a fictional software development company, but based on what's really happening in the Industrial Internet.
The podcasts are a mix of an ongoing story involving the fictional developers being heroic in San Francisco after a major earthquake alongside interviews with real major players in the Industrial Internet. You can already listen to Episode 1, which sets the scene for the series; Episode 2 including Tim Connors, who leads AT&T's Internet of Things Services practice; and Episode 3 featuring wearable technology pioneer Jeff Jacobsen.
New episodes are released every two weeks.
---
PHP 8.3 Released
28/11/2023
PHP 8.3 has been released with improvements including explicit typing of class constants, deep cloning of readonly properties, and additions to randomness functionality.
---
AWS Lambda Adopts Java 21
27/11/2023
AWS Lambda functions can now use all the new and useful language features as well as performance improvements introduced in Java 21 as part of the Amazon Corretto JDK implementation.
More News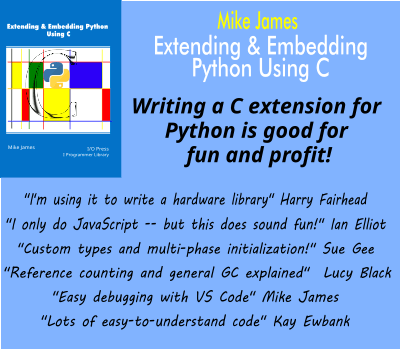 Comments
or email your comment to: comments@i-programmer.info
Last Updated ( Tuesday, 06 October 2015 )