JavaScript Beginners Book Choice
Written by Kay Ewbank
Thursday, 24 August 2017
Page 3 of 3
JavaScript & jQuery: The Missing Manual
Author: David Sawyer McFarland
Publisher: Pogue Press, 2014
Pages:536
ISBN: 978-1491947074
This is a book designed to explain both JavaScript and jQuery together for the beginner. We reviewed the second edition, but it has now been updated to a third edition The book starts with a gentle introduction to JavaScript, but overall mostly treats JavaScript as if it was a scripting language that has some built in objects rather than trying to explain what object oriented programming is all about.
Rating the book as 4 star, Ian Elliot says that:
"Overall this is a well organized and well explained look at JavaScript augmented by jQuery or should that be jQuery augmented by JavaScript."
He says that while the book does spend a lot more time on jQuery at the expense of fundamental JavaScript. As a result while the book is suitable for the complete beginner after reading it you are not going to be a competent JavaScript programmer unless you take the time to read another book. This introduces just enough JavaScript for you to be able to use jQuery and augment it a little. It isn't t for jQuery experts either as sticks to the basics of that too.
Ian sums up the book as being highly recommended as long as you only want to learn enough JavaScript to use jQuery or are happy with finding another book to fill out your JavaScript experience.
Author: Brad Dayley
Publisher: Addison-Wesley (2013)
Pages: 384
Pocket books, or phrasebooks in this case, are something that provide a unique form of summary of a topic. Ian Elliot wondered whether you can provide a pocket reference for a subject as big as jQuery and JavaScript. However, he gave this book a 4.5 rating.
jQuery has more or less become the standard library of JavaScript and it does make sense to deal with them together. In fact, Ian argues, you could say knowing how to use jQuery is part of learning to program in JavaScript. He does say:
"If you don't agree with this then you probably don't want a copy of this book because the amount of coverage of pure JavaScript is mostly limited to the first three chapters, i.e. not much."
This means the book works only if your main interest is jQuery - the JavaScript in the title might as well be dropped as you really do need to know how to program in JavaScript reasonably well to get much out of it. It is also important to realize that the size of the book means that each section is very short and there are no very long examples. If you are looking for a brief explanation then this is all the better.
Ian's conclusion is:
"Overall I liked this book. There are enough helpful boxouts pointing out things you might not have realized to make it useful to the intermediate jQuery programmer as well as beginner. It isn't going to replace a big book of words, but it is handy to have around."
Author: Jon Duckett
Publisher: Wiley 2014
Pages: 640
ISBN: 978-1118531648
Ian Elliot described this as
" a very unusual book and its approach will only suit the complete beginner with a limited technical background. This is not a book for programmers and certainly not for experts. It makes things look simple using a combination of large clear print and lots of pictures."
Given this caveat, he awarded it a rating of 4.5. However, it puts very little actual information on a single page and this is the reason it has 640 pages. It is also very task-oriented. It doesn't really go in for explaining the principles, philosophy or the bigger picture. This is about using JavaScript and jQuery to get particular tasks done.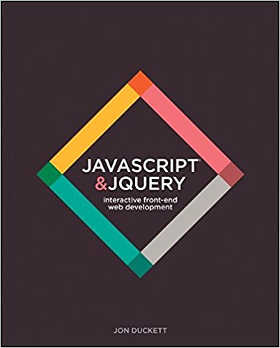 Ian's conclusion is that the book doesn't do anything radical and it certainly doesn't attempt to make the reader into a computer scientist. This is about learning programming to get a very particular job done. Having said this, if the reader has any aptitude for programming this book might help them discover it and then graduate to something more, and so it still comes highly recommended to the right reader.
More JavaScript books
If you think we've missed your favourite JavaScript title there's a chance we have reviewed it but just not included it in this round up. The complete, and ever increasing, list of our JavaScript book reviews can be found here. However, we do know there are more JavaScript titles out there - and as new editions of them come out we will try to cover them.
Meanwhile if you want to give our reviewers reading recommendations then email Bookwatch.
Also on Programmer's Bookshelf
Reading Your Way Into Big Data
Pick of the Shelf - SQL Server 2012
MySQL and MariaDB Database Books
To be informed about new articles on I Programmer, subscribe to the RSS feed, follow us on Google+, Twitter, Linkedin or Facebook or sign up for our weekly newsletter.
---
Just jQuery The Core UI - Modifying The DOM
jQuery provides you with methods for working with the DOM in ways powerful enough to allow you to create custom controls that extend what you can incorporate into an HTML page. But first we must [ ... ]
---
JavaScript Canvas - Web Workers
Graphics needs processing power. In this extract from Ian Elliot's book on JavaScript Graphics we look at how to get started with Web Workers to get the job done faster.
Other Articles
<ASIN: 1491947071>
<ASIN: B00NO8HBCK>
<ASIN: 0321918967>
<ASIN: B00GY49DHW>
<ASIN: 1118531647>
<ASIN: 0470647833>
<ASIN: 1890774855>
<ASIN:0980285801>
<ASIN: B00TJ6UX1M>
Last Updated ( Thursday, 24 August 2017 )