Monday, 06 March 2017
jQuery has developed from its original intent as a way to smooth over the differences in the way browsers interact with JavaScript, into a much more powerful tool that fully lives up to its motto of "write less, do more". As a result jQuery is compact and can seem cryptic until you get used its common idioms. Written for JavaScript developers working with web page layout, Ian Elliot's book enables you to use jQuery easily and efficiently. It also cuts through its seeming complexity, by presenting enough explanation at every stage for you to understand what is happening.
<ASIN:1871962501>
Author: Ian Elliot
Publisher: I/O Press
Date: February 2017
Pages: 214
ISBN: 978-1871962505
Print: 1871962501
Audience: JavaScript developers
Level: Intermediate
Category: JavaScript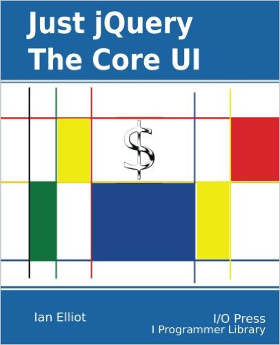 After outlining what jQuery is, how to obtain it and why you should use it, early chapters deal with the essential jQuery - its selectors, filters and DOM traversal functions.
The following chapters look at how to modify existing HTML elements and how to create completely new elements, before going on to more advanced aspects of the UI - storing data and working with forms.
jQuery also provides simple animation functions and to understand these there are chapters on function queues and asychronous animation. Adding custom elements, both to the jQuery UI and to jQuery itself, is the next major topic. The book closes with an explanation of how jQuery's unit testing package, QUnit, lets you write tests to make sure that your JavaScript code works and continues to work.
Also by Ian Elliot
Just jQuery: Events, Async & AJAX
Just JavaScript: An Idiomatic Approach
JavaScript Async: Events, Callbacks, Promises and Async Await


Follow @bookwatchiprog on Twitter or subscribe to I Programmer's Books RSS feed for each day's new addition to Book Watch and for new reviews.
To have new titles included in Book Watch contact BookWatch@i-programmer.info
---
Securing SQL Server
Author: Peter Carter
Publisher: Apress
Pages:366
ISBN: 978-1484241608
Print: 1484241606
Kindle: B07KLW99YM
Audience: DBAs
Rating: 5
Reviewer: Kay Ewbank
As a developer, you're probably well versed in how to write a secure app that won't be vulnerable to attack, but the database component is a whole dif [ ... ]
---
The Phoenix Project
Author: Gene Kin, Kevin Behr and George Spafford
Publisher: IT Revolution Press
Pages: 583
ISBN: 9781942788294
Print: 1942788290
Kindle: B078Y98RG8
Audience: Anyone in IT
Rating: 4.5
Reviewer: Sanjay Kanade
With the subtitle "A Novel about IT, DevOps, and Helping Your [ ... ]
More Reviews