Microsoft SharePoint 2013 Inside Out
Author: Darvish Shadravan, Penelope Coventry, Thomas Resing, and Christina Wheeler
Publisher: Microsoft Press
Pages: 871
ISBN: 978-0735666993
Aimed at: Users of SharePoint who want to learn more
Rating: 4.5
Reviewed by: Kay Ewbank
The Inside Out series of books have a deserved good reputation, and this book is no exception, though the material stops short of full developer topics.
The book starts with an intro to SharePoint and its elements, along with a quick guide to what's new in SharePoint 2013, before moving on to look at what the authors call 'administration for business users' – creating and modifying sites and site content. Next, list and library apps are considered. In the authors' opinion, using lists and libraries is what differentiates between using SharePoint as a proper collaborative platform, or as a glorified file-sharing tool. The chapter covers creating, designing and modifying list and library apps based on SharePoint's templates. Team sites are covered next, including using SkyDrive.
For many users, the strong ties between SharePoint and Office are what make it useful and interesting, and the next chapter shows how Office applications are used with SharePoint. Given the importance of this topic, I think the chapter was a bit skimpy, and even though some of the elements get more coverage as part of later chapters, I'd have preferred more here.
The ever-increasing use of social networking in business means you're likely to need to make use of SharePoint's social networking features. These are covered in Chapter 6 which includesan in-depth look at interacting with community sites and the personal newsfeed facility.
Chapter 8 is a chapter that does have some interest for the developer. The topic of workflows moves SharePoint into the area of automation, starting with how to use Visio to gather workflow requirements. More usefully, there's a reasonable if short guide to creating and editing custom workflows using SharePoint Designer.
The middle part of the book covers topics such as creating and formatting content pages, adding and maintaining web parts, and designing web content management sites. Most SharePoint pages are made up of web parts, so these are topics that are pretty important. On the whole, I thought the material in this part of the book was handled reasonably well. I'd have preferred more depth, but you could learn what's available and how to use it.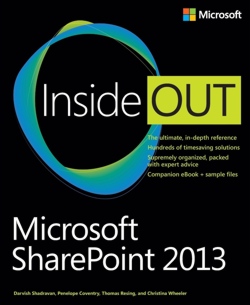 After a chapter on compliance and records management that at least alerts users to the legal requirements, the authors move on to some meaty chapters on business intelligence. There's a chapter on the options for BI in SharePoint – Excel Services, Performance Point Services, and Visio Services - that shows how to create and configure applications using each of these options. Each then gets its own chapter looking at how to use the services – creating dashboards with Performance Point, using PowerPivot with Excel, and how to use Visio drawings and graphics.
SharePoint Search is the next topic of interest. The new features of SharePoint 2013 Search and its interface are tackled first. For developers, the chapter on creating a customized SharePoint 2013 Search facility looks useful, with some good coverage of the different web parts, how to use the query builder, and how to create custom result types. There are also good chapters on creating your own forms using InfoPath, and on working with external content using Business Connectivity Services (BCS) and the Business Data Connectivity metadata store. The chapter on external data shows how to manage the data connections and expose the data on webpages and in lists and libraries. The chapter closes with a brief look at using Visual Studio 2013 with BCS. The final chapter is an introduction to custom development with SharePoint 2013. There are high level introductions to the different APIs, and a short walkthrough of creating a simple app using Napa.
Overall, the book works well for end users who don't know SharePoint and want to get a good overview of what it does and what's possible. If you want to find out about SharePoint from a power user viewpoint, it makes a good read; it's not aimed at developers, but some of the material on workflows and searches is relevant.
---
Python Distilled (Addison-Wesley)
Author: David Beazley
Publisher: Addison-Wesley
Date: September 2021
Pages: 352
ISBN: 978-0134173276
Print: 0134173279
Rating: 4
Reviewer: Alex Armstrong
Python isn't a big language but it's getting bigger all the time.
---
Beginning Programming All-in-One For Dummies
Author: Wallace Wang
Publisher: For Dummies
Pages: 800
ISBN: 978-1119884408
Print: 1119884403
Kindle: B0B1BLY87B
Audience: Novice programmers
Rating: 3
Reviewer: Kay Ewbank
This is a collection of seven shorter books introducing key aspects of programming, but it fails through trying to cover too [ ... ]
More Reviews
Last Updated ( Wednesday, 23 October 2013 )