Open AI And Microsoft Exciting Times For AI
Written by Sue Gee
Wednesday, 16 November 2016
A new partnership between Elon Musk's OpenAI and Microsoft, whereby OpenAI will use Azure for its research into deep learning and neural networks sounds promising in terms of "democratizing AI", something both partners are committed to.
OpenAI is the non-profit designed to promote artificial intelligence as both beneficial for all and open to all. It was founded by Elon Musk, Sam Altman, Greg Brockman and Ilya Sutskever in December 2015 with a $1 billion investment, see AI Goes Open Source To The Tune Of $1 Billion, and quickly began to implement research projects, see OpenAI Gym Gives Reinforcement Learning A Work Out .
The decision by OpenAI to use Microsoft Azure to further its research comes shortly after the formation of Partnership on AI, another non-profit with the ultimate aim of ensuring AI is beneficial rather than harmful to society as a whole, which is AI alliance between Amazon, DeepMind/Google, Facebook, IBM, and Microsoft.
Whereas Partnership on AI has been established to study and formulate best practices on AI technologies, OpenAI is pressing ahead with AI research.
A blog post by Greg Brockman, Ilya Sutskever and Sam Altman yesterday explains the decision to partner with Microsoft from OpenAI's perspective:
We're working with Microsoft to start running most of our large-scale experiments on Azure. This will make Azure the primary cloud platform that OpenAI is using for deep learning and AI, and will let us conduct more research and share the results with the world.
One of the most important factors for accelerating our progress is accessing more and faster computers; this is particularly true for emerging AI technologies like reinforcement learning and generative models. Azure has impressed us by building hardware configurations optimized for deep learning — they offer K80 GPUs with InfiniBand interconnects at scale. We're also excited by their roadmap, which should soon bring Pascal GPUs onto their cloud.
In the coming months we will use thousands to tens of thousands of these machines to increase both the number of experiments we run and the size of the models we train.
We'll share the results of this partnership with everyone: along with publishing our research results, we'll continue releasing open-source software making it easier for people to run large-scale AI workloads on the cloud. We'll also be giving feedback to the Microsoft team so that Azure's capabilities keep pace with our understanding of AI.
It's great to work with another organization that believes in the importance of democratizing access to AI. We're looking forward to accelerating the AI community through this partnership.
A post on the Official Microsoft Blog from Harry Shum reiterates Microsoft's commitment to democratizing AI, making it accessible to everyone and enabling everyone to take advantage of the breakthroughs in AI.
In this brief video clip Harry Shum and Sam Altman share their excitement about these breakthroughs to date and how AI technology can be harnessed in the future:
At the beginning of the conversation Shum asks why is AI so "hot" today and Altman says he thinks the reason is that after 50 years of it making promises it is finally working, something Shum suggests is due to a convergence of multiple forces: having a lot more data, having amazing computing power, especially that from the cloud, referring specifically to Azure and thirdly incredible breakthroughs in deep learning. To this Altman responds with:
I think the AI revolution will be on the order of the Industrial Revolution or the Agricultural Revolution in terms of how much it changes the way our society works and the way we live. I think we are not all that far away from the super tool that will help us do everything we do better. I think we'll be able to save a lot of lives. I think we'll be able to educate our children better. I think this will transform a lot of industries and a lot of society.
Shum's blog post also explains which OpenAI has chosen to use Azure and also indicates that next month even more cloud computing power will be generally available.
We're also excited that OpenAI chose Microsoft Azure as their primary cloud platform, to help advance their research and create new tools and technologies that are only possible with the cloud. OpenAI chose Microsoft due to our deep learning research and ongoing commitment to AI, along with Azure's support for open source technologies and its unique combination of high performance computing, big data and intelligence capabilities such as Azure Batch, Azure Machine Learning and the Microsoft Cognitive Toolkit (formerly CNTK).
OpenAI is an early adopter of Azure N-Series Virtual Machines, which will be generally available starting in December. These virtual machines are designed for the most intensive compute workloads, including deep learning, simulations, rendering and the training of neural networks. They also enable high-end visualization capabilities to allow for workstation and streaming scenarios by utilizing the NVIDIA GRID in Azure.
To know more about Azure N-Series, which having been in preview since August will be generally available from December 1st, see yesterday's post by Corey Sanders, Director of Compute, Azure, on the Azure blog which has links to pricing.
Azure is just part of Microsoft's contribution to the future of AI, representing the infrastructure. Other parts are already open sourced - including its Cognitive Toolkit, the new name for its Computational Network Toolkit (CTNK).
The Democratizing AI article that both blog posts refer to states:
We're taking a four-pronged approach to how we think about Microsoft AI and how we pursue this bold ambition to democratize AI for all:
We're going to harness artificial intelligence to fundamentally change how we interact with the ambient computing, the agents, in our lives.
We're going to infuse every application that we interact with, on any device, at any point in time, with intelligence.
We'll make these same intelligent capabilities that are infused in our own apps — the cognitive capabilities — available to every application developer in the world.
We're building the world's most powerful AI supercomputer and making it available to anyone, via the cloud, to enable all to harness its power and tackle AI challenges, large and small.
For those interested in AI research it's hard not to be excited at this point in time about how AI can impact all our lives for good.
More Information
Advancing our ambition to democratize artificial intelligence
Azure N-Series General Availability on December 1
Related Articles
AI Goes Open Source To The Tune Of $1 Billion
Formation of Partnership On AI
OpenAI Gym Gives Reinforcement Learning A Work Out
Microsoft Cognitive Toolkit Version 2.0 Beta
How Will AI Transform Life By 2030? Initial Report
The Effects Of AI - Stanford 100 Year Study
Autonomous Robot Weaponry - The Debate
Achieving Autonomous AI Is Closer Than We Think
To be informed about new articles on I Programmer, sign up for our weekly newsletter, subscribe to the RSS feed and follow us on Twitter, Facebook or Linkedin.
---
Advent Of Code 2023 Unlocked
01/12/2023
December 1st is the day on which, each year, Eric Wastl opens a very special advent calendar. You don't get rewarded with chocolates in the Advent of Code - instead it's stars for solving coding puzzl [ ... ]
---
The Pi 5 Breaks The Mold
29/11/2023
The Pi 5 is an exciting development bringing even more power for not much additional cost, but it also signals a bigger change in the Pi line-up, obscured by secretiveness.
More News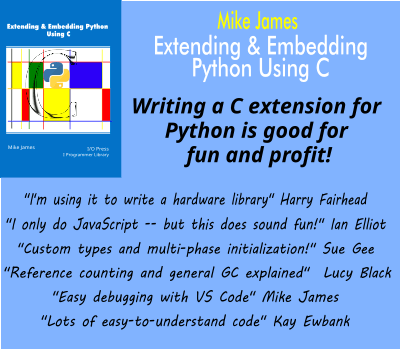 Comments
or email your comment to: comments@i-programmer.info
Last Updated ( Thursday, 09 March 2017 )