Sebastian Thrun on Google's driverless car
Written by Harry Fairhead
Saturday, 02 April 2011
Google's driverless car could save more than 1 million deaths per year and tens of millions of injuries. It is an impressive achievement, but will we allow it to take over the wheel? Sebastian Thrun puts the case for it in a persuasive TED Talk video.
You may have heard of Google's driverless car project, but do you know why it is so significant? Sebastian Thrun is Google's chief engineer on the project and he has recorded a short TED talk that tells you in a very convincing way why he got involved and perhaps as importantly he seems to make a good case that it really does work.
The video shows the view from the car as it drives around public streets and you have to admit that it seems to respond well to hazards such as pedestrians and even performs some impressive trick driving. You can imagine becoming very comfortable with your trustworthy robot driver:
Thrun's vision of the future isn't just based on the idea of taking away the chore of driving but he stresses the idea that humans are simply not that good at the task. Put simply human drivers kill a lot of people every year. Robot drivers can aspire to perfection and kill no-one.
There is something deeply logical about this argument but if you know about programing and AI in particular it also raises some concerns. There have to be bugs and the question is what reaction will there be when a robot driver does kill a human? It may be OK for human drivers to kill millions of people each year but one human fatality might be enough to finish the driverless car project - in fact it might not even take a death as an injury might cause the same backlash.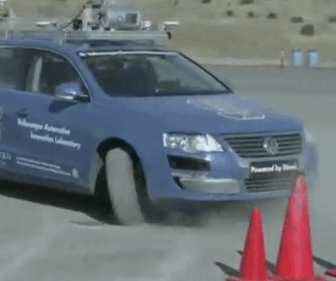 Robot drivers might kill far fewer people than a human driver but it remains to be seen if we can be logical enough to accept the occasional failure of algorithm or hardware.
---
Flutter 3.13 Improves Impeller
28/08/2023
Flutter 3.13 has been released with improvements to Impeller, Flutter's new graphics renderer. The new version also has new Engine APIs for foldable devices.
---
Windows Community Toolkit 8 Adds New Galleries
19/09/2023
Microsoft has released version 8 of the Windows Community Toolkit. The developers describe this as a huge update with an array of improvements and features, including new galleries and a major reworki [ ... ]
More News
Last Updated ( Saturday, 02 April 2011 )