Leap 3D Sensor - Too Good To Be True?
Written by Harry Fairhead
Wednesday, 23 May 2012
The Leap 3D motion control system is the size of iPod, more accurate than a mouse and more sensitive than a touchscreen. See it in action and sign up for its developer program.
Leap represents a new way to interact with your computers. It connects to the USB port of a laptop or PC to create an interactive three-dimensional space and according to Leap Motion's CEO Michael Buckwald:
"It's more accurate than a mouse, as reliable as a keyboard and more sensitive than a touchscreen.
For the first time, you can control a computer in three dimensions with your natural hand and finger movements."
As its introductory video indicates, Leap which is expected to go on sale next year priced at $69.99, has a wide range of uses:
Precise virtual drawing in 2-D and 3-D
Signing a digital document by writing in air
Navigating large-scale 3-D data visualisation systems
Creating and manipulating 3-D models like houses and cars
Playing computer games, including fast-twitch first-person shooters
Leap Motion is releasing an SDK and is offering free sensors to "qualified developers" who want to develop for the system. The company plans an app store where users who've bought the Leap can purchase apps for it.
If the Leap is real then it is a game changer - you can forget the mouse and the Kinect is defunct. There are a few tiny questions however. The first is the claimed accuracy of 1/100th of a millimeter which is 10 microns. This is the sort of accuracy that scientific instruments costing thousands of dollars only just achieve and if a less than $100 device can manage this performance there are going to be a lot of other more serious measurement applications. The device takes the form of a linear bar yet in the demo videos there is enough depth range perpendicular to the bar to render a complete hand - this too is quite remarkable.
Leap say:
Our initial technology breakthrough came from co-founder and CTO David Holz. David was working on a PhD in mathematics from UNC Chapel Hill and left to pursue Leap Motion. Before that, he was conducting research for NASA on fluid mechanics.

There is also no trace of the patent mentioned in a web search (including under its previous name OcuSpec) nor is David Holz listed on UNC Chapel Hill's website. None of this is conclusive evidence that there is something fishy about Leap, but 1/00th of a millimeter is either a "mistake" or a very big breakthrough.
More Information
Apply to become a Leap Developer
Related Articles
The Pen is Mightier than the Finger
Designing Gestural Interfaces (Book Review)
To be informed about new articles on I Programmer, subscribe to the RSS feed, follow us on Google+, Twitter, Linkedin or Facebook, install the I Programmer Toolbar or sign up for our weekly newsletter.
---
Amazon Releases MemoryDB For Redis
02/09/2021
Amazon has released Amazon MemoryDB for Redis, a new Redis-compatible, durable, in-memory database. Amazon says MemoryDB makes it easy and cost-effective to build applications that require microsecond [ ... ]
---
PHP - Essential But Underappreciated
15/09/2021
We always knew that PHP is the common server-side web technology. Even so, discovering PHP is used by almost 80% of websites and that the next most used server-side languages has less than 10% is some [ ... ]
More News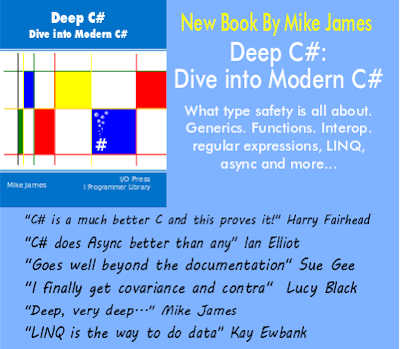 Comments
or email your comment to: comments@i-programmer.info
Last Updated ( Wednesday, 23 May 2012 )