Udacity Launches Data Scientist Nanodegree
Written by Sue Gee
Thursday, 24 May 2018
Udacity has launched a new Data Scientist Nanodegree program. At an advanced level it has projects designed by Bertelsmann, Figure Eight, IBM Watson, Insight, Kaggle and Starbucks which map to the skills these companies are looking for in data scientists they're hiring.
Data Science is a relatively new term, so much so that one of our most read articles is on the question
What is a Data Scientist and How Do I Become One?
Among the salient factors to bear in mind when contemplating Data Science as a career is that the job title is invariably linked to a relatively high salary and the demand for data scientists shows no signs of abating.
As Christian Plagemann, Udacity's VP of Learning Products puts it:
The role of Data Scientist has become vastly more important in recent years, as our connected world continues to produce a staggering volume of data that is immensely valuable, but also increasingly challenging to measure, analyze, and transform into actionable insight.

Skilled Data Scientists who are able to build machine learning models, run data pipelines, design experiments and recommendation engines, communicate effectively to stakeholders, and deploy data applications, are in high demand across industries as diverse as agriculture, conservation, education, finance, healthcare, social services, and transportation.
Udacity already has courses and nanodegree in this area. Turning the clock back to a time before the role was termed "Data Scientist", Udacity added "
Intro to Statistics Making Decisions Based on Data"
to its
catalog as part of its "third crop of university-level courses" and
Jacqueline Spiegel interviewed Sebastian Thrun
to find out, among other things, why he thought statistics was so important. According to Thrun in 2012:
Statistics is a field that is relevant for many people, so anyone using data – Political Sciences, Biology, Physics, almost every discipline in medicine, uses data, and in this class, I'll give students the tools to understand and make inferences with data.
His answer is just as relevant today - except that we might well substitute the more trendy "data science" for the outmoded word "statistics". That course,
Intro to Statistics ST101
taught by Sebastian Thrun, is still in the Udacity catalog as a free self-paced course and it serves as a way into Udacity's Digital Marketing Nanodegree Program. Another free beginner level short course
Intro to Descriptive Statistics
is also available as a precursor to the Data Analyst Nanodegree Program. There is also a Data Foundations Nanodegree for begiiners for learning to manipulate, analyze, and visualize data with Excel, SQL, and Tableau.
So where does the new Data Scientist Nanodegree Program fit? According to its description, this is an advanced level credential, seen as the next step for graduates of the Data Analyst Nanodegree program. As such it requires strong programming and data analysis skills.
It has been developed in collaboration with Bertelsmann, Figure Eight, IBM, Insight, Kaggle, and Starbucks, each of which has contributed datasets to the projects students will build and comprises two terms. The first Machine Learning for Data Scientists, lasts 3 months at a cost of $799 and its three sections, focus on Supervised Learning, Deep Learning, and Unsupervised Learning. Featured projects include using Kaggle to build an algorithm for identifying charity donors, and creating an image classifier.
You can only join the second term, Applied Data Science, having completed the first. It lasts 4 months, costs $999 and in it students will work on projects designed by industry experts, and learn to run data pipelines, design experiments, build recommendation systems, and deploy solutions to the cloud. As a capstone project, students build their own data science portfolio project.
In addition to access to videos and in-depth project feedback, students will also have weekly live sessions with direct access to these Experts-in-Residence:
Adam Massachi - Data Scientist at IBM
Belinda Bennett - Data Scientist at Airbnb
Prashant Dhingra, Machine Learning Expert at Google
Stephen Morton - Data Scientist at Slack
Registration opens today and the classroom opens June 5.
Related Articles
What is a Data Scientist and How Do I Become One?
On Statistics and Open Education: A Brief Chat with Sebastian Thrun
Udacity Introducing Big Data Courses and Paid Enrollment
Udacity Withdraws Jobs Guarantee
Enrol Now For Udacity Intro to Self-Driving Cars Nanodegree
Data Science Course For Everyone Now Online
What is a Data Scientist and How Do I Become One?
Coursera Offers MOOC-Based Master's in Data Science
Algorithms & Data Structures MicroMasters
To be informed about new articles on I Programmer, sign up for our weekly newsletter, subscribe to the RSS feed and follow us on Twitter, Facebook or Linkedin.
---
Windows Community Toolkit 8 Adds New Galleries
19/09/2023
Microsoft has released version 8 of the Windows Community Toolkit. The developers describe this as a huge update with an array of improvements and features, including new galleries and a major reworki [ ... ]
---
Tell A Chatbot "Take a deep breath ..." For Better Answers
20/09/2023
What is to the best way to improve the accuracy of the solutions provided by chatbots based on large language models such as OpenAI's ChatGPT and Google's PaLM 2? The surprising answer is to [ ... ]
More News
Summer SALE Kindle 9.99 Paperback $10 off!!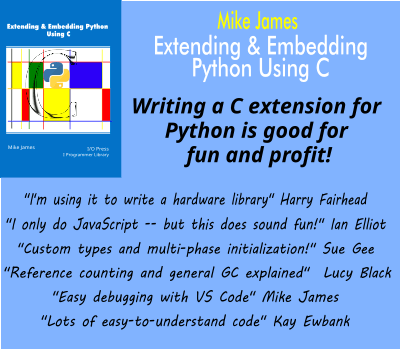 Comments
or email your comment to: comments@i-programmer.info
Last Updated ( Thursday, 24 May 2018 )