New Android Basics Nanodegree
Written by Sue Gee
Tuesday, 28 June 2016
Google has announced a hands-on, project-based Android Basics Nanodegree, for complete beginners, no previous coding required. Google is also offering free scholarships for the intermediate-level Android Developer Nanodegree to the first 50 students to successfully complete it.
Udacity already has an Android Developer Nanodegree, but this is a "Career track course" and you need to be be able to program in Java before you embark on it. This leaves a lot of people looking around for a suitable way to get into Android app programming from scratch.
The same Google team behind the intermediate level course has now come up with a similarly structured, project-based Nanodegree that gives you the grounding and experience required to become an Android app developer.
The Android Basics Nanodegree is anticipated to require 165 hours, during which time enrolled students will work on a graduated series of 10 projects. The first 50 to complete them will earn Google scholarships covering the cost of the Android Developer Nanodegree.
As this contest for scholarships opened on June 22, you might think it's already too late to compete to be among the first 50 graduates. However, so far only two of the courses, covering what is required for six of the projects, are available. Other supporting courses are coming in July and August. So those with a headstart may have to cool their heels for a bit - and also pay the $199 subscription for being enrolled in the Nanodegree for successive months. (Students who complete any Nanodegree within 12 months can expect to get half their tuition back so it could work out at $100 per month).
The supporting course that is the starting point is:
Android Development for Beginners - 4 weeks/6 hrs per week
This course is designed for students who are new to programming, and want to learn how to build Android apps. You don't need any programming experience to take this course. If you've been using a smartphone to surf the web and chat with friends, then you're our perfect target student!
After completing this you'll be ready for the next course Android Basics: Multi-screen Apps, which is also available and is expected to take 4-6 weeks to complete. These Google/Udacity courses are also available free to anyone - but those not enrolled on the Nanodegree won't be eligible to compete for a scholarship.
According to the Scholarship Terms and Conditions the Contest is only open to individuals who are:
at the time of entry are at least 18 years of age on the date of entry


residents of any jurisdiction in the world that does not otherwise ban participation in the Contest


Scholarships will be available solely for enrollees in the Basics Program offered by Udacity. Any other Android developer individual course offering enrollments with Udacity shall not be eligible for participation in this Scholarship program.
You can apply at any time during the Contest Period (which runs until all 50 scholarships have been awarded or December 31, 2016) by taking the online Android Nanodegree Preassessment test and enrolling for the Android Basics Program. What isn't made clear is whether you have to pass or fail this assessment test!
The new Nanodgree already has over 100 reviews with 92% being 5-star ratings. A student awarding only 3 stars notes:
"Not done with it yet!"
which seems to be a fair a comment on being asked to rate something prematurely.
---
Microsoft Discontinues Visual Studio For Mac
31/08/2023
Microsoft is to cease updates for Visual Studio for Mac. The announcement said that there will be security updates and platform update compatibility for the next 12 months.
---
Deno 1.36 Improves Security
07/09/2023
Deno 1.36 has been released with improvements to security and to testing and benchmarking APIs. The team says there are also more robust Node.js and npm package support, and language server improvemen [ ... ]
More News
Summer SALE Kindle 9.99 Paperback $10 off!!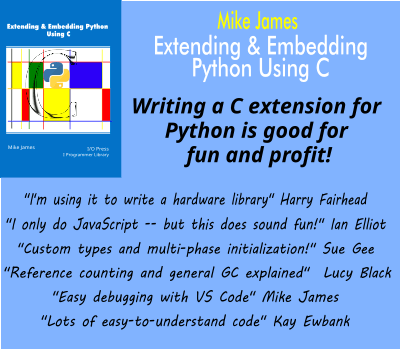 Comments
or email your comment to: comments@i-programmer.info
Last Updated ( Friday, 17 July 2020 )