Google Plus wants developers
Written by Lucy Black
Friday, 01 July 2011
A Google Plus API seems to be in prospect - and you are invited to sign up with Google's new mailing list to be kept informed. Why is this such good news?
You might have heard the news that Google has announced Google Plus which they and others think will be a FaceBook killer. What is interesting is that they have now also asked developers to sign up to a mailing list that promises to keep them informed about the Google Plus API.
What is interesting about this is that there isn't a Google Plus API at the moment. In fact there isn't even any information on when and how one might be available.
So why is this important?
Google Plus looks as if might be a success. After launching the beta Google had to restrict access because of the number of people wanting to sign on. What better publicity could a new service want?
Now users who hadn't heard of it are clamoring to join the queue. At the moment most of the users are far from average and so it is difficult to tell if it really could be a Facebook killer. The only things that seem to be important about it is that it uses as different model for grouping people together - Circles. Essentially this allows you to keep multiple groups of "friends" and share with them only appropriate material. This makes Google Plus more sophisticated and perhaps more useful to businesses. However it also makes the whole thing more complicated and this in turn opens up the possibility of creating applications that help with management and organization.
Add to this the other sophistication, sparks, hangouts, mobile, huddle, etc. - that make Google Plus more attractive to the technical savvy user but more difficult for the average user and you can see that there is a lot of scope for extending, simplifying and automating things that happen on Google Plus.
In short Google Plus is a new development ecosystem that is just waiting for its API to allow the exploitation it so badly needs.
The final word goes to XKCD: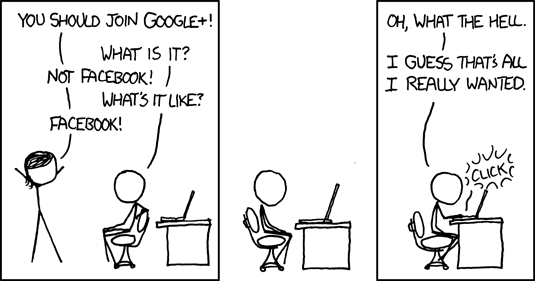 The rollover comment says it all - will people with a commitment to Facebook move or not and does it matter?
More Information
For more information about the Google API sign up to the Google Plus developer mailing list
If you would like to be informed about new articles on I Programmer you can either follow us on Twitter or Facebook or you can subscribe to our weekly newsletter.
---
Eclipse Foundation Working On New Operating System
28/10/2021
The Eclipse Foundation has announced a new working group and top-level project to develop an open source operating system to run on IoT and edge systems.
---
50th Anniversary of First Microprocessor
15/11/2021
Today Intel is celebrating the 50th anniversary of its 4004 microprocessor, the first world's first "computer on a chip" which ushered in the new era of integrated electronics.
More News
Last Updated ( Friday, 01 July 2011 )