Self-Distancing With Fashion
Written by Lucy Black
Wednesday, 10 June 2020
Anouk Wipprecht, the Dutch creator of the Spider Dress, has two new creations using microcontrollers, 3D-printing and sensors that let your clothing solve the problem of social distancing.
If a stranger comes too close, the skirts of her Proximity Dress rise to form a protective barrier.
Anouk explained:
"I haven't made dresses for myself in a long time and I got a bit fed up with people in public not considering the current distancing suggestions, so this one I'm keeping…"
As well as the new Proximity Dress, there's an updated version of the original 2012 Spider Dress which we first reported on when it was powered by the Intel Edison in 2015. Although there's no mention of which microcontroller is responsible for the "hip mechanics" of these dresses, the response uses proximity and thermal sensors which indicate strangers within four zones - the intimate, personal, social and public space.
Extending my research into proxemics and the body, I have fabricated two new dresses that create physical barriers when a person is detected in the immediate surroundings of the wearer.
These twin dresses respond based on proximity and thermal sensors and indicates strangers within the intimate, personal, social and public space around the wearer. Each dress extends itself using robotic 3D printed hip mechanism build into the dress and a resin 3D printed transparent collar with the sensors.
As with my earlier robotic Spider Dress and sensoric Smoke Dress, my designs are based on the Proxemics Theory of Edward T. Hall. This defines four spaces around the body, each with their own characteristic distances. Whereas Hall had to measure the space between people using a wooden stick, I have been working since 2007 to translate these concepts into the digital domain, in order to measure the spaces between people up to a range of 25 feet.
The sensors I use provide virtually noise free distance readings through the use of high-output acoustic power combined with continuously variable gain, real-time background automatic calibration, real-time waveform signature analysis, and noise rejection algorithms. This holds true even in the presence of various acoustic or electrical noise sources, making it suitable for on-body use.
Using such sensors allows me to have my designs trace the world around them invisibly, and do not threaten privacy, as they don't record any video imagery; the people around the wearer stay anonymous.
---
Oracle V Google Android Case Settled
05/04/2021
At long last the 10 year case between Oracle and Google over the copyright or otherwise of the APIs used in Android is settled, the SCOTUS verdict is in.
---
IoT Software Development - the Ins and Outs
26/03/2021
Forecasts suggest that there will be more than 75 billion IoT connected devices in use by 2025. This is an expansion that we cannot afford to ignore.
More News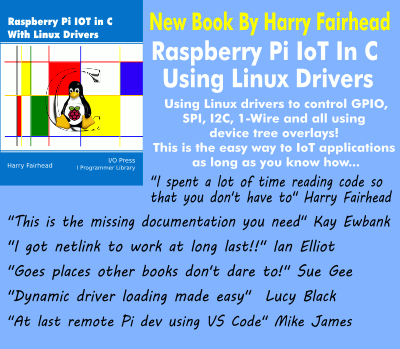 Comments
or email your comment to: comments@i-programmer.info
Last Updated ( Wednesday, 10 June 2020 )