RoboCup 2022 - What's The Score?
Written by Lucy Black
Friday, 22 July 2022
This year's RoboCup took place in Bangkok, Thailand and attracted about 1,400 participants from 39 countries and regions who compete against each other in 17 disciplines.
The original, and continuing, goal of the annual RoboCup contest was that by 2050 a team of soccer robots should be able to beat the human world champions. Each year we have a chance to gauge progress.
RoboCup has come a long way since its inception in Japan in 1997. This year it was the turn of Thailand to host the event and this promo video gives a four-minute overview of the 4-day event:
New for 2022, for the first time selected RoboCup Alumni from startups grown out of RoboCup shared their insights and successes from spinning out advanced technologies and as usual the event closed with the international RoboCup Scientific Symposium on July 17th.
Although the event is no longer just about robot soccer, it is still its headline act and rightly so as it challenges roboticists to engineer machines that can see accurately, respond appropriately and move quickly in a rapidly changing environment. Three other competitions focus on application scenarios. In the RoboCup @Home challenge robots show how they can help around the house while in @Work the focus is on the use of industrial and logistics robots and RoboCup Rescue aims to increase awareness of the challenges involved in search and rescue applications, develop simulators to emulate search and rescue scenarios and develop intelligent agents and robots to participate in search and rescue scenarios.
In addition there is RoboCupJunior, a project-oriented educational initiative that sponsors local, regional and international robotic events for young students. It is designed to introduce RoboCup to primary and secondary school children, as well as undergraduates who do not have the resources to get involved in the senior leagues yet. Young students get robots to play football, present a dance choreography or overcome a rescue course.
In the RoboCup Major Leagues, teams of young scientists, PhD students and professors compete against each other in building autonomous robots that play soccer in eight separate categories. Here's the 2022 final of the MidSize League in which two teams from the Netherllands, Tech United from the University of Eindhoven in the Netherlands and Falcons, made up of employees of ASML, faced each other.
As the score of 16 - 0 suggests, this was a rather one-sided encounter and Tech United won for the 6th time with a score of 15-0, making them the World Champions for the entire RoboCup competition.
As the winners it was Tech United that got to play against team Humans made up of the trustees of the event. This was a more evenly balanced match and the final score was 3-4 with the Humans the winners. Her's the highlights as recorded by Livestream Tech United Eidhoven so a bit biased!
With the wheeled robots at least there was some pace - which is more than you can say about the finals of the Humanoid League:
---
SQLite 3.43 Released
05/09/2023
SQLite 3.43 has been released with new support for Contentless-Delete FTS5 Indexes, as well as better JSON processing.
---
Learn To Chat with Your Data For Free
28/08/2023
"LangChain: Chat with Your Data" is a brand new free and short course by Harrison Chase, CEO of LangChain himself, to learn how to use LLMs to converse with your own data. With around an hou [ ... ]
More News
Summer SALE Kindle 9.99 Paperback $10 off!!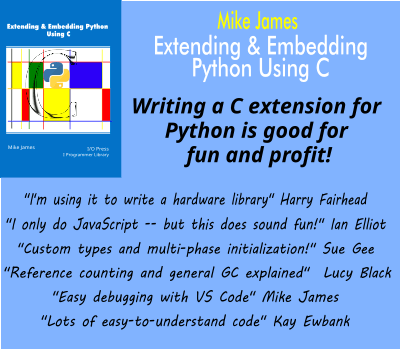 Comments
or email your comment to: comments@i-programmer.info
Last Updated ( Saturday, 23 July 2022 )