New Members Of Amazon's Robotic Workforce
Written by Lucy Black
Sunday, 22 October 2023
Amazon is already has over 750,000 robots and currently testing two new models - Sequoia an inventory management solution, and Digit a humanoid robot that can move while also grasping and handling items. Amazon is also intending to expand its drone delivery service to the UK, Italy and a third US city by the end of 2024.
In 2012, Amazon acquired a robotics company called Kiva, making a big investment in order to improve productivity in the supply chain, while improving the working environment for its human employees. If you want to see Kiva robots in action see our report from 2014.
Sequoia is the latest generation of warehouse robot based on Kiva and with the autonomy introduced with Prometheus. According to a blog post from Amazon this week, it:
integrates multiple robot systems to containerize our inventory into totes, bringing together mobile robots, gantry systems, robotic arms, and a new ergonomic employee workstation. The system works by having mobile robots transport containerized inventory directly to a gantry, a tall frame with a platform supporting equipment that can either restock totes or send them to an employee to pick out inventory that customers have ordered.
Sequoia is operating at one of Amazon's fulfillment centers in Houston, Texas where it is able to identify and store incoming inventory up to 75% faster and reduces the time it takes to process an order by up to 25%.
Meanwhile testing has begun of bipedal robots, described by Amazon as "mobile manipulator solutions" whose "size and shape are well suited for buildings that are designed for humans" at its robotics research and development site.
Digit is from Agility Robotics, a company that in 2022 received investment from the Amazon Industrial Innovation Fund and last month opened RoboFab, a robot manufacturing facility capable of producing more than 10,000 robots per year.
Although Amazon hasn't yet made a firm commitment to using Digit throughout its fulfillment centers, the blog post states:
we believe that there is a big opportunity to scale a mobile manipulator solution, such as Digit, which can work collaboratively with employees. Our initial use for this technology will be to help employees with tote recycling, a highly repetitive process of picking up and moving empty totes once inventory has been completely picked out of them.
Amazon has also announced a new drone, the MK30, which can fly twice as far as previous Prime Air drone models, up to 12 kilometresm and is also quieter and can fly in more diverse weather conditions, including light rain. When we first reported, back in 2013 on Jeff Bezos plans for Amazon Prime Air the idea of using drones to deliver packages within 5 years seemed "slightly fanciful" and "great publicity". In fact it took until 2022 for Prime Air to get off the ground and even now it only covers two locations - in California and Texas - and in its first 6 months had made only 100 deliveries from its two dedicated drone delivery fulfillment centers. Drone delivery is for packages up to 5 pounds in weight and are delivered in one hour or less.
Announcing plans to expand Prime Air to the UK, Italy and an additional US City beginning in late 2024, drone deliveries will be integrated into Amazon's existing delivery network, meaning drones will deploy from some Same-Day Delivery sites.
As a lot of the teething problems have been to do with regulations, Amazon says:
We are working closely with national regulators and international regulators, and communities in the EU, Italy, the U.K., and the U.S., to develop this program."
Another boost for Prime Air announced at the same time is that medications ordered through Amazon Pharmacy will be available by drone delivery, starting immediately in College Station, Texas.
Amazon has set a goal of 500 million global drone deliveries per year by the end of the decade, including those in densely populated suburban areas. It will need help from both its human and it robot workforce to achieve that throughput.
---
Apache Arrow Adds New View Data Types
27/11/2023
Apache Arrow 14 has been released with new view data types for columnar formats, and a wide range of other improvements.
---
Spot + ChatGTP - It's Amazing
03/12/2023
Boston Dynamics' quadruped robot Spot has been given the ability to hear questions and respond to them, thanks to integration with Chat GPT and other AI models. See Spot in action as a tour guide and [ ... ]
More News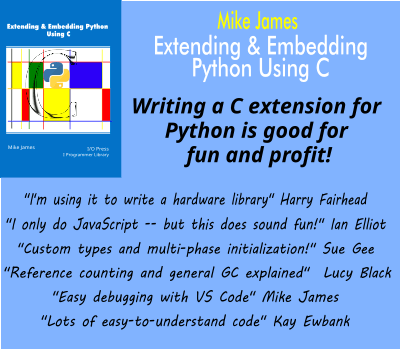 Comments
or email your comment to: comments@i-programmer.info
Last Updated ( Sunday, 22 October 2023 )