Festo's Ants And Butterflies
Written by David Conrad
Saturday, 28 March 2015
Every year around this time of year Festo builds some amazing robot or other - last year it was a kangaroo. What could it possibly do to top previous amazing devices? What about some even more amazing robotic insects.
BionicANT is designed not only look good but to demonstrate swarm intelligence. The robot not only looks like an ant, but it works like one. The design makes use of piezo bending transducers rather than servos to move. These push and pull according to the applied voltage. As they need a high voltage to work, the ant takes an 8.4V Li-Po battery and converts it up to 300V. It can run for about 40 minutes on a charge. As well as being able to move its six legs, it also has a piezo-activated pair of pincers.
It has an RF link with other ants and a 3D stereo camera for localization and object detection. This lets a group of ants work together to, for example, move objects cooperatively. There is also a pair of antennae, but these are used for charging.
The ants are built using Selective Laser Sintering, a form of 3D printing, in a polyamide powder. The electronics is connected together using 3D Moulded Interconnect Devices (MID) which is mounted on the outside of the body.
Watch the video to see the ants in action:
The second insect robot is a butterfly - eMotion. For flying machines these are incredibly lightweight at 32 grams. The bodies are again laser sintered and the wings use carbon fibre rods. Two miniature servo motors are attached to the body and each wing. The electronics has a microcontroller, an inertial sensor consisting of gyro, accelerometer and compass and two radio modules. Flying time is around 3 or 4 minutes.
If you watch the video you might be wondering why they don't collide. The answer is that the room has cameras that track each butterfly via infrared markers that each only carries. The central computer works how to command each butterfly so that collisions are avoided.
Now watch:
Why does Festo spend so much time creating impressive robots?
Simple - all of the techniques can be used in factory automation and that's what Festo specializes in. Wouldn't you want the company that can build ants and beautiful butterfly robots to automate your factory?
Let's hope that this form of self advertising continues and we can look forward to next year's addition.
---
SQLite 3.43 Released
05/09/2023
SQLite 3.43 has been released with new support for Contentless-Delete FTS5 Indexes, as well as better JSON processing.
---
Microsoft Discontinues Visual Studio For Mac
31/08/2023
Microsoft is to cease updates for Visual Studio for Mac. The announcement said that there will be security updates and platform update compatibility for the next 12 months.
More News
Summer SALE Kindle 9.99 Paperback $10 off!!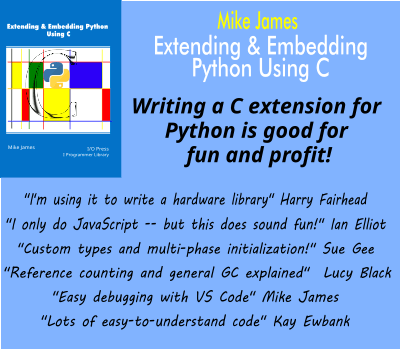 Comments
or email your comment to: comments@i-programmer.info
Last Updated ( Saturday, 28 March 2015 )