Written by Alex Armstrong
Wednesday, 26 March 2014
Oculus VR, which has a virtual reality headset under development, has been snapped up by Facebook in a deal valued at $2 billion. What does this mean for the future of VR?
The head mounted display Oculus Rift is the invention of Plamer Lucky, co-founder of Oculus VR with Brendon Iribe,and was initially funded by a Kickstarter campaign that raised over $2.4 million (£1.5 million) in funds.
John Carmack, the creator of Doom, Quake and well known for pioneering the first-person shooter genre, joined the company as its CTO in August 2013. In December 2013 Marc Andressen, founder of Netscape, joined the company's board when his venture capital firm contributed to its $75 million of Series B funding.
In the space of eighteen months Oculus Rift has gone from foam core prototypes built in a garage to its latest Development Kit 2, which made its debut at last week's Games Developer Conference, as explained in this video introducing how the technology works and the experience it creates:
This latest version of the headset, which costs $350 is for development purposes and is not a consumer product, is expected to ship in July. Since last week it has been available for pre-order already more than 75000 orders have been received.
News of the acquisition has provoked both surprise and anger.
In its press release Facebook quotes Mark Zuckerberg as stating:
"Mobile is the platform of today, and now we're also getting ready for the platforms of tomorrow. Oculus has the chance to create the most social platform ever, and change the way we work, play and communicate."
The Facebook news also quotes Brebdan Iribe, co-founder and CEO of Oculus VR as saying
"We are excited to work with Mark and the Facebook team to deliver the very best virtual reality platform in the world. We believe virtual reality will be heavily defined by social experiences that connect people in magical, new ways. It is a transformative and disruptive technology, that enables the world to experience the impossible, and it's only just the beginning."
On the Oculus blog, a statement from Palmer, Bendan, John and the team tries to appease its developer community by saying:
At first glance, it might not seem obvious why Oculus is partnering with Facebook, a company focused on connecting people, investing in internet access for the world and pushing an open computing platform. But when you consider it more carefully, we're culturally aligned with a focus on innovating and hiring the best and brightest; we believe communication drives new platforms; we want to contribute to a more open, connected world; and we both see virtual reality as the next step.
Most important, Facebook understands the potential for VR. Mark and his team share our vision for virtual reality's potential to transform the way we learn, share, play, and communicate. Facebook is a company that believes that anything is possible with the right group of people, and we couldn't agree more.
This partnership is one of the most important moments for virtual reality: it gives us the best shot at truly changing the world. It opens doors to new opportunities and partnerships, reduces risk on the manufacturing and work capital side, allows us to publish more made-for-VR content, and lets us focus on what we do best: solving hard engineering challenges and delivering the future of VR.
In a letter sent to the team at the same time Brendan states:
Oculus will continue to operate independently. We're staying Oculus, we're still building the Oculus Rift, our email addresses are remain @oculusvr.com, and most importantly, our hoodies will still say Oculus.
Judging from reaction on the Internet not everybody is confident that this will be the case and Markus Persson, creator of Minecraft has already cancelled a deal to take Minecraft to Oculus.
When the dust settles will this partnership accelerate the adoption of VR and widen its reach?

In his announcement yesterday Zuckerberg suggested that gaming was just the beginning, saying:
"We're going to make Oculus a platform for many other experiences. Imagine enjoying a courtside seat at a game, studying in a classroom of students and teachers all over the world or consulting with a doctor face-to-face — just by putting on goggles in your home. This is really a new communication platform."
Facebook may well be explaining away this strange acquisition, but the fact that it has to work so hard to explain it, just points out how odd it is. Facebook isn't a tech company like Google or Microsoft and it doesn't make hardware or consumer software, for that matter. When you think about it for even a moment it makes more sense for Microsoft to have acquired Oculus as it really needs something to put up against Sony's announcement of a VR device for the Play Station. Even Google makes a more sensible partner with its interest in devices such as Glass and Chromecast and VR like Google Street View, Earth and so on.
So what is Facebook going to do with it - probably not much.
As the Oculus team is keen to stress, Oculus will remain Oculus.
More Information
Letter to the Team from Brendan Iribe
Related Articles
Yann LeCun Recruited For Facebook's New AI Group
Sight - A Short Movie About Future AR
Google Glass - How it Could Be
Augmented Reality Is Magic (Video)
To be informed about new articles on I Programmer, install the I Programmer Toolbar, subscribe to the RSS feed, follow us on, Twitter, Facebook, Google+ or Linkedin, or sign up for our weekly newsletter.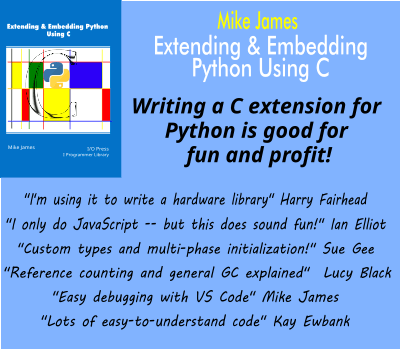 Comments
or email your comment to: comments@i-programmer.info
---
Holiday Gifts For Programmers
19/11/2023
As Black Friday looms, the well-organized among us are hitting the shops to be ready with our festive gifts, though I doubt many of us are as ready as the friend who told me they've already finished w [ ... ]
---
Microsoft Open Sources Terminal Chat
05/12/2023
Microsoft is making Terminal Chat, an AI feature for Windows Terminal that was announced at Microsoft's Build 2023 conference, open source.
More News
Last Updated ( Wednesday, 26 March 2014 )