The Most Exciting Thing At Google I/O - A Piece Of Cardboard
Written by Harry Fairhead
Friday, 27 June 2014
Google handed out pieces of cardboard at this year's I/O 2014, but not any old piece of cardboard. This one piece of cardboard could change everything - sort of.
You take the cardboard, cut it out, add a rubber band, two magnets, some Velcro and magnifying glasses and you have a virtual reality viewer.
No this isn't a joke.
And no you don't just look through the holes and pretend that the real world is virtual.
What you do is place a mobile phone so that the screen is visible through the magnifying lenses. You then have to use a free app that Google has created and view its output through the lenses. Your eyes are presented with two stereo images and hence you see the result in 3D.
Occulus Rift it isn't, but it is just a piece of cardboard after all.
If you recall that Facebook paid $2 billion to buy the VR headset maker, you might start to think of reasons why Google liked the idea of doing things on the cheap!
The magnets are the clever part. When you pull and release the ring on the side, the phone's magnetometer detects the movement and interprets it as a click - who needs Google Glass to tap the side of their head!
The free app lets you use Google services such as YouTube and Google Earth. There is also a Chrome Experiment that you can use to try out a VR game, music video and a classic 3D stereoscopic photo. There is also a VR Toolkit, complete with tutorial, that you can use to create your own Android VR app.
You may think that Google Cardboard is a joke, and we have to admit it is a bit of a shock, but it might just open the door to people trying out the 3D experience. It is next to free and it mostly works. As the Google Cardboard web site says:
"We want everyone to experience virtual reality in a simple, fun, and inexpensive way. That's the goal of the Cardboard project.
Virtual reality has made exciting progress over the past several years. However, developing for VR still requires expensive, specialized hardware. Thinking about how to make VR accessible to more people, a group of VR enthusiasts at Google experimented with using a smartphone to drive VR experiences.
The result is Cardboard, a no-frills enclosure that transforms a phone into a basic VR headset, and the accompanying open software toolkit that makes writing VR software as simple as building a web or mobile app.
By making it easy and inexpensive to experiment with VR, we hope to encourage developers to build the next generation of immersive digital experiences and make them available to everyone."
You see - innovation is alive and well at Google.
If you can't be bothered to make your own Cardboard, there is a company making them for $19.95.
---
Google Resumes Transition To Manifest V3
17/11/2023
Google has resumed the planned deprecation of Manifest V2, giving notice to Chrome extension developers that Manifest V2 extensions will be phased out as early as June 2024 in the prestable versions - [ ... ]
---
Holiday Gifts For Programmers
19/11/2023
As Black Friday looms, the well-organized among us are hitting the shops to be ready with our festive gifts, though I doubt many of us are as ready as the friend who told me they've already finished w [ ... ]
More News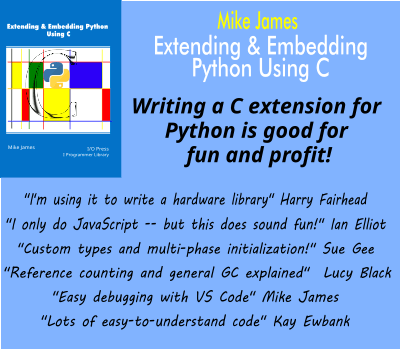 Comments
or email your comment to: comments@i-programmer.info
Last Updated ( Friday, 27 June 2014 )