Raspberry Pi Photo Competition Results Are Stunning
Written by Harry Fairhead
Saturday, 02 August 2014
The results of the Raspberry Pi photo competition organized by Adafruit have been revealed and, while the prizes awarded might seem low, the results are amazing.
This isn't a photo competition of the sort you might be used to. The Raspberry Pi has its own low cost camera module that comes in two forms - a standard video unit and the same thing but with the IR filter removed.
What is really important, however, is not the nature of the camera unit - although a low cost infra red camera does open up possibilities - it is the processing available. The Pi isn't the most powerful of machines but it is capable of doing image processing and it is cheap enough to put into projects that you wouldn't dream of using a full size PC for. Want to send a camera in a balloon? No problem the Pi is light enough. Want to build a wildlife camera? No problem the Pi is cheap enough to risk .. and so on.
The result is that photos taken with the Pi aren't just happy snaps or pretty pictures. Instead they are experiments with what you can do with computational photography. They also seem to turn out to be not just pretty pictures but stunning, thought-provoking images.
Take a look at the winner to see what I mean (and make sure you click on the photo to see the full resolution image):
The photo was taken by a panoramic camera, Panobot, built and used by Andrew Mulholland. It's a Lego construction complete with some stitching software:
You can see the Pi's camera sticking up in the air on top of the rotating platform. More details of the build including video of it in action can be found at Andrew's website.
Here are more of my favorites:
An automatic collage by Tommy Mintz:
A nature photo auto snapped by Etienne Cochon:
A shot from a helium balloon created by an 8th grade Pi class under the supervision of Charlie Galliher:
There are more at the competition site and you can find more out about the winners and the annual competition from the following video:
It looks like a great idea and now is the time to start building your entry for next year. The only entry rules seem to be that you have to use the Pi and nothing but the Pi - i.e. no photoshopping.
The entry cost is low - $35 for a Raspberry Pi and $25 for the camera. Of course, there will be a few dollars more for the extras and the thousands of dollars in time and effort you put into it!
---
AWS Lambda Adopts Java 17
15/05/2023
AWS Lambda functions can now use all the new and useful language features as well as performance improvements introduced in Java 17 as part of the Amazon Corretto JDK implementation.
---
Imagine Cup World Champions 2023
26/05/2023
Three teams, the top team from each of the contest's three regions took part in the ultimate stage of the Imagine Cup and travelled to Seattle to make their final 3-minute pitches to the panel of thre [ ... ]
More News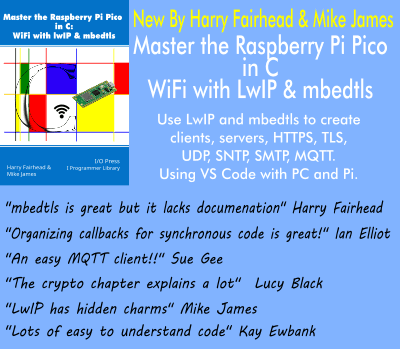 Comments
or email your comment to: comments@i-programmer.info
Last Updated ( Saturday, 02 August 2014 )