Microsoft Kills The Kinect
Written by Mike James
Sunday, 29 October 2017
This is a very strange "end of era" story. The Microsoft Kinect 3D sensor is dead and gone. How can such a ground breaking device be removed? Before you ask, there doesn't seem to be an alternative.
There are a number of things that are strange about this news. The first is that it isn't official. The news was broken in an "exclusive" interview that Alex Kipman, creator of the Kinect, and Matthew Lapsen, GM of Xbox Devices Marketing, gave to Co.Design. There is no sign of any announcement on the Kinect developer web site and the Microsoft store lists the device as "out of stock". You can find it listed on Amazon and lots of used devices are available on eBay.
It leaves us all with an uncertainty that is very typical of Microsoft and product culls.
For example, if you visit the Kinect developer site it all seems to be business as usual. It encourages you to built Kinect Universal Windows Apps. I wonder if there should be a law which allows programmers to sue companies who encourage them to build apps after the framework or device has been killed off.
Most of the other accounts of the Kinect affair are focusing on the failure of the Kinect for the Xbox and how gamers never really adopted it. Perhaps it would be truer to say that as a gaming device it never really found its mark apart from dance and exercise routines. That Microsoft, having first decided to bundle the Kinect with the Xbox and then decided that it would lose out to cheaper games consoles, backed out, was probably a good move. Thinking that the Kinect could ever be a mainstream games input device was probably the major error. The Kinect may have had some use in games, but it was as an innovative general input device that it really scored a hit.
Microsoft are estimated to have sold over 35 million Kinects and this makes it difficult to see why they need to kill it off. From an outsider's point of view it looks as if the Hololens project, also created by Kipman, is its new favourite. Another odd fact is that, as the Hololens makes use of the new V5 Kinect internals, Microsoft isn't going to be able to stop manufacturing them. Why then withdraw them from the market?
If you have followed what actually happened with the Kinect you will know that open source drivers were created and the device was hijacked by people wanting to put it to all sorts of impressive and creative uses. Every week there would be some amazing new project showcased and I Programmer covered quite a few of these. We even started to write a book on how to program the Kinect, Practical Windows Kinect in C# but gave up when Microsoft lost interest in the WPF UI library and refocused on WinRT and WinRT apps. The future looked too uncertain to pour so much effort into something that was beginning to look dodgy.
The Kinect was, and is, the basis for many an innovative application and the developer site still has discussions of writing new apps and publishing them. The question is what are people going to do to replace the Kinect in their products and experiments? There used to be an Asus lookalike, but that is out of stock at the moment and it doesn't look much like a live product any more. Intel has a range of devices, but they aren't particularly well marketed and are designed to track hands and heads rather than map rooms or track people. There is the Leap input device, but it is just a hand and finger tracker. Put simply, there are no consumer priced depth cameras that have the capabilities of the Kinect.
If you have any one-off projects that make use of the Kinect I would advise buying up used units on eBay as quickly as possible.
The final twist is that with Alexa taking over the voice-controlled world, we can possibly mark up another missed opportunity for Microsoft. One of the abilities of the Kinect was an active microphone array and, yes, you could have said "OK Microsoft" and had a chat with Cortana, but it never happened. Even today Microsoft hasn't quite missed the boat because with its AI technologies it could have a better product than Alexa or Google Home.
What new Microsoft madness is the killing off of Kinect?
I can only hope that someone will speak up and say it isn't so. but somehow I don't think it's going to happen.
More Information
Exclusive: Microsoft Has Stopped Manufacturing The Kinect
Related Articles
Practical Windows Kinect in C#
A Pi And A Kinect Autofocus A DSLR
Kinect SDK 2 And An Xbox Adaptor
AquaTop Display - A True Immersive Interface
Kinect plus a glass wedge gives ...
Dumping .NET - Microsoft's Madness
To be informed about new articles on I Programmer, sign up for our weekly newsletter, subscribe to the RSS feed and follow us on, Twitter, Facebook or Linkedin.
---
What Languages Do Devs Want to Learn?
17/11/2020
Python, of course. What comes as a surprise is the size of the margin between Python and the rest of the pack. The other unexpected finding is that JavaScript doesn't even make it into the top 10. So, [ ... ]
---
Guido van Rossum Joins Microsoft
13/11/2020
Creator of Python, Guido van Rossum, has joined Microsoft as a Distinguished Engineer in the Developer Division. His stated aim is to make Python better. We can't wait to find out what that results in [ ... ]
More News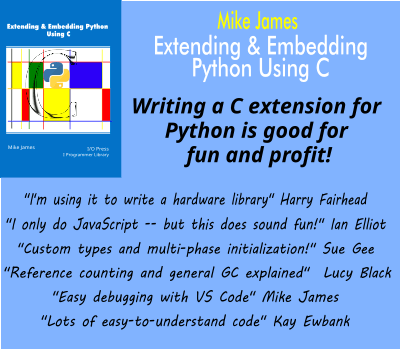 Comments
or email your comment to: comments@i-programmer.info
Last Updated ( Sunday, 29 October 2017 )