Grace Hopper & Margaret Hamilton Honored With Presidential Medal of Freedom
Written by Sue Gee
Tuesday, 22 November 2016
Two women programming pioneers were among 21 recipients of the United States' highest civilian honor, the Presidential Medal of Freedom, awarded by President Obama at today's ceremony at the White House.
According to President Obama in the announcement ahead of today's event:
"The Presidential Medal of Freedom is not just our nation's highest civilian honor - it's a tribute to the idea that all of us, no matter where we come from, have the opportunity to change this country for the better. From scientists, philanthropists, and public servants to activists, athletes, and artists, these 21 individuals have helped push America forward, inspiring millions of people around the world along the way."
Recipients on this occasion, the final time that President Barak Obama is involved in their selection, include athletes Michael Jordan and Kareem Abdul-Jabber, stars Diana Ross, Tom Hanks, Robert Redford and Robert de Niro, architect Frank Gehry and Bill and Melinda Gates for their philanthropic work.
There are two posthumous awards. One is Elouise Cobell, a Blackfeet Tribal community leader and advocate for Native American self-determination and financial independence who inspired a new generation of Native Americans to fight for the rights of others.
Grace Hopper, who died in 1992 but continues to be an inspiration for women in computing, is the other. The White House announcement reads:
Rear Admiral Grace Hopper, known as "Amazing Grace" and "the first lady of software," was at the forefront of computers and programming development from the 1940s through the 1980s. Hopper's work helped make coding languages more practical and accessible, and she created the first compiler, which translates source code from one language into another. She taught mathematics as an associate professor at Vassar College before joining the United States Naval Reserve as a lieutenant (junior grade) during World War II, where she became one of the first programmers of the Harvard Mark I computer and began her lifelong leadership role in the field of computer science.

Grace Hopper's name is immediately recognizable, as "Mother of Cobol", the person responsible for the term computer bug and debugging and for her encouragement of younger generations of programmers. On the other hand, until recently few people knew of Margaret Hamilton, who at the age of 80 is CEO of Hamilton Technologies which continues to develop Universal Systems Language (USL). The announcement reads:
Margaret H. Hamilton led the team that created the on-board flight software for NASA's Apollo command modules and lunar modules. A mathematician and computer scientist who started her own software company, Hamilton contributed to concepts of asynchronous software, priority scheduling and priority displays, and human-in-the-loop decision capability, which set the foundation for modern, ultra-reliable software design and engineering.
During his presidency, Barak Obama has done a lot to promote K12 computer science education and to empower girls and minorities to have equal opportunities in the software industry. Honoring Grace Hopper and Margaret Hamilton consolidates this legacy. To know more about either of these pioneers see the links listed below.
More Information
President Obama Names Recipients of the Presidential Medal of Freedom
Related Articles
Margaret Hamilton Pioneering Software Engineer
Margaret Hamilton Apollo and Beyond
Grace Hopper, The Mother of Cobol
Grace Hopper - Building On Her Legacy
To be informed about new articles on I Programmer, sign up for our weekly newsletter, subscribe to the RSS feed and follow us on Twitter, Facebook or Linkedin.
---
NVIDIA Broadcast 1.4 Adds Eye Contact
05/02/2023
A new feature in Broadcast, NVIDIA's AI-powered live streaming app, makes that it looks as though you are maintaining eye contact when you look away, for example to read from your notes.
---
Disney Uses AI To Re-Age Faces
15/01/2023
Disney Research has a new visual effects tool that can make actors look older or younger for movies without needing to collect longitudinal data using photographs.
More News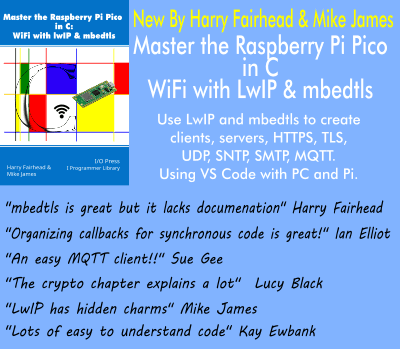 Comments
or email your comment to: comments@i-programmer.info
Last Updated ( Friday, 09 December 2016 )