The World Wide Web Consortium has launched W3C Developers as a "one-stop page" presenting its open source tools and asking devs to join in with its efforts and to make financial donations.

Creating a developer portal is a new departure for the W3C and according to Jeff Jaffe it is intended to:
encourage greater developer engagement with W3C due to their increased importance leveraging the Open Web Platform.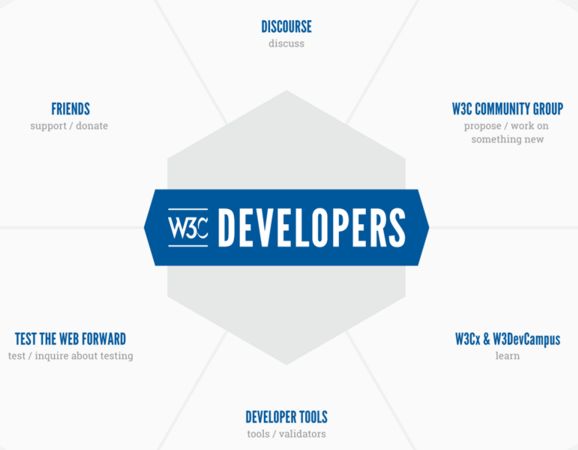 In the website's Tools Section you'll find links to open-source W3C validators, checkers and tools. On this page you'll also find a Donate link which takes you to the other new initiative, W3C Friends, described as:
a gratitude program, lets you donate to support us to provide Web developers with the tools and services that move the Web forward.
In his blog post, Jaffe explains that this "gratitude program" has been introduced rather than the alternative of levying a modest fee from W3C's developer community. W3C Friends replaces the former W3C Supports Program.
The Tools section of the site has links to W3C's GitHub repos while the Get Involved section has links to Discourse, the Specification forum, and to W3C Community Groups. Another main link is to Test the Web Forward and again devs are encouraged to join its GitHub community and contribute to the Open Web Platform test suite.
The other main section of the portal is Learn whch has links to the free W3Cx courses on edX which we've reported on previously and to W3DevCampus, W3C's official, and commercial, provider of online training courses.
Two W3DevCampus courses that are currently open for registration are:
| | |
| --- | --- |
| Responsive Web Design | November 12 - December 17 |
| JavaScript | November 18 - December 16 |
The Early bird rate for registration before 30 October on either of these is $330 or 290 Euros.
Another way in which W3C raises funds is selling merchandise and you can follow a link to the Official W3C Online Store from W3DevCampus.
So if until now you thought that W3C was only about specifications its new Developer site is there to convince you that it has more to offer.
More NEWS
GitHub Victim Of Its Own Success
When it first appeared on the scene, Github was one of a kind and a true visionary amongst its rivals still using Subversion, Bazaar or Mercurial as their source control system.
JetBrains Responds To Backlash
After an outcry from its existing customers when it announced a new a subscription service for its range of desktop developer tools, JetBrains has now settled on a pricing model that includes a Perpetual Fallback Licence. Is this enough?