Curie and Arduino 101 Abandoned By Intel
Written by Harry Fairhead
Wednesday, 26 July 2017
Intel is discontinuing the Curie and the Curie-enabled Arduino 101. This has devastated developers who have based products on the Curie, but others are still unaware of the news, which has been released via obscure channels.
Last week we reported that Intel had eliminated its wearables division see Intel Divests Itself of Wearables. At that time we believed the news had an unofficial status, it came from an "Intel insider" rather than from Intel itself. Although Intel still hasn't issued a press release, or made any prominent post, there are two official notifications that in fact pre-date our news item and are difficult to find even if you are looking for them.
IProgrammer was indeed looking for news of the Arduino 101 given that in our June report of Intel ditching the Edison, Galileo and Joule we thought that the Arduino 101 might have been spared and pointed to it as:
The last Intel IoT device - the Arduino 101
In fact Intel had issued this "product discontinuance" notice for the Arduino 101 on July 17:
The contents of this notice are that the date specified for last orders for Arduino 101 is two months later, September 17, 2017 with final shipment three months later, December 17, 2017 although the notice also states:
Supply is limited and will be committed out to orders as a "first come, first serve" basis until supply is depleted.
A day after this pdf was filed in some unvisited corner of Intel's site, a new thread was started on the Intel Curie community forum:
It reiterates the message about discontinuing the Ardino 101 board although when you click the link to the discontinuance notice a warning message appears which is sufficient to deter many people from following it.
Intel_Jesus also states:
Intel is actively working with alternative manufacturers to continue to make the Arduino 101* development board available to the market.
However, there is no suggestion that the Curie itself will be replaced in any way. Rather it states:
There are no further software releases of the Intel® Curie™ Open Developer Kit (ODK) planned.

The support provided by Community forum extends only until September 15, after which date for two more months, after which Intel will make its online resources available for review only until July 15, 2020.
This post has now been given the status of "Featured Content" on the Intel Curie site but still the most recent post there, from July 25, asks:
Personally I am in sympathy with this reply, posted on the end-of-life thread by Odesus:
I'm in a mix of sensations: shocked, upset, stunned.. we were working for a year with development a new product using intel curie, now all this work goes to trash.
Odesus goes on lists problem including lack of documentation, not even a full datasheet until months after the chip was launched which meant that his team had to struggle and concludes:
Now everything was simply a big fail, the money, the work of a year... very disappointed.
I think you'll find many others, myself included, working on the recently discontinued Edison as well as with the Arduino 101 and custom projects reliant on the Curie and feeling similarly let down. And there are presumably some ex-Intel insiders who are also hurt and angry as well.
Harry Fairhead is author of Exploring Intel Edison (I/O Press), which gives detailed guidance on how to program this remarkable device using C. He had been planning a similar book for the Arduino 101.
More Information
Related Articles
Intel Divests Itself of Wearables
Intel Drops Edison, Galileo & Joule
Intel Cancels Developer Forum Permanently
Intel Boss Controls Robot Spider Army - With A Curie
To be informed about new articles on I Programmer, sign up for our weekly newsletter, subscribe to the RSS feed and follow us on Twitter, Facebook or Linkedin.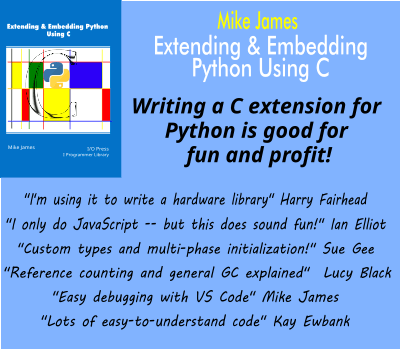 Comments
or email your comment to: comments@i-programmer.info
Last Updated ( Saturday, 20 April 2019 )