Programmer Gifts 10 - Pi For Xmas
Written by Harry Fairhead
Monday, 10 December 2018
The holiday season is a good time to learn about computers - you have the time. But where to start? Our advice is to ignore the pudding and go for a Pi.
There has never been a better time to get involved in computing and the reason is the Raspberry Pi. This remarkable hardware can get you started in a whole different way of using computers. It is also a safe and cheap way to simply learn about programming. You can do this for the unbelievably low price of $5 but I'd advise spending just a little more. The $5 miracle is the Raspberry Pi Zero. It is a complete computer that you can program using Python, C, Java etc and you can use it as the basis for custom hardware projects. It is remarkable value but I'd advise against buying it unless you are already happy with such technicalities. The reason is that it doesn't have any network connection at all and the era of the Internet this is limiting.
If you do decide to go for a basic Zero then I'd invest in a small kit. You need a USB power supply, a micro HDMI to HDMI connector and a keyboard and HDMI monitor. Personally I'd opt for the Pi Zero W which has WiFi and Bluetooth built in. In this case you can even get away without a keyboard and and a monitor but again for simplicity it is better not to try this until you know a bit more. The W costs double the basic Zero but at $10 it is still almost a disposable computer. The only problem with it is that it is in short supply and limited to one per customer.
For just over $15 more you can get a complete kit which includes a case, power supply, adapters, heat sink and GPIO header.
You still need a monitor and a keyboard but any USB keyboard and a TV with HDMI will do the job. You will also need an SD card and I'd recommend a cheap 16GByte card.
The Pi Zero W is great for getting started with learning to program or for building clever devices, but if you want to use the Pi as something like a full computer then you need to move up to the Raspberry Pi 3 B+. At $38 it is more expensive than the Zero, but still very cheap for what it is.
Click to buy at Amazon.
Again you can't just buy a Pi, you need some extras. You need a USB power supply that will source 2.5A, which is more than most smartphones and similar adapters produce. If you are going to use it "the easy way" you will also need an HDMI cable, a USB keyboard/mouse, an HDMI monitor and an SD card. You might well have some of these items already, but you can also simplify things a bit more by buying a kit.
The Kano kit is something that is worth considering, even if you aren't in the target age range, because at $89.99 it is good value for a battery-powered Pi 3, case, keyboard with touch pad and SD card. All you need to add is an HDMI TV. It also comes with things to do and a community that you can join to learn how to program. In my opinion it isn't a self-contained training course, but if you are prepared to read around the subject then it makes getting started easier.
Click to buy at Amazon.
If you just want a desktop starter kit, there are a lot to choose from. They mostly differ in the style of case they provide. There is a lot to recommend the offical Raspberry Pi kit:
It comes with a power supply, case and ready to run SD card. You still have to find keyboard, mouse and monitor, but it is only $79 with a Pi 3 included.
So what do you do if you want to not just to learn to program but also want to find out about physical computing or the IoT? You need a selection of components, a prototyping board and some jumper wires. There are a number of different kits that supply a range of parts, but the one I personally like is the curiously named BONROB starter:
Click to buy at Amazon.
What is so good about this kit is that at $30 it includes a full range of possibilities. You get a small servo, a humidity sensor, lots of LEDs, LED display and a prototyping board and jumper wires. Notice that you don't get a Pi or any of the things you need for basic use of the Pi this is an add-on.
Personally I'd advise getting a multimeter as well and, given how cheap they are today, why not. This $10 meter isn't the best, but it is good enough for most things:
Click to buy at Amazon.
Later you will need a soldering iron, wire cutters, digital signal analyzer and more...
Finally would it be Xmas without a copy of my Pi book?
No of course not!
You can program your Pi in Python, but why not use C and get the most out of it along with an education that is becoming rarer as things move ever upward and abstract. C is at least 10 times faster than Python. However be warned, this isn't a book for the 100% complete beginner:
Click to buy at Amazon.
Related Articles
Programmer Gifts 01 - Trust Me I'm A Programmer
The Art Of Computer Programming The Ace Gift For Any Programmer
Programmers Xmas - Alexa Suggest Some Presents
To be informed about new articles on I Programmer, sign up for our weekly newsletter, subscribe to the RSS feed and follow us on, Twitter, Facebook or Linkedin.
---
WCF And WF Given To Community
17/06/2019
Microsoft has handed Windows Workflow Foundation (WF) and Windows Communication Foundation (WCF) to the community in the form of the .NET Foundation.
---
NetBeans Is A Top-Level Apache Project
21/05/2019
When Oracle "donated" NetBeans to the open source community, many thought that the future looked bleak, but now more than two years on it has graduated to being a full Apache project. What does the fu [ ... ]
More News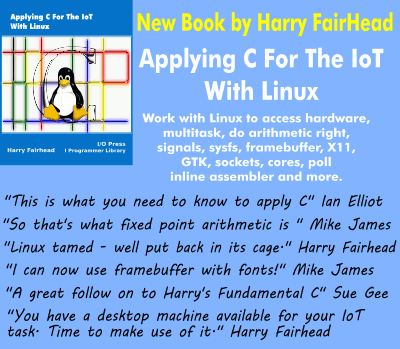 Comments
or email your comment to: comments@i-programmer.info
Last Updated ( Tuesday, 11 December 2018 )