30 Million Pis And Counting
Written by Harry Fairhead
Sunday, 29 December 2019
Eben Upton, Raspberry Pi supremo, tweeted that "Raspberry Pi numbers get stale fast. We sold our thirty-millionth unit some time last week (we think Tuesday)." You can only say wow...
I admit that when the Pi first came out I was a skeptic. I suppose I still am because I still don't really understand why the Pi was, and is, so successful. This despite owning more of the 30 million than I care to admit!!
The reason for the "(we think Tuesday)" is that the figures are only provided at the end of the month and the figure is an estimate - but it can only be wrong by a few days. A quick calculation also indicates that this is the equivalent of almost $1 billion in sales.
Given this milestone, this is a good time to pause and take account of what the Pi has done for us.
What does it all mean?
There is no doubt that the Pi has had a profound affect on the way we consider computers. For people in the know, the Pi has made it possible to deploy multiple small machines rather than trying to cram everything into a single piece of hardware. The Pi is so low-cost that you can consider using it anywhere it might be useful - and even in applications where it is providing nothing useful, just fun.
Its low cost also means that people are willing to risk using it in ways that might be harmful. It isn't, usually, their desktop, portable or tablet wonder that cost a fortune and has to be protected at all cost. It's a cheap, but fairly powerful, machine that can be abused at will and this, apparently makes a huge difference. This is possibly the reason I didn't think that Pi would be as big a success as it has become. I reasoned that there was already lots of computing power around the home and what we really needed was some ground-breaking software that would encourage beginners and experimenters to get involved. My verdict was we needed more software, not hardware. Perhaps this is still true, but cheap hardware is a game changer in ways that can be summed up as "the age of the disposable computer".
There are cynics, more cynical than me even, who might want to spoil the party by asking how many of the 30 million are actually switched on even once a month? Perhaps the majority are sitting in drawers or worse are in landfill. I have to admit that I have a few Pis that live in my bits box, that's a box of things that might be useful, ready to step in for any unplanned need. I sometimes do pull one out of the box, but, with the Pi 4 being so reasonably priced and having so much more computing power, I tend to buy a new one for each requirement rather than reuse a Pi 3 or earlier. The Pi Zero is another matter - it's the workhorse of my embedded / Physical / IoT projects and they come and go from the bits box like the reusable parts that they are.
Finally - spare a thought for the Arduino. This was the machine that I used for IoT projects before the Pi came along and I have to say that even today it has some advantages, but now it's just so complicated. There are so many flavors of Arduino and you cannot know which will have the longevity needed for such projects. The software people used to have a saying which goes something like: "I don't know what the language of the future will look like, but I know it will be called Fortran."
I think we can now say that I don't know what the leading single board computer will be, but I'm sure it will be Pi-compatible.
Presumably 30 million is just the opening number...
Harry Fairhead is the author of Raspberry Pi IoT in C . His latest book, Applying C For The IoT With Linux also focuses on the Raspberry Pi.

More Information
https://twitter.com/EbenUpton/status/1205646606504275968
Related Articles
Raspberry Pi 4 Sets New Performance High At Same Cost
Raspberry Pi 3A+ Last Of The Line
The Remarkable Rise of Raspberry Pi
Pi Zero Wireless A $10 Birthday Present
Raspberry Pi 3 Confirmed - 64-bit For $35
To be informed about new articles on I Programmer, sign up for our weekly newsletter, subscribe to the RSS feed and follow us on Twitter, Facebook or Linkedin.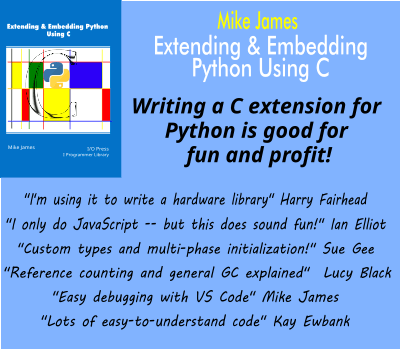 Comments
or email your comment to: comments@i-programmer.info
<ASIN:1871962463>
<ASIN:B07S84G11P>
<ASIN:1871962617>
<ASIN:B07SH923YX>
Last Updated ( Tuesday, 20 October 2020 )