STEM Toys That Promote Computational Thinking
Written by Mark Coster
Friday, 30 October 2020
Playing with toys and games isn't just for little kids. There are so many great STEM toys out there that are not only fun but also help kids to develop their computational skills. So whether you're looking for something for yourself, your child, or a friend, here are some fun and computationally themed ideas for all ages.
With one exception all the items included in this article are available from Amazon. If you follow the links in the right hand panel we may earn from qualifying purchases.
Toddlers and Pre-Schoolers
Code-A-Pillar (3+ years)
Just in case you think that computational thinking is only for older kids, let's start with a toy for toddlers, aged 3+ years Code-a-Pillar is a toy from Fisher-Price that does a surprisingly good job of introducing ideas of sequencing and logic.
You control the code-a-pillar by connecting its segments in the order you want. When you press the go button, it follows the instructions in order. It's a straightforward but fun way to introduce young kids to coding. There are a couple of targets in the box so you can set challenges for your kids to solve. You just need to make sure you have a solid floor to play on, code-a-pillar struggles with carpets.
Tangiplay (4+ years)
Tangiplay is a pretty neat toy that's ideal for a family to try out. The pack comes with 12 different robots, each with their own function. These robots interact with an app through a tablet device. You then use the robots to solve the 120 adaptive puzzles.
The app is really well designed, and it's fun for kids and adults of all ages. You can adapt the difficulty depending on the age of the player, which is what makes this such a great family toy. The game is all about building railways to get your passengers to their destinations. It's an intuitive game that offers a real challenge. The only downside is that you do need an iOS device to use them. However, Android support is in the works!
Elementary School
BitsBox (6+ years)
If you're looking for a regular stream of coding-related activities, then BitsBox is a fantastic subscription box service you can try. You can get STEM subscription boxes for so many different STEM-related themes now, it's pretty cool really. I know that I would have loved to have access to these as a kid. To be honest. If a box of coding projects turned up at my door today, I'd probably be pretty delighted too.
With BitsBox, you get a coding project to complete each month. There is the lite option which is just the project, and on the other end, you also get a cool toy to build that will use your code in some way.
Turing Tumble (8+ years)
If you want to get back to basics and really understand how a computer works, then you really can't do any better than Turing Tumble. I Programmer originally reported on this remarkable device that lets you build a mechanical computer powered by marbles to solve logic puzzles back in 2017 when its creators, college professor Paul Boswell and his wife Alyssa Boswell launched a Kickstarter.
At its heart, this looks like a straightforward toy, but it is actually a fully-fledged mechanical computer. You have a board, some marbles, and a few plastic pieces that you can slot into the board. Then, a little like pachinko, the marbles will roll from top to bottom, and they might hit something on their way down. But what you soon discover is that you can use these simple pieces to build a functional computer.
The kit comes with a puzzle book that has 60 different puzzles to solve. Doing so will require you to build a machine that can add, subtract, multiple, follow logic, and more. This really is a fantastic toy for anyone who wants to get a real understanding of how computers work and want to have fun doing so.
Tweens
Robolink Codrone Pro (10+ years)
How about a toy that will let you learn to use code to fly a drone? This very cool little quadcopter comes with a programmable Arduino-based controller. You can use Arduino Language (based on C++), Python, or Blockly to program this very fun little drone.
This is an ideal gift for anyone who's been putting off learning to code. It's the kind of project that makes you want to learn so you can get your copter flying. There are loads of video tutorials on the website, so it's easy to learn everything you need to know.
LEGO Mindstorms EV3 (10+ years)
LEGOs are one of those toys that are fun, no matter how old you are. You could put a box of LEGOs in front of any group of people, and you know there would be all sorts of creations on the table by the time they walked away.
Mindstorms EV3 brings robotics to the infinite possibilities of LEGO. So all that fun of creating anything you want gets even more exciting because you can now bring your creations to life. You can now add sensors, motors, and an ARM9 processor to your builds.
You can use the accompanying app to control your robot through a mobile phone, tablet, or desktop. There are two apps to choose from based on your coding ability. For beginners there's a drag and drop version, there's also a more advanced option for those who want it.
If you want to learn more about what you can create, you should check out the LEGO Mindstorms community. It's a really thriving place. We also have reviews of a couple of books dedicated to Mindstorms EV3.
Teenagers and Adults
Build a Raspberry Pi Video Car (12 years to adults)
Raspberry Pis are a pretty cool piece of kit. It's fascinating to see what uses people find for them. This is one of my favorites. With the SunFounder Raspberry Pi Smart Video Car Kit, you get pretty much all you need to build your own budget RC car with a live streaming video camera. You do need to provide the Raspberry Pi, but if your home is anything like ours, there's a good chance you might have one sitting in a drawer just waiting for a project.
Once your car is built, you can use the browser interface to control the vehicle, or you can get creative and write your own code for it. This is definitely a coding toy for adults to learn about robotics. It's a bit fiddly, and the fun is in the creation as much as the driving.
Conditional Logic (Time To Take Your Pick!)
There should be something on this list to suit anyone of any age. So IF you're looking for a toy to teach computational thinking, THEN take your pick and have fun!
Mark Coster is the driving force behind STEM Toy Expert. With 20 years of experience in chemistry education and research, and 3 willing children as guinea pigs, Mark has a passion for inspiring kids and adults to combine fun and learning with STEM Toys!
More Information
Related Articles
Understand Computer Logic With Turing Tumble
The LEGO MINDSTORMS EV3 Discovery Book
To be informed about new articles on I Programmer, sign up for our weekly newsletter, subscribe to the RSS feed and follow us on Twitter, Facebook or Linkedin.
---
Grafana Adds New Tools
14/11/2023
Grafana Labs has announced new tools to make it easier to analyze application data on Grafana Cloud. The announcements are an Application Observability tool for Grafana Cloud, and Grafana Beyla, the e [ ... ]
---
VS Code Gets Better At Make C/C++
06/12/2023
VS Code is a "go-anywhere, work-with-anything" dev system. However, not all languages are created equal and build systems for C/C++ are particularly challenging. The latest VS Code does something to m [ ... ]
More News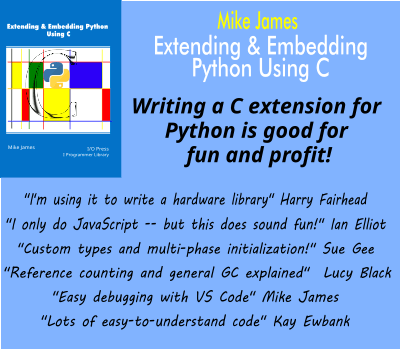 Comments
or email your comment to: comments@i-programmer.info
<ASIN:B01ASVD2L4>
<ASIN:B08316VLHM>
<ASIN:B07FT4FMWX>
<ASIN:B00CWER3XY>
<ASIN:B01K3VCN64>
<ASIN:B06XWSVLL8>
<ASIN:1593275323>
<ASIN:1593276001>
Last Updated ( Saturday, 31 October 2020 )