Where Are The Raspberry Pi Zeros?
Written by Lucy Black
Monday, 08 February 2016
The Raspberry Pi Zero is a game changer, but it is not the only game changer on the market. In fact the question of whether it is on the market or not is an important one.
There is a lot of love and good will toward the Raspberry Pi.
It has the image of a homespun success, the underdog in big tough world, a non-profit in a cutthroat biggest bully takes all world. So it is hard to say anything not nice about it. In addition, there is no doubt that the recently announced Raspberry Pi Zero is a long term winner. It is the single board computer you really do want to use for your next project, or even the current one if you've only just started, but at the moment this is proving tough.
At $5 the Pi Zero is a first choice for a lot of projects. It can be criticized for not being quite as cheap as it first appears because you need between $10 and $20 worth of extras to actually program it - a power supply, mini HDMI converter, micro SD card, USB WiFi dongle etc, but many of these extras are only needed if you are programming the device. In many instances what matters is the cost of the production version. For example, if you want to create a temperature measuring module then you probably only need a sensor, microSD card and maybe a WiFi dongle - costing less than $10.
No matter how you spin it the Pi Zero is remarkably good value for a one-off or a repeat-production IoT project.
It also has one big advantage over similarly priced alternatives - a community and a track record. Even when a well-known brand such as Arduino produces a single board computer to compete with the Pi Zero it is something new and not the same as the Arduino Uno. The Pi Zero on the other hand is the same as the other Pi models - all of the software works with it and all of the advice and community knowledge apply to it. This gives it a stability that any IoT developer will find reassuring. Put it this way if you are thinking of developing a device that you might want to work with for even five years into the future then betting that the Raspberry Pi will still be around then is a better bet than many.
At the same time it is a huge knockout blow to the competition. When the Pi Zero was announced suddenly other previously attractive devices simply looked less interesting. The $9 C.H.I.P, the $20 CodeBug and even the free BBC MicroBit lost some of their shine. The Pi Zero seemed to be great and it was here. It was even going to be given away as a cover mount on the MagPi magazine.
Our own Harry Fairhead explains:
"My two early C.H.I.P devices arrived soon after the Pi Zero announcement. I had big plans for them but because the Pi Zero was available I didn't even bother opening the box. The C.H.I.P is an excellent device and has some advantages over the Pi Zero, but the Pi Zero is a much better investment for long-term or production projects."
I doubt that Harry was the only one to make such a decision.
But the Pi Zero sold out. So projects that were waiting for it mostly had to wait or pay some very high prices to resellers on Ebay and similar making use of the opportunity to make some money. This is not an unknown phenomenon in the Pi world - hardware is often in short supply when first announced as it is so cheap every Pi enthusiast buys multiple units.
The Pi Zero was supposed to be available from November 26, 2015. It is now the start of February and all of the stockists, including the Pi Swag Shop, are still showing out of stock. That's two whole months, and counting, of restricted supply which is more than an initial hiccup.
The Raspberry Pi is a huge success and of course in announcing the Pi Zero you would expect a good number of units to be ready to be shipped before the product was announced.
So how many would that be?
The Pi sells something in the region of 200,000 per month so what do you think the initial run of the Pi Zero actually was?
The answer is 20,000 units. Of which 10,000 were stuck to the cover of MagPi and "given away" leaving just 10,000 in the usual distribution channels. And yet Eben Upton, founder of the Raspberry Pi Foundation, commented to WIRED:
"You'd think we'd be used to it by now, but we're always amazed by the level of interest in new Raspberry Pi products,"
Well yes, you really would think that they might be used to it by now and perhaps even prepared for it.
At the time of writing the Pi Zero is still out of stock and when it is briefly in stock customers are limited to one unit.
A victim of its own sucess, yes, but the real victims are the Raspberry Pi's competitors.
More Information
Related Articles
Windows 10 Raspberry Pi Starter Kit
Raspberry Pi Gets Its Official Touch Screen
Raspberry Pi 2 - Quad Core And Runs Windows
BBC Micro Bit Delay - A Chance For CodeBug?
BBC micro:bit Your Next Computer?
To be informed about new articles on I Programmer, sign up for our weekly newsletter, subscribe to the RSS feed and follow us on, Twitter, Facebook, Google+ or Linkedin.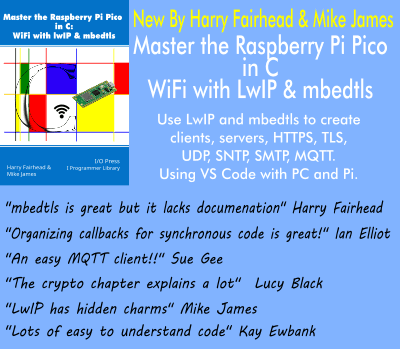 Comments
or email your comment to: comments@i-programmer.info
Last Updated ( Monday, 08 February 2016 )