App Developers Support Open App Markets Act
Written by Lucy Black
Wednesday, 02 February 2022
A poll conducted on behalf of the Coalition for App Fairness reveals that 84% of developers support an antitrust bill aimed at curtailing the market power of Apple's and Google's app stores.
The Open App Markets Act Bill, which is currently being considered by the United States Senate Judiciary Committee, is intended to remove Apple and Google's ability to dictate the terms of the app market, harming app developers, competition and consumers. Its aims are to:
"promote competition and reduce gatekeeper power in the app economy, increase choice, improve quality and reduce costs for consumers."
The proposed legislation is welcomed by the Coalition for App Fairness (CAF), the pressure group formed in September 2020 by Epic Games when Fortnite was kicked out of the App Store - see Developers Finally In Revolt Against Apple. According to CAF:
The Open App Markets Act would directly address the monopolistic, anti-competitive practices by app store providers. The proposal would also enhance competition in the app marketplace by preventing self-preferencing and allowing open communication between developers and consumers.
A letter signed by 20 CEOs, all members of CAF, urging the Senate Judiciary Committee to pass the Open Apps Markets Act, explains why such legislation is needed:
Fair and open competition is the driving force behind a well-functioning free market. But today, mobile app marketplace gatekeepers use a vice-like grip to control developers and impose terms and conditions that undermine competition, throttle innovation, limit consumer choice, and lead to higher prices. They eliminate competition by restricting developers from using alternative methods of app distribution, and then mandate that developers use their payment systems to extract excessive fees, limit competitors' access to information, gain access to troves of developer's customer data to build competing services, and dictate how developers can communicate with their own customers through their apps, including prohibiting developers from informing users of lower prices outside of the app.
CAF also looked into the attitudes and opinions of individual developers via a poll, conducted by ClearPath Strategies, which surveyed 190 app developers in 11 states between December 2021 and January 2022. This revealed that the vast majority of developers (86%) believe there is a need for legislation prohibiting anti-competitive practices:
and almost as many support the Open App Markets Act:
Meghan DiMuzio, executive director of the Coalition for App Fairness commented:
"The evidence is clear - app developers want the Open App Markets Act to pass so that they can have the opportunity to compete in a fair digital marketplace"
The CEOs of Apple and Google have personally lobbied lawmakers to abandon antitrust legislation targeting their app stores, warning that they would not be able to verify the security of apps downloaded from third-party stores. To counter this argument, security technologist, Bruce Schneier has written to the Senate Judiciary Committee, pointing out that Apple and Google are appealing to issues of security simply to bolster an untenable position. Schneier is a well-respected author and blogger on cybersecurity and a fellow and lecturer at Harvard's Kennedy School as well as being a board member of Electronic Frontier Foundation and states in his letter:
It's simply not true that this legislation puts user privacy and security at risk. In fact, it's fairer to say that this legislation puts those companies' extractive business-models at risk. Their claims about risks to privacy and security are both false and disingenuous, and motivated by their own self-interest and not the public interest. App store monopolies cannot protect users from every risk, and they frequently prevent the distribution of important tools that actually enhance security. Furthermore, the alleged risks of third-party app stores and "side-loading" apps pale in comparison to their benefits.
The idea that a computer is a closed device administered by corporations that in practice have no public accountability other than their profit line is something that until recently would have been laughable. The desire to control what we own isn't something that just applies to consumers and issues like the right to repair it, is also a freedom that is fundamental to programming. What is a computer if it is not a freely programmable device? "A phone" is not a satisfactory or realistic answer.
More Information
Related Articles
Developers Finally In Revolt Against Apple
Epic Games V Apple & Google - Smash The App Stores
To be informed about new articles on I Programmer, sign up for our weekly newsletter, subscribe to the RSS feed and follow us on Twitter, Facebook or Linkedin.
---
Spot + ChatGTP - It's Amazing
03/12/2023
Boston Dynamics' quadruped robot Spot has been given the ability to hear questions and respond to them, thanks to integration with Chat GPT and other AI models. See Spot in action as a tour guide and [ ... ]
---
Windows Wallpaper Is Latest Ugly Sweater Design
01/12/2023
Microsoft has made the classic Windows XP wallpaper the design for its shot at this year's ugly sweater options. If, like me, you're wondering how you managed to successfully avoid this as a concept, [ ... ]
More News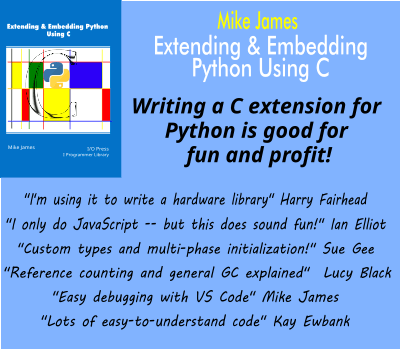 Comments
or email your comment to: comments@i-programmer.info
Last Updated ( Wednesday, 02 February 2022 )