Is Your Degree Worth Its Cost?
Written by Janet Swift
Wednesday, 20 September 2017
Reporting findings of a survey that some will find controversial, Stack Overflow suggests that developers are increasingly unlikely to recoup the cost of a university education. Stack Overflow urges those hiring to include details of salary in job listings and remove educational requirements in order to attract more applicants.
Earlier this week Stack Overflow unveiled a salary calculator that lets you discover what "developers like you are earning". The data it relies on comes from the 2017 Stack Overflow Developer Survey in cases where developers responded with both their salary and their education level.
One of the motivations for creating the tool is to encourage hiring companies posting job vacancies on Stack Overflow jobs to include details of salary. In the blog post announcing it, Julia Silge says:
we know that developers want more salary information to make better choices about their careers; we have seen that ads for Stack Overflow Jobs that include salary information get 75% more clicks than ads without salary information.
Given the almost ubiquitous interest in our own and other people's salaries, this tool is likely to be used - and if you are willing to divulge your own remuneration it is likely to become more accurate as Stack Overflow harvests more data.
The Calculator provides a form that is easy to complete:
Admittedly, this is a pretty limited tool. At the moment it only covers the USA, Canada, the UK, Germany and France, and even though previous findings from Stack Overflow indicate that there is a wide variation in the remuneration of developers working with specific languages and toolsets, (see Developer Pay Satisfaction According To Stack Overflow), the Technologies box on the form is optional and not taken into account.
So, as well as Location the variables that are used are Role and you can choose up to three from a drop down list, Years of experience where you type in a value and level of Education - and this variable doesn't have as much impact as you might imagine.
For example look at this table for a Desktop Developer with 12 years of experience. It shows large variation according to location - with wide variation between the "top" cities for developers in the US, Canada and the UK and the rest of those three countries. However there is no difference at all between having a Master's degree over a Bachelor's, although having a PhD does have a marked effect.
More information on the effect of having a university education in computer science is included in the newly published 2017 Developer Ecosystem Education Edition which covers the UK and Ireland.
Its headline finding is that:
Among 4,700 developers in the UK and Ireland, coders who gain a Bachelor's degree only earn £3,000 more per year than those who don't have one.
Reporting the median salaries as follows:
| | |
| --- | --- |
| Non-university level | £35K ($46K) |
| Bachelor's degree | £38K ($48K) |
| Master's degree | £42K ($52K) |
It reveals that the prevalence of having a Computer Science related degree has declined; while 56% developers with 20 or more years of experience claimed this level of education, only 48% of those with less than 4 years did. Among the latter group 49% of developers report that they have participated in an online course related to their work.
Another finding was that in the UK and Ireland where 42% of developers had a bacherlor's degree and 27% a masters or better, this wasn't highly valued. The report states:
37% of current professional developers in the UK and Ireland said that their formal education was 'not very important' or 'not at all important' to their career success. Moreover, developers do not evaluate their colleagues on the level of their education but on a well-rounded skill set.
All this leads Stack Overflow to question the return on investment of gaining a university degree, pointing out that coders who do so earn only £3K per year more than those who don't have one after spending £9K per year for 3 or 4 years. It also suggest that, in order to tackle the anticipated skills gap employers should reduce the emphasis on traditional university-based education, commenting they should:
"maintain an open mind when considering candidates' educational background if they want to maintain a strong workforce."
Stack Overflow Salary Calculator
2017 Developer Ecosystem Education Edition
---
pg_later - Native Asynchronous Queries Within Postgres
14/09/2023
pg_later is an interesting project and extension built by Tembo which enables Postgres to execute queries asynchronously. Fire your query - but don't forget to check later for the result.
---
Google Turns 25
06/09/2023
At the end of September 2023 Google will officially celebrate its 25th birthday. In fact the day itself has already come and gone as it was on September 4th, 1998 that Google was founded by Larry [ ... ]
More News
Summer SALE Kindle 9.99 Paperback $10 off!!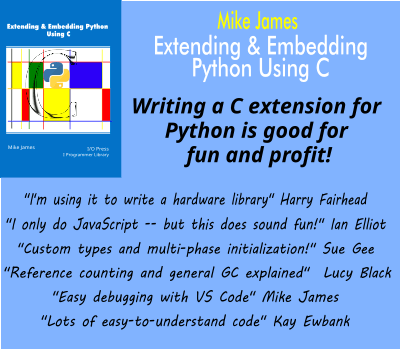 Comments
or email your comment to: comments@i-programmer.info
Last Updated ( Monday, 14 May 2018 )