Programming News and Views
Send your programming press releases, news items or comments to: NewsDesk@i-programmer.info
---
Learn Python with Microsoft or the University of Michigan


14 Oct

|

Nikos Vaggalis




Python is on the rise, predicted soon to overtake Java as the most popular programming language on the Tiobe index. Should you catch up?
---
PostgreSQL 12 Released


14 Oct

|

Kay Ewbank




PostgreSQL 12 has been released with improvements to partitioning and handling of btrees, along with support for multi-column most-common-value statistics.
---
We Still Beat AI At Angry Birds


13 Oct

|

Alex Armstrong



Humans! Rest easy we still beat the evil AI at the all-important Angry Birds game. Recent research by Ekaterina Nikonova and Jakub Gemrot of Charles University (Czech Republic) indicates why this is so.
---
E.coli Could Be Your Next Raspberry Pi


12 Oct

|

Lucy Black



No, it's not a story about food poisoning or any thing at all to do with it. A new paper suggests that with the right encouragement and understanding the IoT crowd could change their hardware from silicon to bacteria.
---
October Week 1


12 Oct

|

Editor



Every day I Programmer has new material written by programmers, for programmers. Each week our digest gives a handy summary of the latest content - daily news, the books we've reviewed or added to Book Watch and feature articles. While you are on the site there's plenty more to explore, whatever topics you are interested in.
---
Node-RED IoT Tool 1.0 Released


11 Oct

|

Kay Ewbank



Node-RED has reached version 1.0 with improvements including a new asynchronous message passing model, and a new Node Send API.
---
Grasshopper Now On the Desktop


11 Oct

|

Sue Gee



Part of the Code With Google initiative, Grasshopper is Google's free learn-to-code tool for adults. Since its launch as an Android and iOS app, it has already been used by more than two million people and now there's a desktop version together with additional content.
---
Google Helps With Linux Scheduling With SchedViz


10 Oct

|

Harry Fairhead



Google has just open sourced a tool that lets you visualize how your program is being treated under Linux scheduling. The idea is that you can use SchedViz to tune the system.
---
SQLite Improves Nulls Support


10 Oct

|

Kay Ewbank




The latest release of SQLite is available with support for Nulls in Order By clauses and the ability to use Filter on aggregate functions.
---
Copied Code Is Vulnerable Code


09 Oct

|

Alex Armstrong




We all look up code online and then modify it and incorporate it into our programs, but is this a safe practice? New research suggests that it most definitely isn't.
---
Project Jacquard Products Materialize


09 Oct

|

Lucy Black



Google's Project Jacquard has finally launched wearables that seem stylish and incorporate technology in an appropriate and practical manner. Your choices are an Yves St Laurent backpack and range of Levi's jackets for both men and women.
---
Apache Rya Becomes Top Level Project


08 Oct

|

Kay Ewbank



Apache Rya has become an Apache top level project. Rya is a cloud-based big data triple store (subject-predicate-object) database used to process queries in milliseconds.
---
Coursera Professional Certificates In AI


08 Oct

|

Sue Gee



Machine Learning, Deep Learning, Neural Networks - not only do we trip over them at every other turn, the message that they are the way of the future is constantly reiterated. Coursera, in partnership with IBM now has two Professional Certificates for those who want an AI credential or to embark on an AI career.
---
Transformers Offers NLP For TensorFlow and PyTorch


07 Oct

|

Kay Ewbank



A Python library offering Natural Language Processing for TensorFlow 2.0 and PyTorch has been released by HuggingFace.
---
We Need To Talk About Alexa


07 Oct

|

Lucy Black



and all the other smart speakers. A new study attempts to characterize our relationship with these comparative newcomers to the tech ecosystem.
---
Google Comics Factory Makes ML Easy


06 Oct

|

Mike James



A comic strip approach to machine learning? Could it possibly work? The hero is a cat, so of course it can.
---
Think Like A Coder


05 Oct

|

Sue Gee



TED-Ed has a new resource to interest kids in coding. It's an animated story, the first episode of which lasts less than seven minutes and introduces for, next, and while loops.
---
September Week 5


05 Oct

|

Editor



On I Programmer we not only bring you the news, we provide the information you need to make the most of it. Our featured article this week is a case in point. Having recently reported that WPF is now part of .NET Core, Mike James has rustled up an article on Getting Started with Windows Presentation Foundation. We also have more book recommendations, this time on Web Design and Development.
Other Articles
Book Review
---
Data Cleaning Pocket Primer
Tuesday 08 Oct
Author: Oswald Campesato
Publisher: Mercury Learning
Date: Jan 2018
Pages: 188
ISBN: 978-1683922179
Print: 1683922174
Kindle: B0797MX7PC
Audience: Data scientists committed to Linux or Mac OS.
Rating: 4.5
Reviewer: Alex Armstrong
Data cleaning - break out the command line tools!
Featured Articles
---
Applying C - Running Programs With Systemd
Harry Fairhead
Getting a finished program to run is more complicated than you might think. In a modern Linux the solution is usually Systemd This extract is from my book on using C in an IoT context.
---
PC-1512 and the Fall of Amstrad
Historian
Lord Sugar may currently be best known for the TV series The Apprentice, and, by a select few, remembered as Chairman of Tottenham Hotspur Football Club. But anybody who understands the significance of WYSIWYG, will think of Alan Sugar as a computer pioneer who made the PC an affordable commodity.
---
JavaScript Canvas - Image Processing
Ian Elliot
You can use Canvas to draw new graphics or you can load existing images and process them at the pixel level. In this extract from a chapter in my new book on JavaScript Graphics we look at how it works.
---
Modern Java - Writing Code
Mike James
Using ifs and loops is one of the most difficult parts of learning how to program. Our beginners introduction to Java reaches the part all programmers have to know and know well - how to write code.
---
Web Design And Development - More Books
Kay Ewbank
We recently looked at our top picks for books on Web Development and Design using HTML and CSS. While HTML and CSS are deservedly popular, there are alternatives for Web design and development, and we've covered many over the years. This programmer's bookshelf looks at books that are still aimed at web designers and developers, but using other programs and techniques.
Unhandled Exception!
College Athletes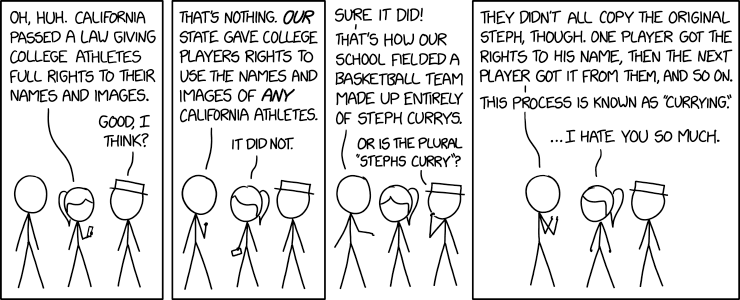 Click for larger image
It's not often we figure sport on our front page. The question, dear reader, is two-fold? First, why; and second, is there any currying actually going on in the description. I think its more like fluent calling.
More cartoon fun at xkcd a webcomic of romance,sarcasm, math, and language
---
Book Watch

Follow Book Watch on Twitter

Book Watch is I Programmer's listing of new books and is compiled using publishers' publicity material. It is not to be read as a review where we provide an independent assessment. Some but by no means all of the books in Book Watch are eventually reviewed.
---
Haskell from the Very Beginning (Coherent Press)
Monday 14 Oct
The book is aimed at both new and experienced programmers eager to explore functional languages such as Haskell. Author John Whitington takes a no-prerequisites approach to teaching the basics of a modern general-purpose programming language. Each small, self-contained chapter introduces a new topic, building until the reader can write quite substantial programs.
<ASIN:095767113X>
---
The Joy of Search (MIT Press)
Friday 11 Oct
This book explains how to frame search queries so they will yield information and describes the best ways to use such resources as Google Earth, Google Scholar, Wikipedia, and Wikimedia. With the subtitle, "A Google Insider's Guide to Going Beyond the Basics" it is by Daniel Russell, Google's Űber Tech Lead for Search Quality and User Happiness who also created two free online courses on Power Search which as still available. Russell also shows why metadata is important, and how to triangulate information from multiple sources.
<ASIN:0262042878>
---
Programming Kotlin (Pragmatic Bookshelf)
Wednesday 09 Oct
With the subtitle' "Create Elegant, Expressive, and Performant JVM and Android Applications", this book aims to help you master Kotlin to create performant, concise, and easy to maintain applications. Author Venkat Subramaniam starts with scripting with Kotlin before moving on to object-oriented programming. Other parts of the book look at Kotlin's functional-style capabilities, how to create internal domain-specific languages (DSLs), asynchronous programming, and Java interop.
<ASIN:1680506358>
---
Windows 10 Special Edition (In Easy Steps)
Monday 07 Oct
In this book author Mike McGrath walks the reader through Windows 10 basics. Billed as a "special edition - to venture further" and also referred to as 3rd edition, the book builds on Windows 10 In Easy Steps and Windows 10 for Seniors, taking the user to the next level. Written to help non-technical PC-users to make the most of their Windows 10 computer, the book then gently guides the reader through more advanced features, all in the familiar In Easy Steps style. Includes a chapter on troubleshooting to serve as a handy reference.
<ASIN:1840788070>
More Book Watch
---
Previous Book Watch.
Follow Book Watch on Twitter.
Publishers send your book news to:
bookwatch@i-programmer.info
---