Programming News and Views
Send your programming press releases, news items or comments to: NewsDesk@i-programmer.info
---
OpenCV Hackathon


27 Jan

|

Sue Gee




OpenCV has announced a hackathon aimed at eliminating bugs and generally stabilizing the library functionality. Taking place February 2 - 9 the open source project is looking for help in resolving a selected list of issues.
---
GraphDB Goes Open Source


27 Jan

|

Kay Ewbank



There's a new version of Ontotext GraphDB that's open source and comes with a range of new plugins. GraphDB Workbench, which give developers a way to quickly develop knowledge graph prototypes, was also open-sourced as a separate project.
---
The Word Robot Invented 100 Years Ago


26 Jan

|

Sue Gee



We are now very familiar with robots - machines that posses artificial intelligence and perform tasks that humans find arduous or simply unattractive. What you might not know is that word robot comes from the Czech for "forced labour".
---
We Have The Wiring Of A Fly's Brain - Now What?


25 Jan

|

Mike James



OK, if we are going to be 100% accurate it's only half a brain, but the question still stands. In a remarkable team effort, the wiring diagram, the connectome, for the largest chunk of neural tissue yet, has been mapped out - but this is a long way from understanding it.
---
January Week 3


25 Jan

|

Editor



Every day I Programmer has new material written by programmers, for programmers. This weekly digest gives a summary of the latest content, which this week includes an extract from Harry Fairhead's book Fundamental C and an in-depth look at dynamic typing in C#.

---
Countdown To Google I/O 2020 Has Begun


24 Jan

|

Lucy Black



It is now a tradition that Google reveals the date of its annual developer conference via a game or puzzle. Yesterday, which is a bit earlier than usual, the company, initiated the challenge to discover the date of the 2020 event.
---
Smalltalk-Inspired Pharo 8.0 Released


24 Jan

|

Kay Ewbank



The latest version of Pharo, the open-source language and core library following in the tradition of Smalltalk, has been released. It brings several new tools in preview, updated git clients and system browsers, and a move to the 64-bit version as the recommended version for Windows.
---
ActiveState Komodo IDE Now Free


23 Jan

|

Nikos Vaggalis



There will no longer be a fee for Komodo, the multi-language IDE for Python, PHP, JavaScript, HTML5, CSS, Node.js, Golang, Ruby, Perl, and a variety of other languages and frameworks.
---
Splice Machine 3 Improves SQL Coverage


23 Jan

|

Kay Ewbank



Splice Machine, a database that combines Hadoop and traditional relational abilities, has been updated. The new version offers improved SQL coverage, better workload management, and Kubernetes support.
---
Top Level Await Now In V8 But Might Not Be What You Think


22 Jan

|

Ian Elliot



One of the irritations of JavaScript's wonderful async and await approach is that you have to use it in a function. This is a limitation hat seems to be about to go away when you read headlines like "Top level Await Implemented In V8". However, you need to read the small print.
---
Devskiller Reveals Universal Demand For JavaScript


22 Jan

|

Janet Swift



Software Developers are in demand all over the world, which is great if you fancy a change of scene. In its 2020 report Devskiller finds that JavaScript is the must-have skill required by employers across the globe.
---
Coursera Offers Google IT Automation With Python Professional Certificate


21 Jan

|

Lucy Black



A brand-new Professional Certificate that includes a crash course on Python programming is now available on the Coursera platform. It is aimed at those looking to start a career in an IT role such as Systems Administrator or IT support specialist and consists of six short courses.
---
Google Open Sources Albert NLP


21 Jan

|

Kay Ewbank



Google has made ALBERT (A Lite BERT) available in an open source version. ALBERT is a deep-learning natural language processing model that the developers say uses far fewer parameters than BERT without sacrificing accuracy.
---
Python As Fast As Go and C++ The Queens Prove It


20 Jan

|

Administrator



Python is an attractive language with a good community for support and development, but is the price for this speed? Machine learning researchers at EPFL have put it to the test and found it not wanting.
---
MariaDB Announces Cloud Native Open Source DB


20 Jan

|

Kay Ewbank



There's a new version of MariaDB that is designed to make it easier to develop apps using smart transactions and cloud-native data storage.
---
Too Good To Miss: Battery UI Changes Users Space And Time


19 Jan

|

Harry Fairhead



We don't really consider the effects that our user interfaces have on human behavior. Could it be that we are changing the way people think about time and space simply by showing them a bar indicator of battery state?
---
JetBrains Mono - A New Programming Font


18 Jan

|

Mike James



There are two types of people in this world - no it's not "that" joke - those who revel in fonts and all things to do with them and those who hardly notice them. So the news that JetBrains has a new programming font will either excite you or leave you wondering what the fuss is about.
---
January Week 2


18 Jan

|

Editor



If you want to get up to speed on stuff that affects you as a developer, our weekly digest summarizes the articles, book reviews, and news written each day by programmers, for programmers. In this week's featured articles, Ian Elliot looks at variables and expressions in PHP and Nikos Vaggalis has a commentary on the Senate Judiciary Committee hearing on encryption.
Other Articles
Book Review
---
Query Store For SQL Server 2019
Tuesday 21 Jan
Author: Tracy Boggiano and Grant Fritchey
Publisher: Apress
Pages:219
ISBN: 978-1484250037
Print: 1484250036
Kindle: B07YNL3X4X
Audience: Users and developers of SQL Server queries
Rating: 5
Reviewer: Kay Ewbank
This book looks at the new Query Store feature in SQL Server and how you can use it to identify and fix poorly performing queries.
Featured Articles
---
Android Programming In Kotlin: More Controls
Mike James

Controls beyond the button? Here's a basic guide in Kotlin, an extract from my published book Android Programming in Kotlin: Starting With An App.
---
JavaScript Data Structures - Typed Arrays II
Ian Elliot

JavaScript has typed arrays that let you work easily with arrays of data stored an ArrayBuffer. What do you do if the data isn't in the form of an array but a patchwork of data types, i.e. a structure? The answer is the DataView, but what about endianism? For the complete answer, read on.
---
Fundamental C - Files
Harry Fairhead
This extract, from my new book on programming C in an IoT context, explains the basics of files the C way. As with all things C it starts simple and then gets a little more involved.
---
Deep C# - Dynamic C#
Mike James
What exactly is C#'s dynamic type all about? Is it dynamic or is it just static typing under cover? And how does it change things like early binding, virtual and non-virtual?
---
Programmer's Guide To Theory - Numbers
Mike James

Numbers are central to computation and computer science but they are often regarded as the province of the mathematician. Programmers need some background in what numbers are and this is what this extract from Chapter 6 of my recent book is all about.
Unhandled Exception!
New Year's Eve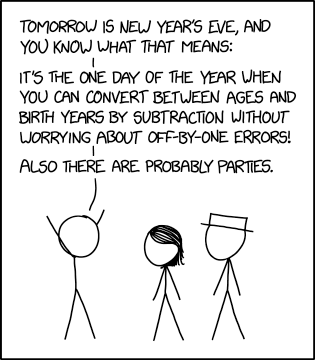 Click for larger image
How many people, picked at random, would recognize "off-by-one" error? How many would get the idea that there is just one day in the year when a simple calculation gives the right answer and why it doesn't work for the rest? And they say algorithmic thinking isn't worth learning!
PS: If you don't get it you are not invited to my "off-by-one" party.
More cartoon fun at xkcd a webcomic of romance,sarcasm, math, and language
---
Book Watch

Follow Book Watch on Twitter

Book Watch is I Programmer's listing of new books and is compiled using publishers' publicity material. It is not to be read as a review where we provide an independent assessment. Some but by no means all of the books in Book Watch are eventually reviewed.
---
Large-Scale C++ Volume I (Addison-Wesley)
Monday 27 Jan
In this book, the first of three volumes on developing large-scale systems using C++, John Lakos shows how to create and grow Software Capital. This volume lays the foundation for projects of all sizes and demonstrates the processes, methods, techniques, and tools needed for successful real-world, large-scale development. Up to date and with a solid engineering focus, the book demonstrates fundamental design concepts with concrete examples.
<ASIN:0201717069>
---
Essentials of Database Management (Pearson)
Friday 24 Jan
Built upon the strong foundation of Modern Database Management, currently in its eleventh edition, this new book is ideal for a less-detailed approach. Authors Jeffrey A. Hoffer, Heikki Topi and Ramesh Venkataraman guides readers into the future by presenting research that could reveal the "next big thing" in database management. The book features up-to-date coverage in the areas undergoing rapid change due to improved managerial practices, database design tools and methodologies, and database technology.
<ASIN:0133405680>
---
MongoDB: The Definitive Guide 3rd Ed (O'Reilly)
Wednesday 22 Jan
Updated for MongoDB 4.2, the third edition of this guide shows you the advantages of using document-oriented databases, and how this secure, high-performance system enables flexible data models, high availability, and horizontal scalability. Authors Shannon Bradshaw, Eoin Brazil, and Kristina Chodorow provide guidance for database developers, advanced configuration for system administrators, and use cases for a variety of projects. NoSQL newcomers and experienced MongoDB users will find updates on querying, indexing, aggregation, transactions, replica sets, ops management, sharding and data administration, durability, monitoring, and security.
<ASIN:1491954469>
---
Hands-On RESTful Web Services with ASP.NET Core 3 (Packt)
Monday 20 Jan
This book begins by introducing the basics of the REST philosophy, along with ASP.NET Core's middleware approach and how to customize it. Author Samuele Resca then looks at improving API resilience, securing services, and applying different design patterns and techniques to achieve a scalable web service. The book also covers techniques for caching, monitoring, and logging, implementing unit and integration testing strategies. In later chapters, deploying REST web services on Azure, and documenting APIs using Swagger and external tools such as Postman.
<ASIN:1789537614>
More Book Watch
---
Previous Book Watch.
Follow Book Watch on Twitter.
Publishers send your book news to:
bookwatch@i-programmer.info
---