Programming News and Views
Send your programming press releases, news items or comments to: NewsDesk@i-programmer.info
---
MariaDB Adds Node.js Connector


18 Dec

|

Kay Ewbank



The developers of MariaDB have released a connector for Node.js for the database, giving developers a way to build build Node.js applications on top of MariaDB's relational database.
---
Git Improves Usability


18 Dec

|

Alex Denham



Git 2.2 has been released with improvements to cloning, fetching, and grepping, all designed to improve usability and performance.
---
Eliminating Swear Words From OpenJDK


18 Dec

|

Sue Gee



Last week concern was raised over "too many swear words" in the source code for OpenJDK. Within three days the issue was resolved after a courteous exchange of views.
---
TigerGraph Releases Cloud Version


17 Dec

|

Kay Ewbank



TigerGraph has released a cloud version of its graph database. TigerGraph Cloud supports AI and machine learning applications, and was announced at the annual Amazon Web Services Re:Invent conference. It follows a recent update of TigerGraph DB.
---
Liquid Computers


16 Dec

|

Mike James



Yes, it's not a misprint. In these days of solid state computers, and perhaps even one day quantum computers, it seems strange that you can use liquids to do the same jobs - and more.
---
Vector Plus Alexa - A Useful Combo


15 Dec

|

Lucy Black



Launched a couple of months ago, Anki's Vector Robot is a voice-activated desktop robot that can answer questions, show you the weather, provide a countdown timer, take photos for you and more. It now comes with Amazon Alexa built-in, greatly expanding its range of behaviors and its usefulness.
---
December Week 2


15 Dec

|

Editor



Catch up with everything that appeared on I Programmer last week. Our digest gives links to news coverage plus the week's book reviews and additions to Book Watch. The list finishes with an extract, Inside Class, from Mike James' recently published book, Programmer's Python and, from our History section, Grace Hopper - The Mother of Cobol.
---
The Benefits of A Udacity Nanodegree


14 Dec

|

Sue Gee



Udacity has passed another milestone - its 50,000th Nanodegree program graduate. Udacity also revealed that gaining a nanodegree leads to an average salary increase around the globe and 33% more in the US and Canada.
---
Instaclustr Releases Cassandra Tools


14 Dec

|

Kay Ewbank



Three open source projects for use with Apache Cassandra have been released by Instaclustr. The projects are designed to make it easier to work with Cassandra alongside Kubernetes, LDAP and Kerberos.
---
Rust 2018 Released To Improve Developer Productivity


14 Dec

|

Mike James



Rust 2018 has now been released. This is the first major release since Rust 1.0 in 2015, and alongside new language features, it includes IDE support, updated libraries, new documentation, domain working groups, and a new website.
---
3D JavaScript Library Improves Renderers


13 Dec

|

Kay Ewbank



An updated version of Three.js has been released with improvements to its rendering facilities for Canvas 2D, SVG, CSS3D, and WebGL.
---
AlphaFold DeepMind's Protein Structure Breakthrough


12 Dec

|

Mike James



AlphaGo learned to play Go at grand-master level. AlphaFold has used similar methods to learn to predict protein folding and this is far more important.
---
What Programming Languages Should Students Learn


12 Dec

|

Janet Swift



A new survey by HackerRank shows a worrying divide between the programming languages students are taught and those in demand by employers.
---
MS Cryptography Library Open Sourced


11 Dec

|

Kay Ewbank



The Microsoft Simple Encrypted Arithmetic Library (Microsoft SEAL) homomorphic encryption library has been made is open source on GitHub under an MIT License for free use. The library was developed by researchers in the Cryptography Research group at Microsoft.
---
Programmer Gifts 10 - Pi For Xmas


10 Dec

|

Harry Fairhead



The holiday season is a good time to learn about computers - you have the time. But where to start? Our advice is to ignore the pudding and go for a Pi.
---
Doug Engelbart's Mother of All Demos 50 years On


10 Dec

|

Sue Gee



It is 50 years since Douglas Engelbart presented a talk that came to be known as the "Mother of All Demos". The landmark event introduced many aspects of interactive computing, including the mouse. These ideas, now commonplace, were visionary in 1968 and must have stunned many in the audience.
---
Nvidia Open Sources Physics Engine


10 Dec

|

Kay Ewbank



Nvidia has released a new version of its physics engine, PhysX, and has made it open source. The developers say the engine has been upgraded to provide industrial grade simulation quality at game simulation performance.
---
Grace Hopper's 112th Birthday


09 Dec

|

Sue Gee



Today, December 9th 2018, is the 112th anniversary of the birth of Grace Hopper. Her continuing legacy has been to inspire efforts to enhance the career interests of women in computing. Her concern for teaching young people is why Computer Science Education Week and the Hour of Code are timed to coincide with her birthday.
Other Articles
Book Review
---
Learning React, 3rd Ed
Tuesday 18 Dec
Author: Kirupa Chinnathambi
Publisher: Addison Wesley
Date: June 2018
Pages: 304
ISBN: 978-0134843551
Print: 013484355X
Kindle: B07CQPL2BM
Audience: Would-be web developers
Rating: 4.5
Reviewer: Ian Elliot
React - the new kid on the block, but this book is a 3rd edition. Not so young any more.
Featured Articles
---
The Programmers Guide To Kotlin - Delegated Properties
Mike James

Properties are fundamental to objects and languages differ in how sophisticated they are. Kotlin has a very sophisticated property infrastructure including delegated properties where another object is used to provide properties to a range of other classes.
---
Tools Doth A Language Make
Mike James
Languages are not islands that can be considered in isolation. They have to be part of a development environment and it is time that this was fully recognized. A language isn't just syntax and semantics. A language is syntax, semantics and an IDE.
---
Programmer's Python - Inside Class
Mike James
In the previous chapter we looked at how Python provides the basic facilities needed to implement what looks like a classical approach to objects – that is class and methods. In this chapter we look more closely at how this works. It is slightly more complicated than you might imagine.This extract is from my new book with the subtitle "Something Completely Different".
---
Grace Hopper - The Mother of Cobol
Historian
Rear Admiral Grace Brewster Murray Hopper was responsible not only for the development of the Cobol language but also for the continuous pressure within the industry to make computers and computing more accessible and to to bring the research and career interests of women in computing to the forefront.
---
Fundamental C - Dependent v Independent & Undefined Behavior
Harry Fairhead
Lots has been written about undefined behavior in C, but not much about the reasons why it exists. This extract, from a forthcoming book on programming C in an IoT context, provides a very helpful explanation.
Unhandled Exception!
Modified Bayes' Theorem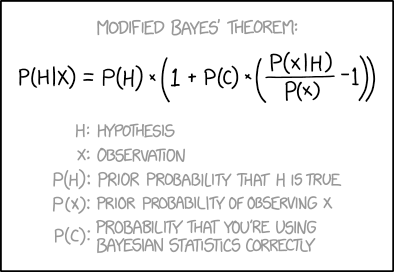 Click for larger image
This is amusing. Of course, data scientists, or statisticians as we use to call them, aren't perfect and many mistakes are made and so it makes sense to factor in the probability of such a misunderstanding into the calculation of the posterior. But, and this is a very big but, if you can find yourself a Bayesian look them in the eye, use a mirror if you are a Bayesian, and ask them
"What is this P that you keep calculating? Does it have a real physical interpretation in all cases? What is the P that the sun will rise tomorrow and where is your replication?"
Beliefs are dangerous things.
More cartoon fun at xkcd a webcomic of romance,sarcasm, math, and language
---
Book Watch

Follow Book Watch on Twitter

Book Watch is I Programmer's listing of new books and is compiled using publishers' publicity material. It is not to be read as a review where we provide an independent assessment. Some but by no means all of the books in Book Watch are eventually reviewed.
---
Designing Distributed Systems (O'Reilly)
Monday 17 Dec
This practical guide presents a collection of repeatable, generic patterns to help make the development of reliable distributed systems far more approachable and efficient and aims to show systems engineers and application developers how these long-established patterns provide a common language and framework for dramatically increasing the quality of systems. Author Brendan Burns - Director of Engineering at Microsoft Azure - demonstrates how you can adapt existing software design patterns for designing and building reliable distributed applications.
<ASIN:1491983647>
---
Hands-On Markov Models with Python (Packt)
Thursday 13 Dec
This book shows how to get to grips with Hidden Markov Models and different inference algorithms by working on real-world problems. It covers Markov processes, models, and types, the different algorithms used in inferences and how to apply them in state and parameter inference. Use of HMMs in time series analysis and natural language processing (NLP) using Python is also covered, as well as the use of HMM for reinforcement learning with the help of Q-Learning. Ankur Ankan and Abinash Panda use hands-on examples to simplify the process flow in machine learning by using Markov model concepts.
<ASIN:1788625447>
---
Microsoft SQL Server 2017 on Linux (McGraw-Hill)
Wednesday 12 Dec
This guide shows, step-by-step, how to set up, configure, and administer SQL Server 2017 on Linux for high performance and high availability. Written by SQL Server expert Benjamin Nevarez, the book teaches Linux skills to Windows-based SQL Server professionals. You will get clear coverage of both Linux and SQL Server and complete explanations of the latest features, tools, and techniques, including topics such as on adaptive query processing, automatic tuning, disaster recovery, and security.
<ASIN:1260121135>
---
Electron in Action (Manning)
Monday 10 Dec
This book guides the reader step-by-step to building cross-platform desktop applications that run on Windows, OSX, and Linux using JavaScript, Node, and the Electron framework. Author Steven Kinney shows how to add OS-specific features like the file system, menus, and clipboards, and how to use Chromium's tools to distribute the finished product. The book requires intermediate JavaScript and Node skills. Purchase of the print book includes a free eBook in PDF, Kindle, and ePub formats from Manning Publications
<ASIN:1617294144>
More Book Watch
---
Previous Book Watch.
Follow Book Watch on Twitter.
Publishers send your book news to:
bookwatch@i-programmer.info
---