Programming News and Views
Send your programming press releases, news items or comments to: NewsDesk@i-programmer.info
---
CockroachDB Adds PostGIS Spatial Data Support


24 Nov

|

Kay Ewbank



There's a new version of CockroachDB that has updates for developers, better security and new features including support for storing and indexing spatial data using Postgre PostGIS-compatible SQL syntax.
---
TypeScript 4.1 Adds Temporal Literal Types


23 Nov

|

Kay Ewbank



TypeScript has been updated with new checking flags, editor productivity updates, and speed improvements, alongside new features including support for temporal literal types.
---
The State Of Secure Software Development - Three OpenSSF Courses


23 Nov

|

Nikos Vaggalis



The Open Source Security Foundation has recently launched three brand new and free courses on Secure Software Development, which are hosted on edX.
---
Diabolo Juggling By Robot Arms


22 Nov

|

Lucy Black



Watching two robot arms play diabolo is enough to induce diabolo envy in anyone who has ever experimented with this type of toy. The good news is that Omron is going to release the simulation model, dataset and control algorithm so that others robot arms can be trained to do similar juggling feats.
---
November Week 3


21 Nov

|

Editor



Our weekly digest lists the week's news, new titles added to our Book Watch Archive and our weekly book review. This week's featured articles are an extract from JavaScript Bitmap Graphics with Canvas about drawing Bezier curves by Ian Elliot and the history of the UK 1970's Big Board Computers.
---
Spatial AI Competition A Winner


20 Nov

|

Sue Gee



When OpenCV launched a Computer Vision contest earlier this year, it expected to award three prizes, totalling $6,000. The competition was so popular that it has now announced six winners who share $12,000. It also plans further contests with "10X times rewards".
---
Hour Of Code Adds Lessons In Unconscious Bias


20 Nov

|

Kay Ewbank



Microsoft has announced details a new Hour of Code lesson. In "A Minecraft Tale of Two Villages!" the task will be to bring two villages together with the power of code, learning and practicing inclusion and empathy along the way.
---
Servo Rehomed With Linux Foundation


19 Nov

|

Sue Gee



Servo, the open source project initiated at Mozilla to create a high-performance browser engine designed for both application and embedded use, is joining the Linux Foundation.
---
Android Adopts Bazel For Build System


19 Nov

|

Kay Ewbank



The Android Platform is migrating from its current build systems (Soong and Make) to Bazel. While components of Bazel have been already checked into the Android Open Source Project (AOSP) source tree, this will be a phased migration over the next few Android releases.
---
Nvidia's AI Supercomputer For Medical Research And Drug Discovery


18 Nov

|

Nikos Vaggalis



Last month Nvidia unveiled plans to build a supercomputer intended for AI research in health care. This prompts us to look at AI's potential role in health care and how it is already being used.
---
The State of Computer Science Education 2020


18 Nov

|

Sue Gee



The majority of US schools still do not teach Computer Science, despite the concerted efforts of Code.org Advocacy Coalition. On the other hand, a lot of progress has been made and the number of students taking the AP Computer Science exams has "skyrocketed".
---
What Languages Do Devs Want to Learn?


17 Nov

|

Mike James



Python, of course. What comes as a surprise is the size of the margin between Python and the rest of the pack. The other unexpected finding is that JavaScript doesn't even make it into the top 10. So, what going on?
---
Angular 11 Released With Byelog Goal Complete


17 Nov

|

Kay Ewbank




Angular 11 has been released with updates across the platform including the framework, the CLI and components. More specifically, the new version enforces stricter types and has automatic inlining of fonts.
---
Learn To Develop On Android With MAD Skills


16 Nov

|

Nikos Vaggalis



Modern Android Development (MAD) Skills is a free series of videos and articles by Google that teaches the modern ways of doing development on the Android platform.
---
Microsoft Releases Playwright Test Runner


16 Nov

|

Kay Ewbank




Microsoft has released a preview version of Playwright Test Runner, a zero config cross-browser tool providing end-to-end testing for web apps. Features include browser automation for Playwright, Jest-like assertions and built-in support for TypeScript.
---
World Gone Mad - Computer Vision: The Universal Interface


15 Nov

|

Harry Fairhead



This is a good story - a new app allows easier monitoring of diabetes. It is the way that it has been achieved that should give us cause for thought. It reads data from a glucose meter but you can forget bluetooth or wifi - it uses computer vision to read the display just like a human.
---
November Week 2


14 Nov

|

Editor



Get up to speed on stuff that affects you as a developer by reading about the news and books written by programmers, for programmers. Python and Extreme Programming are the topics of this week's featured articles.
---
Guido van Rossum Joins Microsoft


13 Nov

|

Mike James



Creator of Python, Guido van Rossum, has joined Microsoft as a Distinguished Engineer in the Developer Division. His stated aim is to make Python better. We can't wait to find out what that results in.
Other Articles
Book Review
---
Algorithms
Tuesday 17 Nov
Author: Panos Louridas
Publisher: MIT Press
Date: August 2020
Pages: 312
ISBN: 978-0262539029
Print: 0262539020
Kindle: B084V86BXM
Audience: General
Rating: 4
Reviewer: Mike James
Algorithms - big subject, smallish book!
Featured Articles
---
Pi IoT In Python Using GPIO Zero - DC Motors
Harry Fairhead & Mike James

Motors are a central part of the IoT but they are often taken for granted. In this extract from a new book on using GPIO Zero on the Pi in Python we look at basic DC Motors.
---
Covariance And Contravariance - A Simple Guide
Mike James
Programming, and computer science in particular, has a tendency to use other people's jargon. Often this makes things seem more difficult. You may have heard of covariance and contravariance and wondered what they were all about. If you want a simple explanation that applies to any computer language, here it is.
---
JavaScript Canvas - Bezier Curves
Ian Elliot
Once you move beyond simple shapes like rectangles, circles and ellipses, the first thing you are likely to encounter is the Bezier curve. In this extract from my book on JavaScript Graphics, we look at what makes a Bezier curve.
---
The UK 1970s Big Board Computers
Historian
When it comes to the early days of the personal computer revolution, what happened in the UK was very different from what happened in the US. So don't imagine that the well- publicized stories of what happened around Silicon Valley tell you what happened in Britain. Oh no, it was much more interesting than that!
---
Programmer's Python - Objects Become Classes
Mike James

Everything in Python might well be an object, but if this is the case we need some way of creating new custom objects. How objects become classes and more is explained in this extract from my book, Programmer's Python: Everything is an Object.
Unhandled Exception!
Scientist Tech Help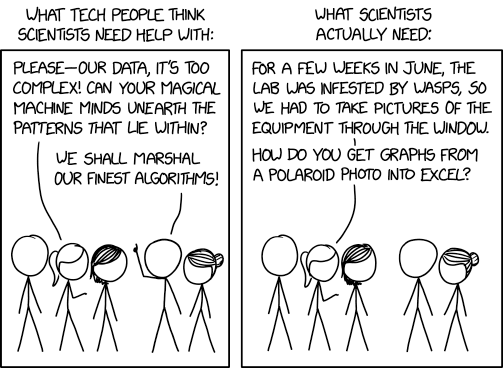 Click for larger image
So, so true. Not restricted to scientist tech help either. We often get hold of the wrong idea when it comes to providing any software. When we do find out what the user wants, it's often a big disappointment. I suggest this is why we hate requirements analysis. In an ideal world we should just deliver the toy that pleases us the most...
More cartoon fun at xkcd a webcomic of romance,sarcasm, math, and language
---
Book Watch

Follow Book Watch on Twitter

Book Watch is I Programmer's listing of new books and is compiled using publishers' publicity material. It is not to be read as a review where we provide an independent assessment. Some but by no means all of the books in Book Watch are eventually reviewed.
---
Grokking Deep Reinforcement Learning (Manning)
Monday 23 Nov
This book uses engaging exercises to teach you how to build deep learning systems. Miguel Morales combines annotated Python code with intuitive explanations to explore Deep Reinforcement Learning (DRL) techniques. You'll see how algorithms function and learn to develop your own DRL agents using evaluative feedback.
<ASIN:1617295450>
---
High-Tech LEGO Projects: 16 Rule-Breaking Inventions (No Starch)
Friday 20 Nov
This is a collection of 16 scientific and technical projects to build with parts from the Lego Mindstorms EV3 robotics set and other components. Author Grady Koch shows how to build creative technical inventions with practical applications. You'll learn to build a dynamic array of working devices for outdoor research, home security, spycraft, and more.
<ASIN:1718500254>
---
The Art of Multiprocessor Programming, 2nd Ed (Morgan Kaufmann)
Wednesday 18 Nov
This book is a guide to multicore programming, and this updated edition introduces higher level software development skills relative to those needed for efficient single-core programming. It is aimed at both students and professionals, who will benefit from its thorough coverage of key multiprocessor programming issuesAuthors Maurice Herlihy, Nir Shavit, Victor Luchangco and Michael Spear include comprehensive coverage of the new principles, algorithms, and tools necessary for effective multiprocessor programming.
<ASIN:0124159508>
---
C# 9 and .NET 5 5th Ed (Packt)
Monday 16 Nov
This book shows how to start programming C# applications and has been updated and expanded with a new chapter on the Microsoft Blazor framework. Mark J Price begins with the fundamentals of C#, including object-oriented programming and new C# 9 features such as top-level programs, target-typed new object instantiation, and immutable types using the record keyword.
<ASIN:180056810X>
---
Alice and Bob Learn Application Security (Wiley)
Friday 13 Nov
This book is intended as an accessible and thorough resource for anyone seeking to incorporate best security practices in software development. Author Tanya Janca uses stories of the characters Alice and Bob, real-life examples, technical explanations and diagrams to ensure maximum clarity of the many abstract and complicated subjects. The book covers all the basic subjects such as threat modeling and security testing, but also dives deep into more complex and advanced topics for securing modern software systems and architectures.
<ASIN:1119687357>
More Book Watch
---
Previous Book Watch.
Follow Book Watch on Twitter.
Publishers send your book news to:
bookwatch@i-programmer.info
---