Programming News and Views
Send your programming press releases, news items or comments to: NewsDesk@i-programmer.info
---
Wolfram Engine for Developers Now "Free"


24 May

|

Nikos Vaggalis



The Wolfram Engine, which powers the Language as well as Wolfram's desktop and cloud products, is being released as free for developers (with limitations) so that it can be tried out and bundled into their software engineering projects.
---
Data Scientist Best Paying Entry-Level Job Says Glassdoor


24 May

|

Janet Swift



Glassdoor has revealed that the highest paid entry level job is that of Data Scientist. Software Engineer is in second place and UX Designer, Java Developer and Software Developer are also in the top 10.
---
GitHub Sponsors - Money For Open Source


23 May

|

Sue Gee



GitHub has announced a new way to financially support open source developers. To jump start this scheme, GitHub is going to match all contributions up to $5,000 during a developer's first year in GitHub Sponsors.
---
Learn and Profit From Alexa Skills


23 May

|

Lucy Black



Amazon has provided a free self-paced skill-building course that offers step-by-step guidance on how to build a high-quality Alexa skill from start to finish. It has also announced the expansion of In-Skill Purchasing, making Alexa a more attractive platform from the point of view of any developer wanting to make money.
---
Python - Dead Batteries Included?


22 May

|

Mike James



Python is the "batteries included" language - but is it? A recent heated talk at the Python Language Summit accused Python of having leaking batteries and suddenly the core developers are considering removing things from the standard library. What is the fuss all about?
---
Kickstarter Campaign For AI Computer Vision Courses


22 May

|

Sue Gee



OpenCV has initiated a Kickstarter to fund the creation of online AI courses, two in computer vision and a third on Deep Learning with PyTorch. The goal of $5,000 was quickly surpassed - and it looks as though it could even go beyond $500,000 before it closes on June 13th.
---
NetBeans Is A Top-Level Apache Project


21 May

|

Mike James



When Oracle abandoned NetBeans, many thought that the future looked bleak, but now more than two years on it has graduated to being a full Apache project. What does the future hold?
---
Udacity's Developing Android Apps with Kotlin


21 May

|

Nikos Vaggalis




Kotlin is everywhere, well at least for Android. This new Udacity course shows how developing for the platform has radically changed.
---
Huawei Blocked From Android - The Ascendance Of A New OS?


20 May

|

Harry Fairhead



Google, following the political line, has revoked Huawei's Android licence. Given Huawei has plans to be the biggest phone maker in the world, what does this mean for the Android community?
---
Kickstart Coding With Endless


20 May

|

Nikos Vaggalis



Endless is a Linux distribution that comes with all the usual office and entertainment apps. It also includes a range of games involving visual coding with blocks or JavaScript, designed to kick-start kids into coding.
---
Peter Norvig - As We May Program


19 May

|

Sue Gee



In the spirit of sharing interesting items that we stumble across, here is a video of a lecture delivered by Peter Norvig as the latest Microsoft Research Distinguished Lectures Series.
---
Stanford Doggo - The Quadruped For The Rest Of Us


18 May

|

Harry Fairhead



Not everyone is going to be able to afford a Spot Mini when it becomes available, but a Stanford Doggo is much more within reach. The only snag is that "some assembly is required". See Doggo in action!
---
May Week 2


18 May

|

Editor



If you want to get up to speed on stuff that affects you as a developer, our weekly digest summarizes the articles, book reviews,and news written each day by programmers, for programmers. This week, for fun, we also have a coding puzzle.
---
More Machine Learning Courses From Google


17 May

|

Sue Gee



Google has added three new free courses on machine learning topics aimed at researchers, developers and students.They are on Clustering, Recommendation Systems and Testing and Debugging and take learners beyond the Machine Learning Crash Course.
---
A Reverse Engineering Workshop for Beginners


17 May

|

Nikos Vaggalis



A Reverse Engineering workshop for absolute beginners comes from cybercrime researcher Ophir Harpaz. It is available, for free, online.
---
Microsoft Graph Data Connect Now Generally Available


16 May

|

Kay Ewbank



Microsoft Graph data connect is now generally available. The announcement was made at this year's Build conference. Graph is a unified programmability model and APIs that can be used to access data within Office 365, Dynamics 365, Enterprise Mobility and Security, Windows 10, and Azure Active Directory.
---
GitHub Introduces Package Registry


16 May

|

Alex Armstrong



GitHub has announced GitHub Package Registry, a software package hosting service that allows you to host your packages and code in one place. Currently in limited private beta, it lets you host software packages privately or publicly and use them as dependencies in your projects.
---
The End Of The App Store Era - Apple To Face Lawsuit


15 May

|

Mike James



In October of last year we reported on Apple's appeal to the Supreme Court Of The United States to dismiss a lawsuit claiming that the App Store is a monopoly. SCOTUS has now granted permission for the suit to proceed and Apple is almost sure to lose. This could be the end of the era of the walled garden of app stores.
Other Articles
Book Review
---
Programming Essentials Using Java
Tuesday 21 May
Author: William McAllister and S. Jane Fritz
Publisher: Mercury
Pages: 540
ISBN: 978-1683920373
Print: 1683920376
Kindle: B06WWFW2HB
Audience: Would-be Java programmers
Rating: 3
Reviewer: Alex Armstrong
It's not too late to learn Java!
Featured Articles
---
JavaScript Jems - Objects with Values
Ian Elliot
Sometimes it is useful for an object to have a default value so that it can be used in an expression such as object+1 and object+"hello world". In JavaScript this is really easy and it is an important general principle.
---
Rule-Based Matching In Natural Language Processing
Jannes Klaas
SpaCy is an open-source software library for advanced Natural Language Processing, written in Python and Cython. Here it is used to build a rule-based matcher that always classifies the word "iPhone" as a product entity
---
Grammar and Torture
Mike James
Computational grammar is a subject that is sometimes viewed as a form of torture by computer science students, but understanding something about it really does help ....
---
The Programmers Guide To Kotlin - Smart Casts
Mike James

Kotlin tries to make casting easy and safe. In this extract from the book on Kotlin by Mike James we look at how to handle smart casts and type aliases.
---
Python Puzzle - Where Did The Time Go?
Mike James
A Python programming puzzle to get you up to speed. This one is all about time keeping, or is it? There are some strange things that go on in Python when you aren't paying attention.
Unhandled Exception!
Differentiation and Integration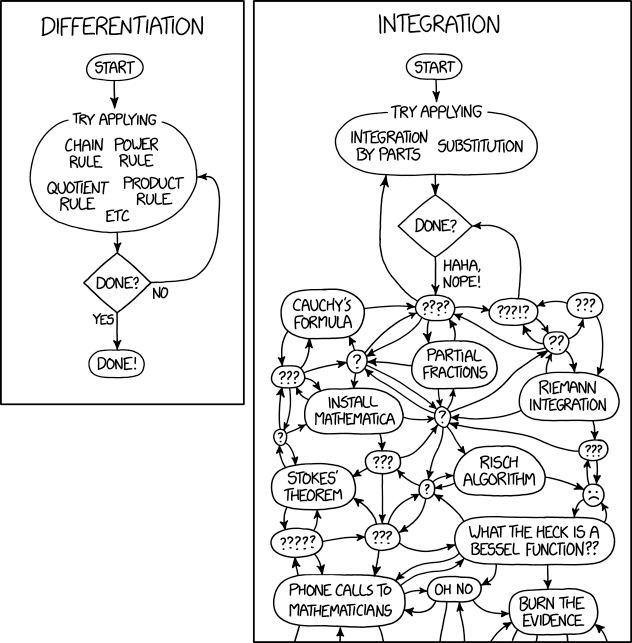 Click for larger image
Take a problem, almost any problem and if you can solve it with an algorithm then the chances are you can solve the inverse problem. You know x so you can work out y now given y, well x can be found, but often it is a little harder. There are some problems for which "little" becomes "a lot". So it is with many NP problems and it certainly is for calculus. If you have been there and know how terrible a task integration is, just stop for a moment and ask yourself why? Why is integration so very hard....
More cartoon fun at xkcd a webcomic of romance,sarcasm, math, and language
---
Book Watch

Follow Book Watch on Twitter

Book Watch is I Programmer's listing of new books and is compiled using publishers' publicity material. It is not to be read as a review where we provide an independent assessment. Some but by no means all of the books in Book Watch are eventually reviewed.
---
Getting MEAN with Mongo, Express, Angular, and Node 2nd Ed (Manning)
Friday 24 May
This book teaches you how to develop full-stack web applications using the MEAN stack. This edition was completely revised and updated to cover MongoDB 4, Express 4, Angular 7, Node 11, and the latest mainstream release of JavaScript ES2015. Authors Simon Holmes and Clive Harber show how to create a static site in Express and Node, then expanding on that to integrate a MongoDB database, build an API, and add an authentication system. The book has many pro tips for building dynamic and responsive data-driven web applications.
<ASIN:1617294756>
---
Security Tokens and Stablecoins Quick Start Guide (Packt)
Wednesday 22 May
Subtitled "Learn how to build STO and stablecoin decentralized applications", this book is a guide to understanding, developing, and testing popular security-token smart contracts. Authors Weimin Sun, Xun (Brian) Wu, and Angela Kwok cover key Blockchain and Ethereum platforms concepts. The book includes a step-by-step guide to developing STO smart contracts on Ethereum, and covers how to monetize digital tokens under various U.S. securities laws.
<ASIN:1838551069>
---
Laravel: Up & Running 2nd Ed (O'Reilly)
Monday 20 May
Fully updated to cover Laravel 5.8, the latest release, the second edition of this practical guide provides an introduction to one of today's most popular web frameworks. Author Matt Stauffer delivers a high-level overview and concrete examples to help experienced PHP web developers get started with Laravel right away, aiming to show how the rapid application development framework and its vast ecosystem of tools let you quickly build new sites and applications with clean, readable code.
<ASIN:1492041211>
---
The Joy of Kotlin (Manning)
Friday 17 May
This book teaches you practical techniques to improve abstraction and design, to write comprehensible code, and to build maintainable bug-free applications Author Pierre-Yves Saumont teaches you to approach common programming challenges with a fresh, functional programming inspired perspective. As you work through the many examples, you'll dive deep into handling errors and data properly, managing state, and taking advantage of laziness. Purchase of the print book includes a free eBook.
<ASIN:1617295361>
More Book Watch
---
Previous Book Watch.
Follow Book Watch on Twitter.
Publishers send your book news to:
bookwatch@i-programmer.info
---