Programming News and Views
Send your programming press releases, news items or comments to: NewsDesk@i-programmer.info
---
June Week 1


12 Jun

|

Editor



If you've not visited I Programmer before, this Weekly Digest gives you a taster. It has links to our wide ranging news with its mix of analysis and comment. It also lists the week's additions to Book Watch Archive and our Book Review of the Week. This week saw the publication of Programmers Guide To Kotlin, 2nd Ed by Mike James so that's where we start.
---
Margaret Martonosi Receives Computer Architecture Award


11 Jun

|

Sue Gee



The 2021 Eckert-Mauchly Award has been awarded to Margaret Martonosi for contributions to the design, modeling, and verification of power-efficient computer architecture which have led to new fields of research.
---
Chrome 92 Adds JavaScript Features


11 Jun

|

Kay Ewbank



The beta of Chrome 92 has been launched with improvements including web apps as file handlers and new JavaScript features.
---
Open Source Insights Into The Software Supply Chain


10 Jun

|

Nikos Vaggalis



Open Source Insights is a new project by Google that helps developers understand and visualize their applications' dependencies and therefore the vulnerabilities that come with them.
---
Apple Introduces Developer Xcode Cloud


10 Jun

|

Kay Ewbank



Apple has announced new developer tools and features during this year's WorldWide Developer Conference (WWDC), including Xcode Cloud, a new integration and delivery service built into Xcode 13, improvements to Swift, and developer-focused improvements to Apple App Store.
---
Wolfram Offers $20,000 For A Proof


09 Jun

|

Mike James




In the past, Stephen Wolfram has offered prizes for proofs that are in line with his particular way of thinking about the world. Now we have a prize for proving that S is all you need.
---
HackerEarth Finds Sources of Developer Unhappiness


09 Jun

|

Janet Swift



The results of HackerEarth's second survey are in and reveal that developers are negatively impacted by Zoom meetings and dislike the lack of post-interview feedback. These results may not be surprising but they are interesting.
---
Towards A Common Vision For Browser Extensions


08 Jun

|

Sue Gee



Browser extension are, rightly, perceived as unsafe and yet they seem to spread like wildfire. One limiting factor is that they tend to be browser specific. Now a new group with members from all the major browser developers, aims to create a common architecture to standardize future web extensions.
---
Amazon DocumentDB Adds Global Cluster Support


08 Jun

|

Kay Ewbank



Amazon has added support for global clusters to its DocumentDB database. Amazon DocumentDB was created by Amazon for its internal use to be compatible with the MongoDB API without using any MongoDB code following MongoDB's move to a paid-for model.
---
Stack Overflow Sold for US$1.8 Billion


07 Jun

|

Sue Gee



Prosus, one of the largest technology investors in the world, has announced that it is acquiring Stack Overflow for US$1.8 Billion. Stack Overflow CEO Prashanth Chandrasekar described this as "tremendously exciting news".
---
Angular Gets New DevTools and Feature Request Process


07 Jun

|

Kay Ewbank




The Angular team has announced a new Chrome DevTools extension and a change to the way feature requests are handled.
---
Zap A Mosquito With A Pi


06 Jun

|

Harry Fairhead



and a laser of course. It isn't a new idea but at last someone has given it a go and made some results available. You might be surprised what the biggest problem is.
---
May Week 5


05 Jun

|

Editor



This weekly digest is a summary of our news coverage together with the latest book review and additions to our archive of new book titles plus our latest articles. This week Harry Fairhead takes a hands-on look at the SPI Linux Driver for the Raspberry Pi for IoT projects and Mike James explains how a logical deterministic device like a computer can produce random numbers.
---
Levesque and Vardi Receive Newell Award


04 Jun

|

Sue Gee



Hector Levesque of University of Toronto and Moshe Vardi of Rice University have been named as the 2020 recipients of the ACM-AAAI Allen Newell Award. They share the $10,000 prize, co-funded by the Association for the Advancement of Artificial Intelligence.
---
Google Launches Indie Games Accelerator


04 Jun

|

Alex Denham



Google has opened submissions for two annual developer programs - the Indie Games Accelerator and the Indie Games Festival. These programs are designed to help small games studios grow on Google Play, no matter what stage they are in.
---
Mercury Extends Visual Basic For .NET


03 Jun

|

Kay Ewbank



An implementation of Basic that is fully code-compatible with VB.NET has been released. Mercury adds multi-platform support and is feature compatible with C#.
---
GraalVM 21.1 Released - What's New?


03 Jun

|

Nikos Vaggalis



GraalVM, the runtime that compiles Java bytecode into native self-contained executables has reached version 21.1.
---
VR Fails Categorized


02 Jun

|

Lucy Black



Jumping about with your senses filled by a false input can cause you to fall over or interact with the real world in ways that are just plain wrong. VR can be fun, but it can also be dangerous - who knew that?
Other Articles
Book Review
---
TinyML: Machine Learning with TensorFlow Lite
Tuesday 08 Jun
Authors: Pete Warden and Daniel Situnayake
Publisher: O'Reilly
Date: December 2019
Pages: 504
ISBN: 978-1492052043
Print: 1492052043
Kindle: B082TY3SX7
Audience: Developers interested in machine learning
Rating: 5, but see reservations
Reviewer: Harry Fairhead
Can such small machines really do ML?
Featured Articles
---
The Essence Of Loops
Mike James
Loops are an essential part of any program and becoming a programmer is mostly a matter of mastering the idea of controlled repetition. It is sad that most programmers only know the forms of loops provided by one or at most two languages because they have a life and structure that doesn't depend on language.
---
The Programmers Guide To Kotlin - Coroutines
Mike James

Coroutines are now a stable part of Kotlin and an important way of creating asychronous code. Find out how they work in this extract from the second edition of my book on Kotlin for Programmers.
---
Simple and Compound Interest - Time Is Money
Janet Swift
In the second chapter of Janet Swift's e-book on using a spreadsheet to take care of your personal and business finances and we explore the idea of borrowing money for a specified rate of interest or earning interest on an investment.
---
Pi IoT In C Using Linux Drivers - The SPI Driver
Harry Fairhead
SPI is a very popular way of connecting devices to the Raspberry Pi and the good news is that it is well supported by Linux drivers - once you know how.
---
Inside Random Numbers
Mike James
We often refer to things that are unpredictable as being "random" but this is not the same as truly random behavior - which is something we have to work hard to achieve. Put another way - how can a logical deterministic device like a computer produce a random number?
Unhandled Exception!
Depth and Breadth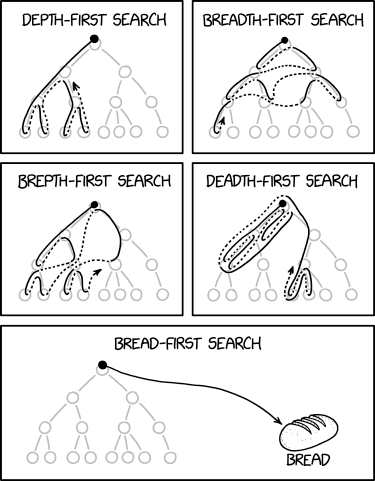 Click for larger image
Ah the joy of tree search. When you first meet trees computer science becomes real. Trees, branches, leaves it all sounds so real. Then someone decides to call them nodes and arcs...so abstract. Depth first, breadth first and, in my case, always bread first, but I am dyslexic.
More cartoon fun at xkcd a webcomic of romance,sarcasm, math, and language
---
Book Watch

Follow Book Watch on Twitter

Book Watch is I Programmer's listing of new books and is compiled using publishers' publicity material. It is not to be read as a review where we provide an independent assessment. Some but by no means all of the books in Book Watch are eventually reviewed.
---
The Computers That Made Britain (Raspberry Pi Press)
Friday 11 Jun
This book tells the story of the computers that would go on to inspire a generation, such as the ZX Spectrum, BBC Micro, and Commodore 64, and what happened behind the scenes during their creation. With dozens of interviews Tim Danton looks at the tales of missed deadlines, technical faults, business interference, and the unheralded geniuses behind all of it.
<ASIN:1912047853>
---
Programmer's Guide To Kotlin, 2nd Ed (I/O Press)
Wednesday 09 Jun
This book introduces Kotlin to programmers. You don't have to be an expert in Java or any other language, but you do need to know the basics of programming and using objects. As with all languages Kotlin has some subtle areas where an understanding of how things work makes all the difference and in this second edition Mike James pays close attention to these gotchas. The new edition has been extensively revised and expanded, with a new chapter on Coroutines which is perhaps the Kotlin feature with the most pitfalls and the least documentation.
<ASIN:1871962706>
---
React 17 Design Patterns and Best Practices (Packt)
Monday 07 Jun
This book shows how to use React effectively to make applications more flexible, easier to maintain, and improve their performance, while improving speed without affecting quality. Carlos Santana Roldán starts with the internals of React, before gradually moving on to writing maintainable and clean code, showing how to build components that are reusable across the application, structure applications, and creating forms that actually work. Later chapters cover styling React components and optimize them to make applications faster and more responsive.
<ASIN:1800560443>
---
The Constitution of Algorithms (MIT Press)
Friday 04 Jun
Subtitled "Ground-Truthing, Programming, Formulating", this book covers a laboratory study that investigates how algorithms come into existence. Florian Jaton offers a new way to study computerized methods, providing an account of where algorithms come from and how they are constituted. He investigates the practical activities by which algorithms are progressively assembled rather than what they may suggest or require once they are assembled.
<ASIN:0262542145>
---
Grokking Simplicity (Manning)
Wednesday 02 Jun
This book, subtitled "Taming complex software with functional thinking", is a friendly, practical guide that author Eric Normand says will change the way you approach software design and development. It introduces an approach to functional programming that explains why certain features of software are prone to complexity, and teaches you the functional techniques you can use to simplify these systems so that they're easier to test and debug.
<ASIN:1617296201>
More Book Watch
---
Previous Book Watch.
Follow Book Watch on Twitter.
Publishers send your book news to:
bookwatch@i-programmer.info
---