Programming News and Views
Send your programming press releases, news items or comments to: NewsDesk@i-programmer.info
---
PostgreSQL 11 RC Available


15 Oct

|

Kay Ewbank




PostgreSQL 11 is here - well, it will be within days, and the release candidate is available for download now.
---
Hacktoberfest 2018 - Celebrate Open Source!


15 Oct

|

Nikos Vaggalis



Hacktoberfest is an annual event sponsored by DigitalOcean in partnership with GitHub and Twilio and while "Hacktoberfest" might sound or give the impression of something doable only by very experienced hacker programmers, in essence, it's just a wrapper around having to submit 5 Pull Requests to any Github hosted repository and earn some swag in return.
---
AI Makes Deep Fake News


14 Oct

|

Mike James



Lots of people worry about AI and the effect it is going to have on the economy and wider issues of society. Blaise Agüera y Arcas of Google AI has made a short film explaining how AI might just cause a transition from a fact-based world to something much less certain. You can no longer believe your eyes.
---
Parkour Atlas


13 Oct

|

Harry Fairhead



I admit that this is about the video. To see Boston Dynamic's Atlas robot jumping around like it means it, is fascinating. How far have we come so quickly - but have we? Is this the robot you are looking for?
---
October Week 2


13 Oct

|

Editor



Catch up with everything that appeared on I Programmer last week. Our digest gives links to news coverage together with the week's book reviews and additions to Book Watch. The list finishes with two full length articles - an in-depth look at Bias and Chains in Android Studio's ConstraintLayout and an examination of the Storage Mapping Function.
---
CodeLobster Now Multi-Platform


12 Oct

|

Kay Ewbank



The updated CodeLobster 1.3 has been released with multi-platform support. CodeLobster is a portable IDE that is free to use and offers highlighting and autocomplete for PHP, HTML, CSS and JavaScript.
---
Microsoft Joins Open Invention Network


12 Oct

|

Sue Gee



In a move that consolidates its new relationship with open source and with Linux, Microsoft has announced that it is joining OIN - the Open Invention Network - a community dedicated to protecting Linux and other open source software programs from patent risk.
---
RStudio Reticulated Python


11 Oct

|

Kay Ewbank



The latest version of RStudio has improved support with a number of programming languages and platforms, including SQL, D3, Python, Stan, and C++. The Python support comes via a reticulate package that provides an interface to Python.
---
Infer.NET Machine Learning Framework Now Open Source


11 Oct

|

Alex Denham



Microsoft has made another of its products open source; this time its the Infer.NET machine learning network. Infer.NET is a framework for running Bayesian inference in graphical models that can also be used for probabilistic programming.
---
Neural Networks Learn to Produce Random Numbers


10 Oct

|

Janet Swift



It almost sounds silly - train a neural network to generate random numbers - but it has more practical uses than you might imagine.
---
ReactProto, Rapid Prototyping In React


10 Oct

|

Nikos Vaggalis



ReactProto is a rapid application prototyping tool that bridges the gap between developers and designers. Designers hand over their static mockups which developers feed into ReactProto to generate the corresponding boilerplate React components.
---
Calling All Pythonistas


10 Oct

|

Mike James



JetBrains is running a survey of Python Developers for the second time. The results of the first one provided a helpful overview of the Python landscape, so if you actively use Python it's worth spending ten minutes contributing your answers to a set of well constructed questions.
---
Google Closes G+ And Rolls Out New Security


09 Oct

|

Lucy Black



Google is always surprising and the latest turn of events is no exception. In an announcement about security problems and improvements, we learn that Google+ is closing. Most might agree that this is not surprising, although it is disappointing. Moreover, the reasons given are strange.
---
MS-DOS Source Code on GitHub


09 Oct

|

Harry Fairhead



MS-DOS v1.25 and v2.0 are both now available on GitHub for anyone to fork - either for historical purposes or for practical application.
---
Help Go Develop


09 Oct

|

Kay Ewbank



The Go Project wants to hear from you to find out how companies are using Go.
---
Android Is The New Windows Phone


08 Oct

|

Mike James



Since the demise of Windows Phone Microsoft-oriented programmers have been left to their own devices, literally, to work out what they should use - Android, iPhone, or something completely different? Perhaps some are still waiting for the reinvention of the Windows Phone - not Microsoft, it seems.
---
Kotlin Gains A Foundation and A Portal


08 Oct

|

Mike James



During his opening keynote at KotlinConf 2018, Andrey Breslav, Kotlin's lead language designer, announced the formation, jointly by JetBrains and Google, of the Kotlin Foundation. A new Kotlin portal on the Google Cloud has also been launched.
---
Azure Functions 2 Supports More Platforms


08 Oct

|

Kay Ewbank



There's a new version of Azure Functions with a new, portable, cross-platform, and more efficient, host runtime.
Other Articles
Book Review
---
Developing Quality Technical Information
Friday 12 Oct
Authors: Michelle Carey et al
Publisher: IBM Press
Pages: 624
ISBN: 978-0133118971
Print: 0133118975
Kindle: B00L7ZKJ26
Audience: Those who produce technical documentation
Rating: 3.5
Reviewer: Kay Ewbank
This book gives clear and well written advice on how to write technical documentation, though you may think the advice given is obvious.
Featured Articles
---
Programmer's Python - Mutliple Inheritance
Mike James
Python supports multiple inheritance which can be scary, but the trick is to make it as much like single inheritance as possible and this is what Python does. This extract is from my new book with the subtitle "Something Completely Different".
---
What's In A DOS
Harry Fairhead
Now that Microsoft has open sourced MS-DOS it's a good time to look at filing systems, blocks and the FAT and how they are used. Let's explore the basics of a DOS - Disk Operating System.
---
Android Programming In Kotlin: Bias & Chains
Mike James

Android Studio is now very clear about what layout component you should use - only the ConstraintLayout. But what does it give you that wasn't in the other layouts? This extract about bias constraints and chains is taken from the chapter The ConstraintLayout in a new book aimed at Android programmers wanting to use Kotlin.
---
The Lost Art Of The Storage Mapping Function
Harry Fairhead
You may not have heard of SMFs, Storage Mapping Functions, but you are likely to have used them. They tend to be overlooked because there are more exciting methods of implementing storage, such as hashing schemes, but really it all started right here with an SMF and there is a sense in which all exciting stuff is just SMFs reinvented.
---
JavaScript Async - Consuming Promises
Ian Elliot
In this chapter we are going to look at using Promises to create asynchronous code that is easy to understand and hard for bugs to hide in. Specifically we are going to look at how to use the Promises that other functions return in place of callbacks.
Unhandled Exception!
Sandboxing Cycle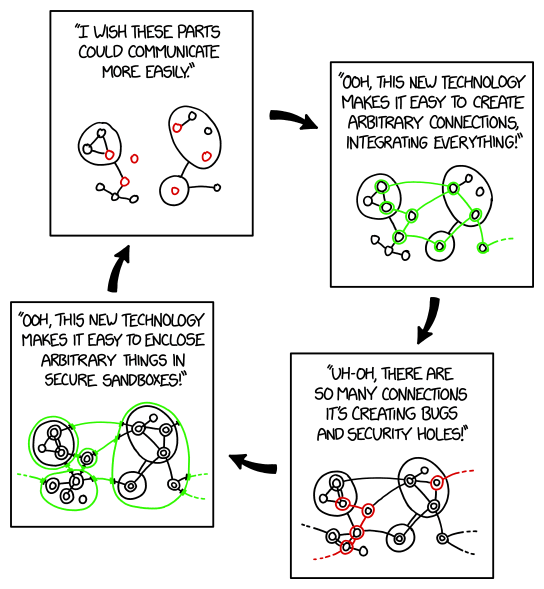 Click for larger image
And so it goes. A security measure is put in place. Programmers worked long hours to implement it and it's super clever. It locks down the system in a way that makes something impossible and so programmers work long hours to find a super clever way to do the thing it stops you doing. Eventually the new approach becomes commonplace and the security programmers look at it again and ...
More cartoon fun at xkcd a webcomic of romance,sarcasm, math, and language
---
Book Watch

Follow Book Watch on Twitter

Book Watch is I Programmer's listing of new books and is compiled using publishers' publicity material. It is not to be read as a review where we provide an independent assessment. Some but by no means all of the books in Book Watch are eventually reviewed.
---
Computer Graphics Programming in OpenGL with C++ (Mercury)
Monday 15 Oct
This book provides step-by-step instruction on modern 3D graphics shader programming in C++ and OpenGL. Author V. Scott Gordon has written it for computer science undergraduate graphics programming courses and professionals who are interested in mastering 3D graphics skills. He places heavy emphasis on student learning, making the complex topic of shader programming as accessible as possible.
<ASIN:1683922212>
---
Kotlin Programming (Big Nerd Ranch)
Thursday 11 Oct
Based on the Big Nerd Ranch's Kotlin Essentials course, this guide shows you how to work effectively with the Kotlin programming language through hands-on examples and clear explanations of key Kotlin concepts and foundational APIs. Written for Kotlin 1.2, in this book authors Josh Skeen and David Greenhalgh also introduce JetBrains' IntelliJ IDEA development environment. Whether you are an experienced Android developer looking for modern features beyond what Java offers, or a new developer ready to learn your first programming language, the authors will guide you from first principles to advanced usage of Kotlin.
<ASIN:0135161630>
---
Machine Learning with Python Cookbook (O'Reilly)
Wednesday 10 Oct
This practical guide provides nearly 200 self-contained recipes to help you solve machine learning challenges you may encounter in your daily work. If you're comfortable with Python and its libraries, including Pandas and Scikit-learn, author Chris Albon shows how to address specific problems such as loading data, handling text or numerical data, model selection, and dimensionality reduction and many other topics.
<ASIN:1491989386>
---
NoSQL Data Models (Wiley)
Monday 08 Oct
This book presents recent research work in NoSQL, covering the following basic aspects: semantic data management, graph databases, and big data management in cloud environments. Author Olivier Pivert looks at the evolution of basic concepts such as data models, query languages, and new challenges regarding implementation issues. Topics covered also include SparQL query processing with Apache Spark, querying RDF data, and Fuzzy Preference queries to NoSQL graph databases.
<ASIN:1786303647>
More Book Watch
---
Previous Book Watch.
Follow Book Watch on Twitter.
Publishers send your book news to:
bookwatch@i-programmer.info
---