Programming News and Views
Send your programming press releases, news items or comments to: NewsDesk@i-programmer.info
---
Hour of Code Aiming for a Billion Served in 2019


22 Nov

|

Lucy Black



There's a new theme for this year's Hour of Code. While anyone can engage in an Hour of Code activity at any time, Its prime time is in Computer Science Education Week, which takes place December 9-15, 2019 with thousands of events planned around the world.
---
Black Friday Discounts On Coursera


22 Nov

|

Sue Gee



Coursera is running a Black Friday promotion offering a 10% discount on their first course to new users on selected courses. So if you've not previously signed up, here is an incentive that is available from now until November 29th..
---
PostgREST Turns PostGRE RESTful


21 Nov

|

Kay Ewbank



PostgREST, a standalone web server that turns your PostgreSQL database directly into a RESTful API has been updated with improvements to full text search and support for embedding views.
---
The Raku Beginner Tutorial


21 Nov

|

Nikos Vaggalis



If you want to get to grips with Raku, formerly Perl 6, there is a 30- part YouTube playlist to get you started with it.
---
Android Studio 4 & Jetpack Compose - More Churn


20 Nov

|

Mike James




We don't normally talk about Alpha releases, but this one is important because it gives the direction that Android development is being pushed in. The shock is that it deprecates much of what we've learnt already and introduces yet another approach.
---
New Database For Data Scientists


20 Nov

|

Kay Ewbank



A new database designed to help data science teams make faster discoveries by giving them a more powerful way to store, update, analyze, and share large sets of diverse data has been released.
---
Dart 2.6 Adds Native Linux Support


19 Nov

|

Kay Ewbank



Google's Dart has increased support for native, ahead-of-time (AOT) compilation for Linux, Windows and MacOS. The extra support comes from an extension of Dart's existing compiler set called dart2native, which can be used to create command-line programs.
---
$5 million For Open Source Software Projects for Science


19 Nov

|

Sue Gee



The Chan Zuckerberg Initiative has announced funding for over forty open source tools that are essential to biomedical research. There will be two more opportunities for OSS projects to request funding, with the second round opening next month.
---
The Open Source Guides To Managing Open Source Software Projects


18 Nov

|

Nikos Vaggalis



A set of guides detailing the ins and outs of launching, managing, maintaining and contributing to open source projects has been made available. Although created and curated by GitHub, with input from outside community reviewers, they are not exclusive to GitHub products.
---
.NET Jupyter Notebooks Announced


18 Nov

|

Kay Ewbank




Microsoft has announced that you'll be able to run .NET code in Jupyter Notebooks, specifically C# and F#, and therefore ML.NET as well. The new support is enabled by the .NET kernel for Jupyter and Try .NET.
---
GitHub's Arctic Archive


16 Nov

|

Sue Gee



The most bizarre announcement made at GitHub Universe 2019 was that GitHub is planning to store every open source GitHub repo in disused mine on the Svalbard, a remote island closer to the North Pole than to the Arctic Circle.
---
The Fate Of Programming To Be Decided By The Supreme Court


16 Nov

|

Sue Gee



In an unexpected turn of events, the U.S. Supreme Court has agreed to hear Google's petition asking for a judicial review of the copyright issues stemming from the Oracle v Google lawsuit. This will impact the future not only of Android but software in general.
---
November Week 2


16 Nov

|

Editor



If you want to get up to speed on stuff that affects you as a developer, our weekly digest summarizes the articles, book reviews,and news written each day by programmers, for programmers. In this week's featured article, Harry Fairhead writes in Assembler. We also have a puzzle set by Joe Celko in his series Sharpen Your Coding Skills.
---
New From GitHub Universe


15 Nov

|

Lucy Black



GitHub Universe, its annual user event, took place this week. Here is a round up of its notable announcements inclding the launch of GitHub SecurityLab which aims to bring together security researchers across the industry to secure the open source ecosystem.
---
LG Auptimizer Open Sourced


15 Nov

|

Kay Ewbank



An optimization tool for Machine Learning (ML) that automates many of the tedious parts of the model building process has been released in an open source version by LG. Auptimizer is designed to run and record sophisticated hyperparameter optimization (HPO) experiments to assist with fine tuning ML models.
---
Brave Browser Reaches Version 1.0


14 Nov

|

Sue Gee



Brave, the open-source Chromium-based browser that features ad-blocking together with a blockchain-based digital advertising platform, has emerged from its beta. Version 1.0 encompasses iOS devices as well as Android and desktop.
---
Go.Dev Portal Now Online


14 Nov

|

Kay Ewbank



A new portal for Go developers has been launched by the Go Developers Network. Go.dev is described as providing learning resources to get started with the language, featured use cases, and case studies of companies using Go.
---
Python Beats Java On GitHub


13 Nov

|

Janet Swift



Making the headlines in the latest State of the Octoverse report comes the news that Python has replaced Java as the second most popular language. This just goes to confirm a phenomenon that we've already know about.
Other Articles
Book Review
---
Quantum Computing for Everyone
Tuesday 19 Nov
Author: Chris Bernhardt
Publisher: MIT Press
ISBN: 978-0262039253
Print: 0262039257
Kindle: B07P7KN23F
Audience: People interested in quantum computing
Rating: 4
Reviewer: Mike James
Quantum computing for everyone is a tall order, can it be delivered?
Featured Articles
---
Deep C# - What's The Matter With Pointers?
Mike James
Back in the days when C was the language of choice, pointers meant programming and vice versa. Now in the more sophisticated and abstract days of C#, and even C++, raw pointers are a facility that is provided but not really encouraged. Are pointers really as bad as the Goto?
---
Android Programming In Kotlin: Layouts
Mike James

Layouts are containers for other components. In modern Android you only need the constraint layout but there are others. Here's how to work with them in Kotlin, an extract from my published book Android Programming in Kotlin: Starting With An App.
---
Steve Jobs and the Early Apple Years
Historian
Steve Jobs - the name needs no further explanation. Many think he was, and remains, the most important figure in technology's history. Others are not so sure. Our account is of the early years, before the era of the iPhone for which Jobs himself became an icon.
---
Applying C - Assembler
Harry Fairhead
Sometimes the simplest thing to do is to move one level lower and write some assembler. This extract is from my book on using C in an IoT context.
---
Three Warehouses Puzzle
Joe Celko
Talking through a problem is often a good way to see what is required for its solution. Reducing it in scale is another good strategy. But, as programmers, at the end of the day we need to code an algorithm that deals with the general case - and that means making the problem bigger.
Unhandled Exception!
College Athletes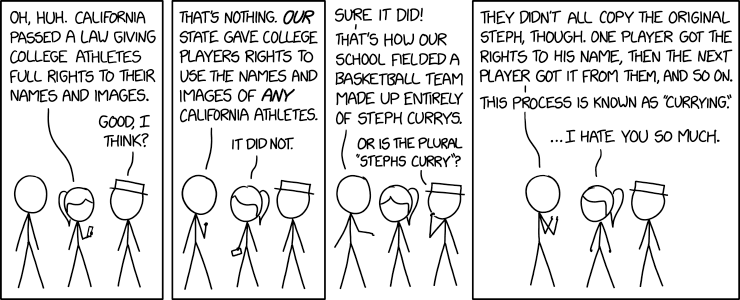 Click for larger image
It's not often we figure sport on our front page. The question, dear reader, is two-fold? First, why; and second, is there any currying actually going on in the description. I think its more like fluent calling.
More cartoon fun at xkcd a webcomic of romance,sarcasm, math, and language
---
Book Watch

Follow Book Watch on Twitter

Book Watch is I Programmer's listing of new books and is compiled using publishers' publicity material. It is not to be read as a review where we provide an independent assessment. Some but by no means all of the books in Book Watch are eventually reviewed.
---
Pro SQL Server 2019 Administration, 2nd Ed (Apress)
Friday 22 Nov
This comprehensive guide for SQL Server DBAs has been updated for SQL Server 2019. Author Peter Carter includes coverage of new features such as Memory-optimized TempDB Metadata, and Always Encrypted with Secure Enclaves. Other new content includes coverage of Query Store, resumable index operations, installation on Linux, and containerized SQL.
<ASIN:1484250885>
---
Programming Phoenix (Pragmatic Bookshelf)
Wednesday 20 Nov
In this book, Phoenix creator Chris McCord, Elixir creator Jose Valim, and Bruce Tate walk you through building an application that's fast and reliable using Phoenix, the web framework based on Elixir. The book starts with working with controllers, views, and templates within the first few pages before moving on to building an in-memory context, and then backing it with an Ecto database layer.
<ASIN:1680502263>
---
T-SQL Window Functions, 2nd Ed (Microsoft Press)
Monday 18 Nov
In this updated second edition, author Itzik Ben-Gan introduces breakthrough techniques for using window functions for more than just data analysis calculations. Ben-Gan shows how to handle many common T-SQL querying tasks with elegance and power. Using extensive code examples, the book covers window aggregate, ranking, distribution, offset, and ordered set functions. You'll find a detailed section on optimization, plus an extensive collection of business solutions.
<ASIN:0135861446>
---
Kubernetes: Up and Running (O'Reilly)
Friday 15 Nov
This updated edition of this practical book shows developers and ops personnel how Kubernetes and container technology can help achieve new levels of velocity, agility, reliability, and efficiency. Authors Kelsey Hightower, Brendan Burns, and Joe Beda, who have worked on Kubernetes at Google and elsewhere, explain how this system fits into the lifecycle of a distributed application. The book shows how to use tools and APIs to automate scalable distributed systems, whether it's for online services, machine learning applications, or a cluster of Raspberry Pi computers.
<ASIN:1492046531>
More Book Watch
---
Previous Book Watch.
Follow Book Watch on Twitter.
Publishers send your book news to:
bookwatch@i-programmer.info
---