Programming News and Views
Send your programming press releases, news items or comments to: NewsDesk@i-programmer.info
---
Languages To Learn And Earn


19 Feb

|

Janet Swift



The 2020 HackerRank survey attracted responses from 116,000 developers from all parts of the globe. In our final look at its results we consider its findings about the languages that hiring managers want, the languages developers know and the ones they want to learn next.
---
Survey Says COBOL Still Going Strong


19 Feb

|

Kay Ewbank



A new survey of companies using COBOL and mainframes found they're planning to modernize their existing apps rather than start again with new languages.
---
Java Choices Explored


18 Feb

|

Nikos Vaggalis



Continuing our broad foray into the Java ecosystem we look at the most popular choices in Java's runtime platforms, framework technologies, IDEs, PaaS providers, databases and, of course, JDKs, with the much debated Oracle JDK versus OpenJDK.
---
GitHub Launches CLI Tool


18 Feb

|

Kay Ewbank



GitHub has released an open-source command line tool that you can use to issue pull requests and work with issues from the command line. GitHub CLI is now in beta for Linux, macOS, and Windows.
---
Oracle Files Response To Google and API Copyright - We Are All Doomed


17 Feb

|

Mike James



The long ongoing, but not for too much longer, dispute between Oracle and Google about the use of code from the Java SDK in Android has reached a new stage. Oracle has outlined its case to the Supreme Court and it seems to be a strong one.
---
Groovy 3 Adds Parrot Parser


17 Feb

|

Kay Ewbank



The latest version of Apache Groovy is available with with a brand new parser (code-named Parrot) among other improvements. Groovy is an optionally typed and dynamic language, with static-typing and static compilation capabilities, for the Java platform.
---
Training A Cellular Automaton


16 Feb

|

Mike James



Put cellular automata together with neural networks and you might be able to grow a salamander - or anything else you like. This work, from Google AI, casts much light on the difficult topic of morphogenesis, how cells organize themselves into shapes.
---
AI Helps 3D Printing


15 Feb

|

Harry Fairhead



PrintFixer is a new AI-based tool that can get a 3D print right in fewer attempts. Put another way, you don't have to be an expert any more because AI can do the job for you.
---
February Week 2


15 Feb

|

Editor



If you want to get up to speed on stuff that affects you as a developer, our weekly digest summarizes the articles, book reviews, and news written each day by programmers, for programmers. In this week's featured articles, Ian Elliot looks at the JavaScript Canvas stroke property variables and Mike James introduces Java Class Inheritance at beginner level.
---
Delphi Celebrates 25 Years Today


14 Feb

|

Sue Gee



Delphi, the event-driven programming language for rapid application development (RAD) is celebrating its 25th Anniversary today with a Webinar.
---
Google Sponsors TinyGo


14 Feb

|

Kay Ewbank



The TinyGo development team has announced that TinyGo is now officially a Google sponsored project. The announcement was made at FOSDEM 2020, the European Meeting of the Free and Open source Software Developers
---
Over $21 Million In Google Bug Bounty


13 Feb

|

Alex Armstrong



In the decade since the launch of its original Chrome-focused bug bounty program, Google has paid out more than $21 million to security researchers with 2019 seeing a record of $6.5 million in rewards.
---
Microsoft Releases DeepSpeed For PyTorch


13 Feb

|

Kay Ewbank



Microsoft Research has released an open source library that's compatible with PyTorch. DeepSpeed is a deep learning optimization library that makes it easier to work with large models for training, making it possible to train 100-billion-parameter models.
---
The True State of Java and its Ecosystem


12 Feb

|

Nikos Vaggalis



JRebel has released its 2020 Java Technology Report. Combining its findings with those of two other recent reports on Java, from Baeldung and Snyk, allows us to reveal the latest state of affairs regarding Java and its ecosystem.
---
App Store Or Google Play? Where To Earn Money From Apps


12 Feb

|

Janet Swift



To date Google has paid $80 billion to Android developers. Apple, however, has paid out $155 billion to devs, almost twice as much. What does this discrepancy mean?
---
10th Google Code-in Sets New Records


11 Feb

|

Sue Gee



The winners of Google Code-in 2019 have been announced. The Grand Prize winners, who represent 21 countries, will get to enjoy a 4-day trip to Google HQ to meet with mentors from the open source projects they work on and with Google engineers.
---
Swift 5.2 Improves Performance


11 Feb

|

Kay Ewbank



Swift 5.2 is now available in a beta version with improvements including smaller code size and more efficient memory use, alongside better error diagnostics.
---
Are Developers Paid Fairly?


10 Feb

|

Sue Gee



HackerRank has published the results of its third annual survey which collected data and opinions from more than 160,000 developers from 162.countries. In our second look at its findings, we focus on variations in pay and developers satisfaction with their pay.
Other Articles
Book Review
---
Effective Python, 2nd Ed
Tuesday 18 Feb
Author: Brett Slatkin
Publisher: Addison-Wesley Professional
Pages: 480
ISBN: 978-0134853987
Print: 0134853989
Kindle: B07ZG18BH3
Audience: Python developers
Rating: 5
Reviewer: Mike James
Better Python - sounds like a fun read.
Featured Articles
---
Fundamental C - Compilation & Preprocessor
Harry Fairhead
This extract, from my new book on programming C in an IoT context, explains the way that programs are compiled and looks in detail at the preprocessor stage - perhaps the most misused C facility.
---
A Programmer's Guide To Go Part 3 - Goroutines & Concurrency
Mike James
Go is renowned for its easy-to-use approach to concurrency - it is part of the language. In this final part of our look at the key points of Go we look in depth at how goroutines and channels work together to orchestrate concurrency and parallelism.
---
JavaScript Canvas Stroke Properties
Ian Elliot

The stroke function simply colors the outline of the path. This all sounds easy and obvious, but in practice it is subtle and you need to understand it to get control of what exactly is happening. In this extract from a chapter in my new book on JavaScript Graphics we look at some of the fine detail of stroke.
---
Java Class Inheritance
Mike James
Working with classes and objects is a very sophisticated approach to programming. You can't expect to absorb all of its implications in one go. We have already looked at the basics of class and objects. Now we need to look at encapsulation, constructors, overloading and inheritance.
---
Gain A Computer Science Credential In 2020
Sue Gee
Being able to study online opens up the opportunity for gaining an academic credential to people who embarked on a programming career without one and to those who are looking to move into a more specialized area such as Data Science.
Unhandled Exception!
New Year's Eve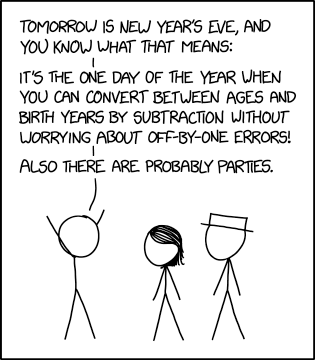 Click for larger image
How many people, picked at random, would recognize "off-by-one" error? How many would get the idea that there is just one day in the year when a simple calculation gives the right answer and why it doesn't work for the rest? And they say algorithmic thinking isn't worth learning!
PS: If you don't get it you are not invited to my "off-by-one" party.
More cartoon fun at xkcd a webcomic of romance,sarcasm, math, and language
---
Book Watch

Follow Book Watch on Twitter

Book Watch is I Programmer's listing of new books and is compiled using publishers' publicity material. It is not to be read as a review where we provide an independent assessment. Some but by no means all of the books in Book Watch are eventually reviewed.
---
Pro T-SQL 2019 (Apress)
Wednesday 19 Feb
This book, subtitled "Toward Speed, Scalability, and Standardization for SQL Server Developers" shows how to write T-SQL that performs fast and is easy to maintain. Author Elizabeth Noble also shows how to implement version control, testing, and deployment strategies. Hands-on examples show modern T-SQL practices and provide straightforward explanations. Attention is given to selecting the right data types and objects when designing T-SQL solutions.
<ASIN:1484255895>
---
Mastering Python Networking (Packt)
Monday 17 Feb
This updated edition of a guide to Python networking has been updated to cover Python 3 and including the latest on network data analysis, Cloud Networking, Ansible 2.8, and new libraries. Author Eric Chou shows how to use Python to interact with both legacy and API-enabled network devices. The books includes how to use high-level Python packages and frameworks to perform network automation tasks, monitoring, management, and enhanced network security followed by Azure and AWS Cloud networking. It ends with a look at using Jenkins for continuous integration as well as network testing tools.
<ASIN:1839214678>
---
Interactive Web-Based Data Visualization (Chapman & Hall)
Friday 14 Feb
This richly illustrated book that covers R, plotly, and shiny focuses on the process of programming interactive web graphics for multidimensional data analysis. Carson Sievert writes for the data analyst who wants to leverage the capabilities of interactive web graphics without having to learn web programming. Many R code examples illustrate how to tap the extensive functionality of these tools to enhance the presentation and exploration of data, and how to use these concepts and tools to generate more informative, engaging, and reproducible interactive graphics using free and open source software.
<ASIN:1138331457>
---
Programming in Scala 4th Ed (Artima Press)
Wednesday 12 Feb
This is the definitive book on Scala, the language for the Java platform that blends object-oriented and functional programming concepts. Co-authored by Martin Odersky, the designer of the Scala language, this book will teach you the Scala language and the ideas behind it. This fourth edition brings the entire book up to date, adding new material to cover changes in Scala 2.13, in particular the overhaul of collections, which it covers detail.
<ASIN:098153161X>
More Book Watch
---
Previous Book Watch.
Follow Book Watch on Twitter.
Publishers send your book news to:
bookwatch@i-programmer.info
---