Programming News and Views
Send your programming press releases, news items or comments to: NewsDesk@i-programmer.info
---
Google Launches Local Home SDK


16 Jul

|

Kay Ewbank



Google has released a developer preview of a JavaScript SDK for Local Home. The SDK provides an easier way for developers to connect users' home devices to Google Assistant and to run their actions locally.
---
Finland's "Full Stack Open" Now Available in English


16 Jul

|

Nikos Vaggalis



Finland's educational system is famous for three reasons: its pedagogical outlook, its technological excellence and its openness to the world.
---
Aurora Serverless PostgreSQL Generally Available


15 Jul

|

Kay Ewbank



The PostgreSQL-compatible edition of Aurora Serverless is now generally available, offering an alternative to the MySQL version.
---
Babel Adds Ability To Parse F# Like Pipelines


15 Jul

|

Ian Elliot



The latest version of JavaScript compiler Babel 7.5 has been released with the ability to parse and transpile F# and similar pipelines. Support has also been added for dynamic imports, as well as experimental support for TypeScript namespaces.
---
Seeking Ramanujan - Intuition As Algorithm


14 Jul

|

Mike James



This is an interesting story if you are into math and computing. The Ramanujan Machine seeks inspired formulas for the fundamental constants. This potentially tells us something about the constants and, perhaps, the nature of computation.
---
GANPaint: Using AI For Art


13 Jul

|

Nikos Vaggalis



What if tools powered by Neural Networks could save artists considerable amounts of time, or even enrich their work?
---
July Week 2


13 Jul

|

Editor



If you want to get up to speed on stuff that affects you as a developer, our weekly digest summarizes the articles, book reviews,and news written each day by programmers, for programmers. This week we hve the first of the three-part series, The Programmer's Guide to Go and the first of three articles that chart the rise and fall of Amstrad in the UK
---
Mozilla Not An Internet Villain But Still Criticized


12 Jul

|

Sue Gee



When ISPA, a organization that considers itself the voice of the UK Internet Industry, nominated Mozilla for its 2019 Internet Villain Award, it unleashed a barrage of complaints. This led it to withdraw not just the nomination but also the entire category.
---
Microsoft Open Sources AI Debugging Tool


12 Jul

|

Kay Ewbank



Microsoft has released TensorWatch, an AI debugging and visualization tool, under open source on GitHub. TensorWatch can be used to create custom visualizations, UIs and dashboards.
---
PyRobot - Python for Robotics


11 Jul

|

Nikos Vaggalis



We've grown accustomed to hearing about Python being used for pretty much everything, albeit mostly for data science. It's time to consider it for robotics too.
---
Google Releases Open Source Cryptographic Tool


11 Jul

|

Kay Ewbank



Google has made available an open-source cryptographic tool called Private Join and Compute. The tool uses secure multi-party computation (MPC) to augment the core PSI protocol.
---
Apple Removes Apps At Government Request


10 Jul

|

Janet Swift



Although Apple is often seen as being a law unto itself, it also has to comply with the legal restrictions imposed in the different countries in which it operates. The newly published Apple Transparency Report reveals app takedowns for the second half of 2018 as well as requests from law enforcements regarding devices and accounts.
---
Boeing 737 Max Software Fix Is Too Slow


10 Jul

|

Harry Fairhead



The situation with the Boeing Max 737 is rapidly becoming a textbook case on how not to implement embedded systems and how not to deal with problems. It now seems that the software fix that will return the plane to the skies overloads its flight computer.
---
Mozilla's Ad-Free Browsing Lure


09 Jul

|

Sue Gee



There appears to be a preview of the ad-free browsing promised by Mozilla. In turns out to be nothing more than a survey to gauge interest and a re-direct to a free trial of a product from it Scroll, which has partnered with Mozilla.
---
Google Data Studio Improves Interactiveness


09 Jul

|

Kay Ewbank




Google has updated its Data Studio analytics tool with a new home page designed to make it easier for users to find information and reports.
---
Fuchsia Casts Shadow on Future of Android and Chrome


08 Jul

|

Nikos Vaggalis



Fushia's existence was akin to a conspiracy theory until Google finally confirmed it at I/O 2019 in May. What does it mean for the rest of Google's operating systems?
---
Eclipse Renames Java EE Specifications to Jakarta EE


08 Jul

|

Kay Ewbank



One of the final stages of the move from Java EE to Jakarta EE has taken place as the Eclipse Foundation has renamed all the specifications of the Java EE standard to instead be part of Jakarta EE. The renaming is aimed at consolidating and clarifying the role of the various documents.
---
Inputting Data Via Blinkenlights - Another Covert Channel


07 Jul

|

Harry Fairhead



You have probably heard that it is often possible to get data out of a system by monitoring the way status LEDs blink on and off, but now it seems the technique sometimes makes it possible to get data in as well.
Other Articles
Book Review
---
3D Printing: An Introduction
Tuesday 16 Jul
Author: Stephanie Torta
Publisher: Mercury Learning
Date: December 2018
Pages: 370
ISBN: 978-1683922094
Print: 1683922093
Kindle: B07NMTKLXQ
Audience: Users of 3D printers
Rating: 3
Reviewer: Harry Fairhead
3D printers have gone from the latest thing to very useful things, but we still need introductions.
Featured Articles
---
The Ultimate Guide to Pivot Tables for Beginners
Hannah Sharon
Pivot tables are one of Excel's most powerful features. Used in the context of data processing a Pivot table can be used to summarize, sort, reorganize, group, count, total or average data stored in a database. For time-saving, efficient pivot tables that help create outstanding reports, here's the ultimate guide to using pivot tables.
---
JavaScript Bit Manipulation
Ian Elliot

Bit manipulation in JavaScript is complicated by the way it attempts to be type-free, but it can be done. In this extract from my forthcoming book, we take a look at how to work with bits in a browser.
---
A Programmer's Guide To Go With Visual Studio Code
Mike James
Google's system programming language Go is becoming more mature and easier to use. Now is a good time to try it out with Visual Studio Code making it even easier.
---
Alan Sugar - Amstrad and the CPC
Historian
In the UK Alan Sugar's Amstrad was the first company to look at computing with an eye to producing something cheap and cheerful and in doing so revolutionised the computer marketplace.
---
Applying C - Kernel Mode, User Mode & Syscall
Harry Fairhead
When writing C for Linux/POSIX operating systems the syscall is how your program communicates what it needs to happen. Find out how it works. This extract is from my book on C in an IoT context.
Unhandled Exception!
Motivation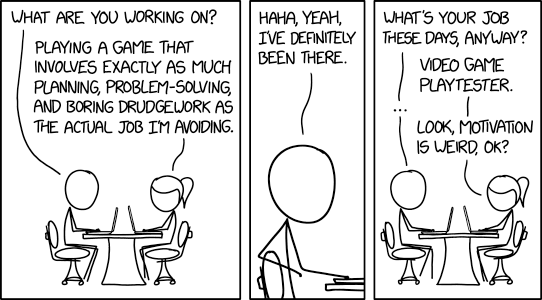 Click for larger image
I saw a blog post titled "You don't have to program in your spare time". Motivation, it's really strange isn't it. You can work on open source or you're side project and then do the same thing at work. The question is, should they bother to pay you as you would do the job anyway?! Of course, we know it isn't like that. This is your program and that is their program. I still hold that if you don't program in your spare time, you probably shouldn't be a programmer at all.
More cartoon fun at xkcd a webcomic of romance,sarcasm, math, and language
---
Book Watch

Follow Book Watch on Twitter

Book Watch is I Programmer's listing of new books and is compiled using publishers' publicity material. It is not to be read as a review where we provide an independent assessment. Some but by no means all of the books in Book Watch are eventually reviewed.
---
Asterisk: The Definitive Guide 5th Ed (O'Reilly)
Friday 12 Jul
In this bestselling guide to Voice over IP (VoIP) with Asterisk, subtitled "Open Source Telephony for the Enterprise", authors Jim Van Meggelen, Russell Bryant and Leif Madsen provide a detailed roadmap that shows you how to install and configure this open source software, whether you're upgrading your existing phone system or starting from scratch. Intended for Linux administrators, developers, and power users, this updated fifth edition shows how to set up VoIP-based private telephone switching systems within the enterprise.
<ASIN:1492031607>
---
Pro iPhone Development with Swift 5 2nd Ed (Apress)
Wednesday 10 Jul
In this follow up work to the introductory Beginning iPhone Development with Swift, Wallace Wang gives tips for organizing and debugging Swift code, using multi-threaded programming with Grand Central Dispatch, passing data between view controllers, and designing apps for multiple languages. The book also covers how to play audio and video files, access the camera and save pictures to the Photos library, use location services to pinpoint your position on a map, display web pages, and create animation to spice up any user interface.
<ASIN:1484249437>
---
Python for TensorFlow Pocket Primer (Mercury Learning)
Monday 08 Jul
This book is designed to prepare programmers for machine learning and deep learning TensorFlow topics. Author Oswald Campesato begins with a quick introduction to Python, followed by chapters that discuss NumPy, Pandas, Matplotlib, and scikit-learn. The book contains an assortment of TensorFlow 1.x code samples, including detailed code samples for TensorFlow Dataset, which is used heavily in TensorFlow 2 as well.
<ASIN:1683923618>
---
IBM (MIT Press)
Friday 05 Jul
Subtitled "The Rise and Fall and Reinvention of a Global Icon", this book in the History of Computing series tells the story of one of the most influential American companies of the last century. Author James Cortada, a historian who worked at IBM for many years, describes IBM's technology breakthroughs, including the development of the punch card the calculation and printing of the first Social Security checks in the 1930s, the introduction of the PC to a mass audience in the 1980s, and the company's shift in focus from hardware to software.
<ASIN:0262039443>
More Book Watch
---
Previous Book Watch.
Follow Book Watch on Twitter.
Publishers send your book news to:
bookwatch@i-programmer.info
---