Programming News and Views
Send your programming press releases, news items or comments to: NewsDesk@i-programmer.info
---
Dashing Diademata, the Future of ROS


19 Jun

|

Nikos Vaggalis



The new distribution of ROS2, code named "Dashing Diademata", is the first Long Time Support release following last year's "Crystal".
---
JetBrains Survey - Do You Dream Code?


19 Jun

|

Mike James



For the third year running JetBrains has conducted its Developer Ecosystem Survey and has reported on some of the answers from 7,000 developers from 17 countries. Here's a look at just a handful of the findings.
---
MariaDB 10.4 Reaches Release Candidate Status


18 Jun

|

Kay Ewbank



There are new versions of both the commercially supported subscription and free versions of MariaDB.
---
CERN Goes Open Source


18 Jun

|

Alex Denham



The European Organisation for Nuclear Research, CERN, is stopping using Microsoft products in favor of open-source. The decision has been taken following big increases in license fees by Microsoft.
---
Cooperative AI Beats Humans at Quake CTF


17 Jun

|

Nikos Vaggalis



Who said that only humans can collaborate? AI not only managed to break this barrier too, but it also managed to beat humans at their very own game.
---
WCF And WF Given To Community


17 Jun

|

Kay Ewbank



Microsoft has handed Windows Workflow Foundation (WF) and Windows Communication Foundation (WCF) to the community in the form of the .NET Foundation.
---
Speech2Face - Give Me The Voice And I Will Give You The Face


16 Jun

|

Mike James



Neural networks are good at spotting patterns and correlations in data, but are they good enough to recreate the face that produced a particular voice?
---
What Is Huawei's New Operating System


15 Jun

|

Mike James



Huawei needs a new mobile operating system and is busy trademarking HongMeng, but what more can we say about it other than its name?
---
June Week 2


14 Jun

|

Editor



If you want to get up to speed on stuff that affects you as a developer, our weekly digest summarizes the articles, book reviews,and news written each day by programmers, for programmers. This week we start with an extract from Harry Fairhead's brand new book "Applying C for the IoT with Linux". Then Mike James tackles Information Theory.
---
Easier Python In Windows 10


14 Jun

|

Mike James



Developers wanting to use Python on Windows now have an easier way to get it up and running after an update to Windows 10.
---
Azure Maps Gets Mobility Service APIs


14 Jun

|

Kay Ewbank



A collection of APIs designed to make it easier to add real-time information about public transit services has been added to Azure Maps. The APIs can be used to add options such as searching for public transit stops, or finding shared bikes or cars around a given location.
---
Python Set To Be Top Language


13 Jun

|

Mike James



The June TIOBE index is out and it's Python causing the stir. It looks set to knock C and Java from their top positions. Python really does seem to be the language we all not only want to use, but are actually using.
---
Amazon Introduces Alexa Conversations


13 Jun

|

Kay Ewbank



Amazon has released a preview of Alexa Conversations as a new AI-driven approach to natural dialogs through the Alexa Skills Kit.
---
Apple Demands That We Include Sign In With Apple


12 Jun

|

Mike James



Apple seems to not know the old saying about "when you are in a hole stop digging". Or is it more like lighting another fire when the house isn't quite an inferno?
---
Programmers Choices and Regrets


12 Jun

|

Janet Swift



Packt has shared the results of its 2019 Skill Up Survey. As well as providing information on the languages programmers use, it investigates why they choose them. It also reveals what programmers regret having learned.
---
PureScript Updates Parser


11 Jun

|

Kay Ewbank



There's a new version of PureScript with a completely rewritten parser. The developers say they hope this release will open up a lot of opportunities for syntactic tooling, either using the existing parser or even using alternative parsers.
---
Scott Aaronson On NP And Physics


11 Jun

|

Mike James



To celebrate the 50th aniversary of the discovery of NP-complete problems by Stephen Cook, a Symposium was organized by the Fields Institute. Scott Aaronson gave a talk on the the role of physics in solving NP hard problems and it is a fascinating account.
---
Apache Storm Reworked In Java


10 Jun

|

Kay Ewbank



Apache Storm 2.0 has been released with better performance, new features, and integration with external systems. It has also had its core features rewritten in Java.
Other Articles
Book Review
---
Machine Learning and Security
Tuesday 18 Jun
Author: Clarence Chio, David Freeman
Publisher: O'Reilly
Pages: 386
ISBN: 978-1491979907
Print: 1491979909
Kindle: B079C7LKKY
Audience: Readers wanting novel approaches to security
Rating: 3
Reviewer: Mike James
AI and security is a natural, but difficult, match.
Featured Articles
---
Web Design And Development - Top Pick CSS And HTML Books
Kay Ewbank
The majority of development now takes place for the Web, so it's no surprise that we've reviewed hundreds of books on HTML and CSS.
---
The Confusing Comma In JavaScript
Ian Elliot
Not every comma in JavaScript is an operator - in fact most of them aren't. It is time to confront the confusing comma.
---
Applying C - Framebuffer Graphics
Harry Fairhead
Graphics in Linux go from low level to full 3D. The most basic and in many ways most useful for low level code is the Framebuffer but is is hard to find out how it all works. This extract is from my book on C in an IoT context.
---
Information Theory
Mike James
So you know what a bit is – or do you? How much information does a bit carry? What is this "information" stuff anyway? The answers are, unsurprisingly, all contained in the subject called Information Theory, which was invented by one man.
---
Android Programming In Java: Programming the UI
Mike James
You can create an Android UI using code rather than XML but this isn't as well known. Here's how to do it in Java, in an extract from my published book Android Programming in Java: Starting With An App.
Unhandled Exception!
Motivation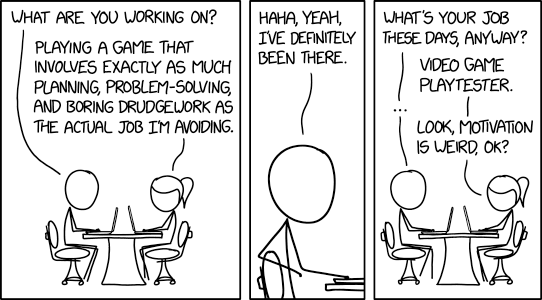 Click for larger image
I saw a blog post titled "You don't have to program in your spare time". Motivation, it's really strange isn't it. You can work on open source or you're side project and then do the same thing at work. The question is, should they bother to pay you as you would do the job anyway?! Of course, we know it isn't like that. This is your program and that is their program. I still hold that if you don't program in your spare time, you probably shouldn't be a programmer at all.
More cartoon fun at xkcd a webcomic of romance,sarcasm, math, and language
---
Book Watch

Follow Book Watch on Twitter

Book Watch is I Programmer's listing of new books and is compiled using publishers' publicity material. It is not to be read as a review where we provide an independent assessment. Some but by no means all of the books in Book Watch are eventually reviewed.
---
Exploring Advanced Features in C# (Apress)
Wednesday 19 Jun
This book highlights the new language features of C# and how to use these and other tools such as Bootstrap, SCSS, and jQuery to enhance your web applications. Author Dirk Strauss starts with some of the new features of C# 7 such as how to implement local functions, tuples and generalized async return types. He also looks at C# 8, demonstrating how to implement nullable reference types, recursive patterns, ranges, indicies, switch expressions, and many more.
<ASIN:1484248554>
---
Modern Algorithms of Cluster Analysis (Springer)
Monday 17 Jun
This book provides a basic understanding of the formal concepts of the cluster, clustering, partition, and cluster analysis. Authors Slawomir Wierzchoń and Mieczyslaw Klopotek explain feature-based, graph-based and spectral clustering methods and discuss their formal similarities and differences. They also provide an overview of approaches to handling large collections of objects in a reasonable time, including grid-based methods, sampling methods, parallelization via Map-Reduce, usage of tree-structures, random projections and various heuristic approaches.
<ASIN: 3319887521>
---
Hands-On Game Development with WebAssembly (Packt)
Friday 14 Jun
This book, subtitled "Learn WebAssembly C++ programming by building a retro space game" is designed to introduce web developers and game developers to the world of WebAssembly by walking them through the development of an arcade game. Author Rick Battagline shows how to build a WebAssembly application using C++, Emscripten, JavaScript, WebGL, SDL, and HTML5.
<ASIN:1838644652>
---
Essential Algorithms 2nd Ed (Wiley)
Wednesday 12 Jun
Subtitled "A Practical Approach to Computer Algorithms Using Python and C#", this revised and updated second edition offers an accessible introduction to computer algorithms. The book contains a description of important classical algorithms and explains when each is appropriate. Author Rod Stephens shows how to analyze algorithms in order to understand their behavior and teaches techniques that the can be used to create new algorithms to meet future needs.
<ASIN:1119575990>
More Book Watch
---
Previous Book Watch.
Follow Book Watch on Twitter.
Publishers send your book news to:
bookwatch@i-programmer.info
---