Programming News and Views
Send your programming press releases, news items or comments to: NewsDesk@i-programmer.info
---
Mozilla Remains Confident Despite Dip In Revenue


11 Dec

|

Sue Gee



Mozilla is a unique organization which is critical to the overall health and well being of the Internet. It also provides valuable financial support to open source organizations. For those two reasons its financial health is important.
---
Most Used Stack Overflow Snippet Has A Bug


10 Dec

|

Mike James



It is not really a joke that programming has become a matter of copy-and-paste from a variety of sources. Yes, it can save time, but when you just copy-and-paste how do you know the code works? Even a highly up-voted SO answer could, and did, have a bug.
---
The Art Of Computer Programming Progresses - A Great Present


10 Dec

|

Mike James




... for any programmer unless they already have the complete work. Even if they do there is part 5 of Volume 4 hot off the press and they are unlikely to have that one.
---
AI At The Edge Challenge


10 Dec

|

Lucy Black



NVIDIA has partnered with Hackster.io in a competition that requires you to add NVIDIA hardware to an AI or robotics project. There's over $100K in prizes and one project will be selected for a special "AI Social Impact Award".
---
AI for Oceans - Kids Use Computer Science For Good


09 Dec

|

Nikos Vaggalis



Code.org expands beyond teaching the concepts of coding. It moves on to artificial intelligence, AI. Computer Science Education Week starts today and with it Hour of Code events in schools around the world.
---
Grace Hopper Celebrated Today


09 Dec

|

Sue Gee



Today, December 9th is Día Mundial de la Informática and marks the start of Computer Science Education Week. Both these annual events commemorate Grace Hopper, who was born in New York on this day in 1906 as pioneer of Computer Science and as a teacher dedicated to sharing her understanding with young people.
---
Carpentry Compiler - Yes The Target Is Wood


08 Dec

|

Mike James



We tend to think that software, and compilers in particular, are concerned with other software rather than the real world. The Carpentry Compiler is different - its target really is wood.
---
Programmer Gifts - Pi For Xmas


07 Dec

|

Harry Fairhead



The holiday season is a good time to learn about computers - you have the time. But where to start? Our advice is to ignore the pudding and go for a Pi.
---
December Week 1


07 Dec

|

Editor



Every day I Programmer has new material written by programmers, for programmers. Each week our digest gives a handy summary of the latest content - daily news, the books we've reviewed or added to Book Watch and feature articles. While you are on the site there's plenty more to explore, whatever topics you are interested in.
---
CodeGuru For Automated Code Review


06 Dec

|

Sue Gee



Perhaps the most interesting AWS announcement for professional programmers from this week's annual re:Invent conference was Amazon CodeGuru which makes the claim "It's like having a distinguished engineer on call, 24x7."
---
LearnR Updates Quiz Questions


06 Dec

|

Kay Ewbank



There's a new release of learnr, the R learning package from RStudio. In this new version, quiz questions have been expanded to allow for more question types.
---
Google Code-In 2019 Underway


05 Dec

|

Sue Gee



This year's Google Code-In started on December 2nd. This is the tenth event since it started in 2010 and is expected to be the biggest yet of this seven-week long global online contest in which students aged 13 through 17 from around the world are introduced to open source development.
---
Amazon Redshift Updates


05 Dec

|

Kay Ewbank



Amazon has announced a number of updates to Redshift, its cloud-based data warehouse service.
---
Is Microsoft Planning To Replace Rust?


04 Dec

|

Mike James



Project Verona seems to be an attempt by Microsoft to build a new language with Rust-like features. What isn't clear is how serious this is? Are we looking at a potential Rust#?
---
Sagemaker Studio - An IDE for Machine Learning


04 Dec

|

Sue Gee



Amazon SageMaker Studio, announced by CEO Andy Jassy on the second day of the AWS re:Invent conference, is envisaged as unifying all the tools needed for machine learning. Several other SageMaker products were launched alongside it.
---
Amazon Braket On The Quantum Bandwagon


03 Dec

|

Mike James



Amazon has just announced an extension to the range of instances offered by the AWS cloud services - quantum! Why?
---
Golang Wants Your Opinion


03 Dec

|

Lucy Black



A call has gone out to all Go developers, past and present and future, to participate in the fourth annual survey conducted on behalf of Golang.org. You have until December 15th to provide your opinions and to encourage other Go devs to do so.
---
PHP 7.4 Gets Foreign Function Interface


02 Dec

|

Alex Armstrong



The latest version of PHP has been released with improvements including typed properties, arrow functions, and a foreign function interface.
Other Articles
Book Review
---
Mathematics for Computer Graphics and Game Programming
Monday 09 Dec
Author: D. P. Kothari, G. Awar, D. Shrimankar and A. Bhende
Publisher: Mercury Learning
Pages: 400
ISBN: 978-1683923565
Print: 1683923561
Kindle: B07N1V7YXS
Audience: Graphics beginners
Rating: 2
Reviewer: David Conrad
Graphics is based on math so you need to learn some.
Featured Articles
---
Fundamental C - Simple Strings
Harry Fairhead
This extract, from my new book on programming C in an IoT context, explains the basics of the string, As was the case for arrays this is not as simple as in other languages because it is so simple.
---
The Java User Interface - More Swing
Mike James

Finding out how to create a User Interface (UI) using the Java Swing library is not only a useful skill, it also is an ideal way to learn about objects and to make sure that the ideas really have sunk in. So we need to go back to Swing one more time.
---
JavaScript Canvas - Basic Paths
Ian Elliot
Paths are the basic way to create a drawing using Canvas. In this extract from a chapter in my new book on JavaScript Graphics we look at the fundamentals of paths.
---
SAGE - Computer of the Cold War
Historian
War is a spur to innovation and computing was kickstarted in the Second World War but perhaps its greatest driver was the Cold War with its need to keep track of missiles.
---
Programmer's Guide To Theory - NP & Co-NP
Mike James
As well as how long it takes to do a computation, you can also ask questions about how hard verification of a supposed answer is and this leads us on to the class of problems called NP – perhaps currently the most interesting of all.
Unhandled Exception!
Machine Learning Captcha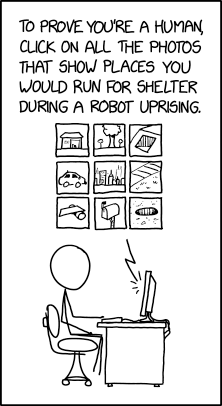 Click for larger image
You'd give away all that vital information and the chances are it still wouldn't let you into the web site you were trying to get to!
More cartoon fun at xkcd a webcomic of romance,sarcasm, math, and language
---
Book Watch

Follow Book Watch on Twitter

Book Watch is I Programmer's listing of new books and is compiled using publishers' publicity material. It is not to be read as a review where we provide an independent assessment. Some but by no means all of the books in Book Watch are eventually reviewed.
---
Foundations of Deep Reinforcement Learning (Addison-Wesley)
Wednesday 11 Dec
This introduction to deep reinforcement learning (RL) combines both theory and implementation. Authors Laura Graesser and Wah Loon Keng starts with intuition, then carefully explain the theory of deep RL algorithms, discuss implementations in its companion software library SLM Lab, and finish with the practical details of getting deep RL to work. This guide is aimed both at computer science students and software engineers who are familiar with basic machine learning concepts and have a working understanding of Python.
<ASIN:0135172381>
---
LabVIEW Graphical Programming 5th Ed (McGraw-Hill)
Monday 09 Dec
This book shows how to build effective LabVIEW programs. The authors Richard Jennings and Fabiola De la Cueva have updated all content to align with the latest version and added new chapters that clearly explain object-oriented programming methods, and programming in teams using the cloud. The book begins with basics for beginners and quickly progresses to intermediate and advanced programming techniques. This hands-on guide shows how to work with data types, start building your own applications, handle I/O, and use the DAQmix library.
<ASIN:1260135268>
---
WebAssembly in Action (Manning)
Friday 06 Dec
This book introduces the WebAssembly stack and walks you through the process of writing and running browser-based applications. Author Gerard Gallant gives a firm foundation of the structure of a module, HTML basics, JavaScript Promises, and the WebAssembly JavaScript API and covers how to write and run high-performance browser-based applications using C++ and other languages supported by WebAssembly, including how to create native WebAssembly modules, interact with JavaScript components, and maximize performance with web workers and pthreads.
<ASIN:1617295744>
---
Effective TypeScript (O'Reilly)
Wednesday 04 Dec
This book guides you through 62 specific ways to improve your use of TypeScript. Author Dan Vanderkam provides techniques to take a beginning or intermediate user familiar with the basics to be an advanced user who knows how to use the language well. The book helps build mental models of how TypeScript and its ecosystem work, making you aware of pitfalls and traps to avoid, and guides you toward using TypeScript's many capabilities in the most effective ways possible.
<ASIN:1492053740>
More Book Watch
---
Previous Book Watch.
Follow Book Watch on Twitter.
Publishers send your book news to:
bookwatch@i-programmer.info
---