Programming News and Views
Send your programming press releases, news items or comments to: NewsDesk@i-programmer.info
---
Android Studio 4.1 - No Relief In Sight


21 Oct

|

Mike James



A new version of any IDE is always an event, but Android Studio's state reflects the current mess that Android developement is in. I look forward to each new release in the hope that something has been done. The sad news is that Android Studio 4.1 brings no relief to worried Android programmers.
---
Eclipse IoT Developer Survey 2020


21 Oct

|

Harry Fairhead



The Eclipse Foundation's IoT Working Group has released the results of its 2020 IoT Developer Survey. Agriculture emerges as the leading industry focus area and security as the top concern. Two thirds of respondents either experiment with, use or contribute to open source projects.
---
Apache Isis Updated With New Programming Model


20 Oct

|

Kay Ewbank



Apache Isis has been updated with improvements, including a new programming model for action parameter negotiation, and a simplified command service.
---
Pi Compute Module 4 - Time to Take Industrial Pi Seriously


20 Oct

|

Harry Fairhead



It's been a long wait, but at last the Raspberry Pi Compute Module 4 is available and it's quite a departure from earlier compute modules. Is this enough to get the Pi a place at the serious IoT table?
---
Android Cars App Library Enters Public Beta


19 Oct

|

Alex Denham




Google has extended the Android Auto options with a library that can be used for creating navigation, parking, and electric vehicle charging apps. Android for Cars App Library has now been released as an open beta, for any developer to use.
---
npm 7 Will Ship With Node.js 15


19 Oct

|

Kay Ewbank



The next version of npm, v7, has been completed and will be shipping with Node.js v15 this week. The new release adds several features requested by developers including support for Workspaces.
---
Hum Alonga Google


18 Oct

|

David (Grouch) Conrad



In what I can't help thinking is an example of vicious misuse of AI, Google has come up with a new search option that lets you hum a tune to find out its name.
---
October Week 2


17 Oct

|

Editor



Get up to speed on stuff that affects you as a developer by reading about the news and books written by programmers, for programmers. This week's feature articles are the final installment of Nikos Vaggalis' account of the new Udacity Java Web Developer Nanodegree and Mike James explains why computers could be everywhere.
---
IBM's Call For Code 2020 Winner - Agrolly


16 Oct

|

Sue Gee



IBM this week awarded the 2020 Call for Code grand prize of $200,000 to the creators of an app that helps small farmers threatened by climate change decide what to plant and when.
---
5 Low-Cost Ways To Improve the Security of Your eCommerce Website


16 Oct

|

James Allison



Running a website is not an easy task, as you have to make sure that it is secure. Here are some tips for those moving their retail outlets online.
---
Learn JavaScript and Node.js With Microsoft


15 Oct

|

Nikos Vaggalis



Microsoft loves Open Source and loves Python. Now it seems, it loves JavaScript too? Who would have thought that someday Microsoft would promote and teach languages and frameworks not based on .NET?
---
GitPod Adds Native GitLab Integration


15 Oct

|

Kay Ewbank




Users of GitLab can now make use of the Gitpod UI. GitLab is a popular DevOps tool that is used by more than 100,000 organizations. A partnership between GitLab and Gitpod means developers can make use of fully prebuilt, ready-to-code development environments for any GitLab project in the browser.
---
New BBC micro:bit


14 Oct

|

Harry Fairhead



The BBC micro:bit has an upgrade and it's an interesting one. Can this give it a new lease of life in terms of a wider adoption beyond education?
---
Insights From Couchbase Connect


14 Oct

|

Kay Ewbank



Ahead of the opening today of the Couchbase Connect.Online event, Kay Ewbank asked Couchbase about some of its latest products and services.
---
Ada Lovelace Day 2020


13 Oct

|

Sue Gee



Today is being celebrated as Ada Lovelace Day, a event which aims to raise the profile of women in science, technology, engineering and maths. In common with so many event-oriented celebrations, it isn't happening "as per normal". However, there are some future events that celebrate women in STEM.
---
Functional Programming For Big Data Analytics UPDATE


13 Oct

|

Sue Gee



A new online course that provides an introduction to the principles of functional programming, the particular challenges of distributed systems, and how big data processing systems use functional programming to respond to these obstacles starts next week. Enroll by October 14th to join the inaugural presentation.
---
CNIL Publishes GDPR Guide For Developers


13 Oct

|

Nikos Vaggalis



The GDPR is a headache for developers. It's just not clear enough what we have to do to keep our apps compliant. Fortunately CNIL has published a detailed guide for just this case.
---
Dart Adds Unified Developer Tool


12 Oct

|

Kay Ewbank



Dart has been upgraded with a new unified Dart developer tool that can be used to create projects, analyze and format code, run tests, and compile apps. The new release also incorporates a tool that checks for incorrect assignment of nulls.
Other Articles
Book Review
---
SQL Server 2019 Administration Inside Out
Tuesday 20 Oct
Author: Randolph West et al
Publisher: Microsoft Press
Pages: 992
ISBN: 978-0135561089
Print: 0135561086
Kindle: B085P1HSC2
Audience: DBAs and developers
Rating: 4.5
Reviewer: Ian Stirk
This book aims to update your DBA skills to cover SQL Server 2019, how does it fare?
Featured Articles
---
Programmer's Guide To Theory - NP Complete
Mike James
One of the most amazing ideas in computer science is that some NP problems are complete in the sense that they represent all of the problems in NP. Given how different NP problems can seem, how can this be? This is an extract from Chapter 17 of my recent book on theory.
---
JavaScript Data Structures - The Binary Tree
Ian Elliot

Binary trees in JavaScript? Easy with the right storage mapping function. Find out how to code a binary tree right up to a depth-first traversal.
---
The Insider's Guide to the Java Web Developer Nanodegree - 5
Nikos Vaggalis

In the final installment of his account of the new Udacity Nanodegree program that will enhance your career prospects as a Java web developer, Nikos Vagglis runs the final lap - Security and DevOps.
---
The Computer - What's The Big Idea?
Mike James
There can't be a more central concept than "the computer" to what programmers know, but it is such a commonplace that we tend to take it for granted and miss how truly amazing it is. It might just be that computers are everywhere and built into the very fabric of the universe. So what is a computer? What makes it so special?
---
Raspberry Pi IoT In C - VS Code Remote C
Harry Fairhead
A remote development environment is the ideal way of working with the Pi, or any Linux, IoT-based machine. VS Code doesn't do remote development to the Pi out of the box, but it is easy to add some tasks to automate things. This is an extract from the newly-published Raspberry Pi IoT in C, Second Edition.
Unhandled Exception!
Old Days 2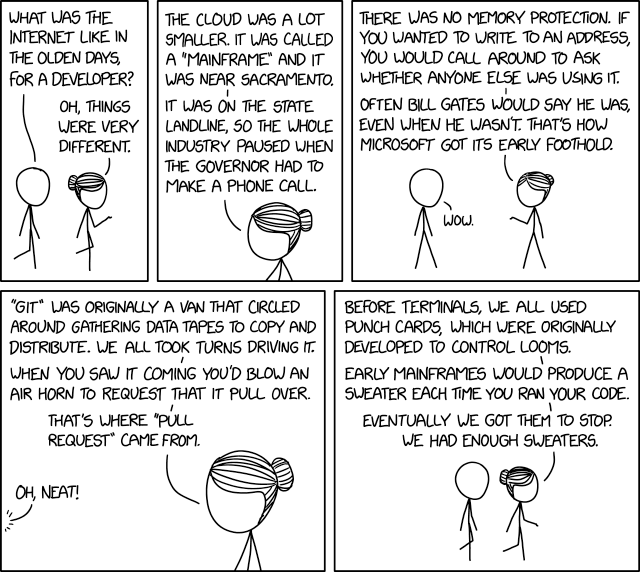 Click for larger image
It is wonderful - like a stream of consciousness poem. The early days had their moments. I can remember nearly freezing to death sitting on the steps of the computer center waiting for it to open so I could see my printout, correct the, usually minor, errors and throw the punch cards back in. Hypothermia was a small price to pay for an extra run in the day. Of course, the extra sweater kept you warm the next day.
More cartoon fun at xkcd a webcomic of romance,sarcasm, math, and language
---
Book Watch

Follow Book Watch on Twitter

Book Watch is I Programmer's listing of new books and is compiled using publishers' publicity material. It is not to be read as a review where we provide an independent assessment. Some but by no means all of the books in Book Watch are eventually reviewed.
---
Design and Build Great Web APIs (Pragmatic Bookshelf)
Wednesday 21 Oct
This book covers the essential skills needed to quickly design, build, and deploy quality web APIs that are robust, reliable, and resilient. Author Mike Amundsen starts from initial design through prototyping and implementation to deployment of mission-critical APIs. The book includes more than a dozen open-source utilities and common programming patterns you can apply right away. It also covers the skills needed to create RESTful HTTP-based APIs
<ASIN:1680506803>
---
Essential C# 8.0 7th Ed (Addison-Wesley)
Monday 19 Oct
This is a no-fluff guide to C# 8.0 for programmers at all levels of experience. Well known author Mark Michaelis presents a tutorial and reference for the entire language. This edition adds discussions of null reference types, indices and ranges, static local functions, and enhanced pattern matching. The book includes key C# 8.0 enhancements, succinct examples to illustrate key constructs, and new coding guidelines for minimizing bugs and writing code thats easier to evolve.
<ASIN:0135972264>
---
The ABCs of Data Science (Very Young Professionals)
Friday 16 Oct
Expose your kids to the world of data! Making the claim "By Real Data Scientists, For Future Data Scientists" author Rikin Mathur follows Data Science Dolphin as she navigates the ABCs to learn about Data Science. Along the way, she meets a few friends such as Analyst Armadillo, Engineer Elephant, and Z-Score Zebra. Together they learn about Histograms, Joint Probability, and even Machine Learning.
<ASIN:1734276304>
---
Raspberry Pi IoT in C, Second Edition (I/O Press)
Wednesday 14 Oct
The Raspberry Pi makes an ideal match for the Internet of Things. But to put it to good use in IoT you need two areas of expertise, electronics and programming and because of the way hardware and software engineering tend to occupy separate niches you may need help with combining the two. This expanded second Edition has been brought up-to-date and focuses mainly on the Pi 4 and the Pi Zero. There is new material on the recently introduced GPIO character driver and using the Pi 4's additional ports and scheduling.
<ASIN:1871962633>
---
Learn Azure in a Month of Lunches 2nd Ed (Manning)
Monday 12 Oct
This is a tutorial on writing, deploying, and running applications in Azure. In it, author Iain Foulds introduces Azure through 21 short lessons that give real-world experience. Each lesson includes a hands-on lab to try out and lock in the new skills. This fully revised new edition covers core changes to the Azure UI, new Azure features, Azure containers, and the upgraded Azure Kubernetes Service.
<ASIN:1617297623>
More Book Watch
---
Previous Book Watch.
Follow Book Watch on Twitter.
Publishers send your book news to:
bookwatch@i-programmer.info
---