Programming News and Views
Send your programming press releases, news items or comments to: NewsDesk@i-programmer.info
---
MongoDB Changes License


22 Oct

|

Kay Ewbank



MongoDB has revamped its open source license type in an attempt to prevent commercial organizations in Asia using the database commercially without sticking to the open source rules.
---
Google To Charge For Its Android Apps In The EU - Update: Annual Revenue of $5 Billion


22 Oct

|

Mike James



The European Commission's strong approach to controlling all things computing might be a good thing, but it is certainly creating a two-tier environment. Google is now going to charge for its Android Apps and services but only in the European Economic Area.
---
Amazon Patents Nurse Alexa


21 Oct

|

Sue Gee



Amazon was granted a patent last week for "Voice-based determination of physical and emotional characteristics of users". It raises two distinct issues. One is the recurring complaint about patents in general. The other is that Alexa could play a helpful role in health care.
---
Playing a Piano and Composing Reduced to Eight Keys


20 Oct

|

Mike James



If you have harboured a dream of just sitting down in front of a piano and playing something amazing impromptu then your dream might become a reality - and without all the hard work of learning music theory. AI gets creative in yet another way.
---
October Week 3


20 Oct

|

Editor



Every day I Programmer has new material - news, articles and book reviews - written by programmers, for programmers. Each week our digest gives a handy summary of the latest content. While you are here there's plenty more to explore. Just click on the I Programmer button at the top left to go to our Front Page or use the menus next to it to find stuff you are interested in.
---
Visual Studio Roadmap Promises Better Debugger


19 Oct

|

Kay Ewbank



Microsoft has updated its roadmaps for Visual Studio for Mac and Visual Studio 2019, promising a faster and more reliable code editor on the Mac, and a better debugger for VS 2019.
---
Proof Of Quantum Supremacy?


19 Oct

|

Mike James



You might think, given all the fuss, that quantum computers were a very desirable thing. What you might not be aware of is that there is no theoretical basis to believe that a quantum computer can do anything more than a classical computer can. However, some new results seem to prove that a quantum computer really is worth having.
---
The Ever Expanding GitHub Octoverse


18 Oct

|

Janet Swift



GitHub has published its annual report on the State of the Octoverse and its growth has been phenomenal. The headline statistics are that, having welcomed more than 8 million new users since last year, GitHub now has more than 31 million developers and more than 2.1 million organizations.
---
RAPIDS GPU Data Analysis Platform Launched


18 Oct

|

Kay Ewbank



A collection of software libraries for machine learning and data analysis has been released by NVidia. The GPU-based system, RAPIDS, consists of a suite of open-source software libraries for data science and analytics pipelines on GPU.
---
GitHub Launches Actions


17 Oct

|

Kay Ewbank



GitHub has launched a new tool called GitHub Actions that you can use to build, share and execute code directly on the site. It is designed to cut down on the steps necessary to execute code.
---
Sourcegraph Powers Up Your Code Repository


17 Oct

|

Nikos Vaggalis



Sourcegraph is a code navigation engine that non-destructively rearranges your repository's structure to organize it, as well as powering it up with code intelligence and advanced search capabilities.
---
GitHub Extends Learning Lab


16 Oct

|

Alex Denham



At its annual GitHub Universe conference, GitHub is releasing three new Learning Lab courses, covering secure development workflows with GitHub, reviewing a pull request, and getting started with GitHub.
---
Mapbox Visual for Microsoft Power BI Upgrades Visualizations


16 Oct

|

Kay Ewbank



The Mapbox plugin for Power BI has been upgraded with support for 3D extrusions on fill maps and better handling for shape filters.
---
Paul Allen, Co-Founder of Microsoft, Dies


16 Oct

|

Sue Gee



Paul Allen, who with Bill Gates brought BASIC to the world and founded Microsoft, has died at the age of 65.
---
PostgreSQL 11 RC Available


15 Oct

|

Kay Ewbank




PostgreSQL 11 is here - well, it will be within days, and the release candidate is available for download now.
---
Hacktoberfest 2018 - Celebrate Open Source!


15 Oct

|

Nikos Vaggalis



Hacktoberfest is an annual event sponsored by DigitalOcean in partnership with GitHub and Twilio and while "Hacktoberfest" might sound or give the impression of something doable only by very experienced hacker programmers, in essence, it's just a wrapper around having to submit 5 Pull Requests to any Github hosted repository and earn some swag in return.
---
AI Makes Deep Fake News


14 Oct

|

Mike James



Lots of people worry about AI and the effect it is going to have on the economy and wider issues of society. Blaise Agüera y Arcas of Google AI has made a short film explaining how AI might just cause a transition from a fact-based world to something much less certain. You can no longer believe your eyes.
---
Parkour Atlas


13 Oct

|

Harry Fairhead



I admit that this is about the video. To see Boston Dynamic's Atlas robot jumping around like it means it, is fascinating. How far have we come so quickly - but have we? Is this the robot you are looking for?
Other Articles
Book Review
---
Microinteractions
Friday 19 Oct
Author: Dan Saffer
Publisher: O'Reilly
Pages: 170
ISBN: 978-1491945926
Print: 1491945923
Kindle:B00FRSNHIW
Audience: App developers concerned with human-computer interaction
Rating: 4
Reviewer: Lucy Black
A small book about getting the small details right. Who will it benefit?
Featured Articles
---
Just JavaScript - The Search for Type
Ian Elliot
It is clear that JavaScript is a subtle and sophisticated language that deserves to be treated in its own right and not as a poor copy of other object-oriented languages. JavaScript doesn't have type so the question is how do we cope?
---
Bill Gates - Before He Was Famous
Historian
Microsoft as it is today is mostly the invention of one man - Bill Gates. But right at the start Paul Allen, who has recently passed away, made a significant contribution. It probably wouldn't have come about without the pair of them and it is timely to reconsider those early days.
---
Programmer's Python - Multiple Inheritance
Mike James
Python supports multiple inheritance which can be scary, but the trick is to make it as much like single inheritance as possible and this is what Python does. This extract is from my new book with the subtitle "Something Completely Different".
---
What's In A DOS
Harry Fairhead
Now that Microsoft has open sourced MS-DOS it's a good time to look at filing systems, blocks and the FAT and how they are used. Let's explore the basics of a DOS - Disk Operating System.
---
Android Programming In Kotlin: Bias & Chains
Mike James

Android Studio is now very clear about what layout component you should use - only the ConstraintLayout. But what does it give you that wasn't in the other layouts? This extract about bias constraints and chains is taken from the chapter The ConstraintLayout in a new book aimed at Android programmers wanting to use Kotlin.
Unhandled Exception!
Sandboxing Cycle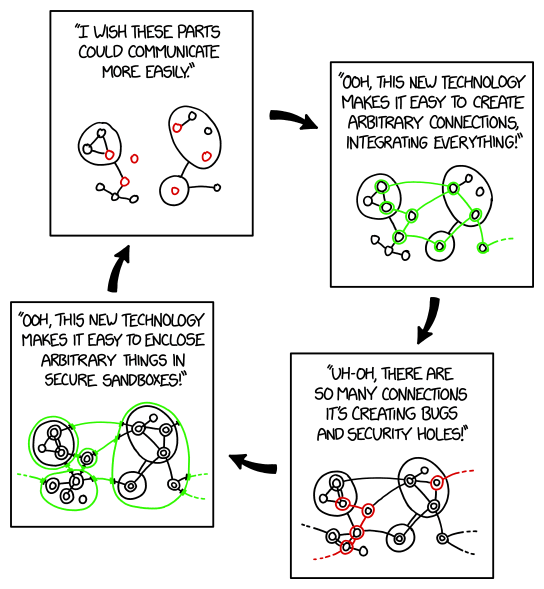 Click for larger image
And so it goes. A security measure is put in place. Programmers worked long hours to implement it and it's super clever. It locks down the system in a way that makes something impossible and so programmers work long hours to find a super clever way to do the thing it stops you doing. Eventually the new approach becomes commonplace and the security programmers look at it again and ...
More cartoon fun at xkcd a webcomic of romance,sarcasm, math, and language
---
Book Watch

Follow Book Watch on Twitter

Book Watch is I Programmer's listing of new books and is compiled using publishers' publicity material. It is not to be read as a review where we provide an independent assessment. Some but by no means all of the books in Book Watch are eventually reviewed.
---
SQL Server Advanced Data Types (Apress)
Monday 22 Oct
This book explores each of the complex data types supplied within SQL Server, and shows typical ways each of the complex data types might be used, followed by a detailed discussion on how to work with each data type. Author Peter Carter offers a practical guide to working with complex data, using real-world examples to demonstrate how each data type can be used. Performance considerations are also discussed, including the implementation of special indexes such as XML indexes and spatial indexes.
<ASIN:1484239008>
---
Beginning Data Science with Python and Jupyter (Packt)
Thursday 18 Oct
This step-by-step guide is aimed at beginners who know a little Python and are looking for a quick, fast-paced introduction. Author Alex Galea explores machine learning models with real datasets. The book ends by showing how easy it can be to scrape and gather data from the open web.
<ASIN:1789532027>
---
Core Java, Volume II - Advanced Features, 11th Ed (Prentice Hall)
Wednesday 17 Oct
This is written as a no-nonsense tutorial and reference for experienced programmers who want to write robust Java code for real-world applications, and this eleventh edition has been updated to reflect Java SE 9. Author Cay S. Horstmann covers advanced user-interface programming and the enterprise features of the Java SE 9 platform. The book covers the most important language and library features and shows how to build real-world applications with thoroughly tested examples.
<ASIN:0135166314>
---
Computer Graphics Programming in OpenGL with C++ (Mercury)
Monday 15 Oct
This book provides step-by-step instruction on modern 3D graphics shader programming in C++ and OpenGL. Author V. Scott Gordon has written it for computer science undergraduate graphics programming courses and professionals who are interested in mastering 3D graphics skills. He places heavy emphasis on student learning, making the complex topic of shader programming as accessible as possible.
<ASIN:1683922212>
More Book Watch
---
Previous Book Watch.
Follow Book Watch on Twitter.
Publishers send your book news to:
bookwatch@i-programmer.info
---