Programming News and Views
Send your programming press releases, news items or comments to: NewsDesk@i-programmer.info
---
Grace Hopper's 112th Birthday


09 Dec

|

Sue Gee



Today, December 9th 2018, is the 112th anniversary of the birth of Grace Hopper. Her continuing legacy has been to inspire efforts to enhance the career interests of women in computing. Her concern for teaching young people is why Computer Science Education Week and the Hour of Code are timed to coincide with her birthday.
---
Programmer Gifts 01 - Trust Me I'm A Programmer


08 Dec

|

Mike James



Programmer gifts - easy idea, difficult implementation. Try these out and you can trust me - I'm a programmer. No, really I am.
---
December Week 1


08 Dec

|

Editor



Every day I Programmer has new material - book reviews, articles and news - written by programmers, for programmers. Each week our digest gives a handy summary of the latest content. While you are on the site there's plenty more to explore. So if it is your first visit use links and the menus to follow up on topics of interest.
---
Rust Survey Revelations


07 Dec

|

Janet Swift



The 2018 Rust Survey attracted more responses than in previous years and a greater proportion of respondents were active users of the language.
---
Microsoft To Go Chromium Update: Confirmed


07 Dec

|

Mike James



When we covered the news that Microsoft was giving up on its own browser, Edge, and moving instead to use Chromium last week, it had the status of a rumor. Now Microsoft has confirmed that it is all true and there are some extra surprises - it's a Win32 app for one!
---
The Future Is Flutter...


06 Dec

|

Mike James



Is Google's Flutter just another attempt to rescue a failed language - Dart - or is it the future of mobile development? It really is too early to say, but with the release of Flutter 1.0 the balance seems to be moving to the future view.
---
Visual Studio 2019 Preview Integrates Live Share


06 Dec

|

Kay Ewbank



The first preview of the next major version of Visual Studio has been released and shown off at Connect(), Microsoft's developer conference.
---
Forms, WPF and UI Go Open Source


05 Dec

|

Mike James



.NET used to be one of the biggest things in town and then Microsoft decided to go in other directions with WinRT. Part of the .NET system was WPF, arguably the most advanced GUI framework ever. Now the unbelievable has happened - it has been open sourced along with Windows Forms and Windows UX.
---
DataGrip Adds Cassandra Support


05 Dec

|

Kay Ewbank



Support for Cassandra has been added to DataGrip, JetBrain's IDE for databases and SQL. The 2018.3 release also improves PostgreSQL support, and the ability to generate SQL for selected objects.
---
Why Mozilla Matters


05 Dec

|

Sue Gee



Mozilla revenue rose by over $40 million USD in 2017 which sounds good until you notice that its expenses went up by over $80 million.
---
Amazon Releases Corretto - OpenJDK Distribution


04 Dec

|

Kay Ewbank



Amazon has released a preview of Corretto, a no-cost, multiplatform, production-ready distribution of OpenJDK. The announcement was made soon after Amazon promised to continue long-term support for the OpenJDK 8 and 11 runtimes in Amazon Linux. Amazon plans to make Corretto the default OpenJDK on Amazon Linux in 2019.
---
Go 2 Details Revealed


03 Dec

|

Kay Ewbank



Details are emerging of what the next version of the Go language will look like, along with concrete information on which of the future changes are going to make it into the next incremental release.
---
OpenCV 4.0 Says Goodbye To C


03 Dec

|

Harry Fairhead




If you want to do computer vision and don't want to spend years developing the code from scratch, you probably need OpenCV. After a wait of nearly 4 years, OpenCV 4.0 has arrived.
---
Insane Linux Kernel Patches Resulting From Code Of Conduct


02 Dec

|

Sue Gee



A misguided attempt to remove swearwords from comments embedded in Linux kernel code has itself been greeted with a torrent of comment. It has to be noted that most of the discussion on the Linux mailing list is remarkably moderate in tone and comes to an acceptable conclusion.
---
Amazon's DeepRacer - Careful What You Wish For


01 Dec

|

Mike James



This sounds wonderful. If only it was going to be available to order in time for the holiday season. However, it might cost you a lot more than the $400 price tag suggests. Reinforcement racing anyone?
---
November Week 4


01 Dec

|

Editor



Catch up with everything on I Programmer last week. Our digest gives links to news coverage plus the week's book reviews and additions to Book Watch. The list finishes with an extract from Android Programming in Kotlin showing how to create an Android UI using code and a history article, John Backus - the Father of Fortran.
---
TypeScript 3.2 Gets Stricter Checking


30 Nov

|

Ian Elliot




There's a new version of TypeScript that has tightened up type-checking for methods on functions, and added a way to handle spreads of existing objects into new objects.
---
Dart 2.1 Is Smaller And Faster


30 Nov

|

Kay Ewbank



Google has updated Dart with a new version, 2.1, that has smaller code size, has faster tools, and offers faster type checks.
Other Articles
Book Review
---
Improving Agile Retrospectives
Tuesday 04 Dec
Author: Marc Loeffler
Publisher: Addison-Wesley
Pages: 270
ISBN: 978-0134678344
Print: 0134678346
Kindle: B0785W7PM6
Audience: Developers using Agile
Rating: 4
Reviewer: Kay Ewbank
The use of retrospectives in agile development is one of the key ideas behind the methodology, and this book aims to show you how to make them more effective.
Featured Articles
---
Grace Hopper - The Mother of Cobol
Historian
Rear Admiral Grace Brewster Murray Hopper was responsible not only for the development of the Cobol language but also for the continuous pressure within the industry to make computers and computing more accessible and to to bring the research and career interests of women in computing to the forefront.
---
Fundamental C - Dependent v Independent & Undefined Behavior
Harry Fairhead
Lots has been written about undefined behavior in C, but not much about the reasons why it exists. This extract, from a forthcoming book on programming C in an IoT context, provides a very helpful explanation.
---
Javascript Jems - Active Logic, Truthy and Falsey
Ian Elliot
JavaScript takes an interesting view of logic, the way that it is implemented and what sorts of use you can put it to. Instead of just thinking about And and Or as logic tables you can think of them as variations on the procedural if..then..else. So if you don't know about the active approach to logic - read on.
---
Android Programming In Kotlin: Programming the UI
Mike James

You can create an Android UI using code rather than XML but this isn't as well known. Here's how to do it in Kotlin, in an extract from my published book Android Programming in Kotlin: Starting With An App.
---
John Backus - the Father of Fortran
Historian
Creating the first compiler went hand-in-hand with the task to creating the first high-level computer language. You can argue that this was Fortran or some other language, but the fact of the matter is that Fortran was the language that kickstarted the widespread use of computers. This is the story of how it happened.
Unhandled Exception!
Modified Bayes' Theorem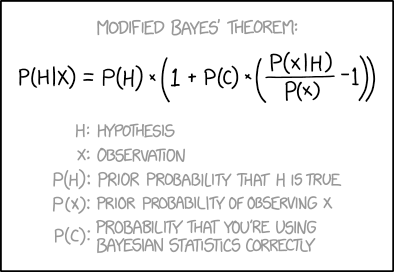 Click for larger image
This is amusing. Of course, data scientists, or statisticians as we use to call them, aren't perfect and many mistakes are made and so it makes sense to factor in the probability of such a misunderstanding into the calculation of the posterior. But, and this is a very big but, if you can find yourself a Bayesian look them in the eye, use a mirror if you are a Bayesian, and ask them
"What is this P that you keep calculating? Does it have a real physical interpretation in all cases? What is the P that the sun will rise tomorrow and where is your replication?"
Beliefs are dangerous things.
More cartoon fun at xkcd a webcomic of romance,sarcasm, math, and language
---
Book Watch

Follow Book Watch on Twitter

Book Watch is I Programmer's listing of new books and is compiled using publishers' publicity material. It is not to be read as a review where we provide an independent assessment. Some but by no means all of the books in Book Watch are eventually reviewed.
---
Access 2019 Bible (Wiley)
Thursday 06 Dec
This comprehensive reference to Access has now been updated to cover Access 2019. Authors Michael Alexander and Dick Kusleika start from the basics through to the advanced, from database fundamentals and terminology to XML and Web services. The companion website features all examples and databases used in the book, plus trial software and a special offer from Database Creations.
<ASIN:1119514754>
---
Model Checking, 2nd Ed (MIT Press)
Wednesday 05 Dec
Part of the Cyber Physical Systems Series, this is the second edition of a comprehensive presentation of the theory and practice of model checking, covering the foundations of the key algorithms in depth. Author Edmund M. Clark, Jr was one of the developers of the technique, in which algorithms are used to work out whether an abstract model―representing, for example, a hardware or software design―satisfies a formal specification expressed as a temporal logic formula.
<ASIN:0262038838>
---
Impractical Python Projects (No Starch Press)
Monday 03 Dec
This book is a collection of fun and educational projects designed to entertain programmers while enhancing their Python skills. Author Lee Vaughan picks up where the complete beginner books leave off, expanding on existing concepts and introducing useful new tools. To keep things interesting, each project includes a zany twist featuring historical incidents, pop culture references, and literary allusions.
<ASIN:159327890X>
---
Learning Robotics Using Python 2nd Ed (Packt)
Thursday 29 Nov
This book starts by showing you the fundamentals of the Robot Operating System (ROS) robotics software framework to illustrate the basics of differential robots. Author Lentin Joseph then covers robot modeling and how to design and simulate it using ROS. He then looks at how to design robot hardware and interfacing actuators, and how to configure and program depth sensors and LIDARs using ROS. Finally, instructions are given on creating a GUI for a robot using the Qt framework.
<ASIN:1788623312>
More Book Watch
---
Previous Book Watch.
Follow Book Watch on Twitter.
Publishers send your book news to:
bookwatch@i-programmer.info
---