Programming News and Views
Send your programming press releases, news items or comments to: NewsDesk@i-programmer.info
---
January Week 3


23 Jan

|

Editor



Our weekly digest lists the week's news, new titles added to our Book Watch Archive and our weekly book review. This week's first featured article is an extract from Raspberry Pi IoT in Python Using GPIO Zero about the complexities of input. In the second, Harry Fairhead prompts the question "What the Hex?"
---
Genius Programmers Star In Gameshow


22 Jan

|

Lucy Black



A two-episode series which debuted on Chinese streaming platforms last week has been described as the first reality competition to focus on programmers.
---
Red Hat Improves Developer Access


22 Jan

|

Kay Ewbank



Red Hat has announced new no- and low-cost programs they're adding to Red Hat Enterprise Linux. These are the first of many new programs.
---
The New Raspberry Pi Pico Breaks The Mold


21 Jan

|

Harry Fairhead



The Raspberry Pi Pico is a daring venture for the Raspberry Pi Foundation in more ways than one. What exactly is it all about?
---
Learn To Protect Against XS-Leaks


21 Jan

|

Nikos Vaggalis



There's a brand new Wiki by Google engineers that sets out to educate secuirity developers about cross-site leaks.
---
What Apps Are Removed From The App Store?


20 Jan

|

Lucy Black



A new study throws a lot of light on a mysterious subject - what apps are removed from the iOS App Store? The first big surprise is how many apps were removed. Guess how many were removed in the recent 1.5 years? Go on guess!
---
The Cost of Bad, Insecure, Outdated and Unsuccessful Software


20 Jan

|

Sue Gee



Operational software failures, poor quality legacy systems, and unsuccessful IT projects cost the United States
$2.08 trillion last year, which is 10% of the country's GDP.
---
Take Cornell's CS 6120 Advanced Compilers For Free


19 Jan

|

Nikos Vaggalis




A PhD-level course, originally provided remotely to Cornell Computer Science students, has now been made available for free to anyone in a self-paced version.
---
Wing Python Improves Auto-Reformatting


19 Jan

|

Kay Ewbank



Wing Python has been updated with improvements to code reformatting, better handling of def async statements, and usability improvements to tooltips.
---
Jacob Ziv Awarded IEEE Medal of Honor For Data Compression


18 Jan

|

Sue Gee



This year's IEEE Medal of Honor has been awarded to Jacob Ziv, who, with Abraham Lempel, created two lossless compression methods (LZ-77 and LZ-78) which are the basis of a wide range of compressed file types including ZIP and GIF/PNG files.
---
Asynchronous Runtime For Rust Released


18 Jan

|

Kay Ewbank



Tokio, an asynchronous runtime for the Rust programming language, has been released in a 1.0 version. Tokio can be used to write reliable networking applications without compromising speed.
---
Colorization Of Early Films Good or Bad?


17 Jan

|

David Conrad



Here's another example of the use of AI for colorizing and breathing new life into photos, or rather in this case early film footage. This one goes an extra step - adding sound effects. While the results are impressive they are also controversial. Does this treatment bring the past alive for us in an authentic way or introduce a false reality?
---
January Week 2


16 Jan

|

Editor



Get up to speed on stuff that affects you as a developer by reading about the news and books written by programmers, for programmers. In this week featured articles, Mike James explains how parameters make Python functions easier to use and Harry Fairhead looks at why computer memory can be likened to pigeonholes.
---
PostgreSQL Is DB-Engines DBMS of the Year For 2020


15 Jan

|

Nikos Vaggalis



In yet another confirmation of its popularity and worth, PostgreSQL has taken the annual accolade awarded by DB-Engines.
---
RStudio Improves Python Support


15 Jan

|

Kay Ewbank



The developers at RStudio have announced a number of improvements designed to make it easier to use R and Python together in a single data science project, including more options for native Python coding in the RStudio IDE, including a Python environment and object explorer.
---
BlocklySQL - Visual SQL Programming


14 Jan

|

Nikos Vaggalis



BlocklySQL is a block-based, visual programming tool like Scratch but for SQL. It is the outcome of academic research at the University of Würzburg on the kind of errors that students who are novice in writing SQL queries make.
---
DLang Improves Objective-C Support


14 Jan

|

Kay Ewbank




There's a new release of the D programming language with better Objective-C support, as well as improvements to the compiler, libraries, and tools.
---
New In Windows Forms .NET


13 Jan

|

Mike James




Yes, you read that headline correctly. Despite being out of favor and in maintenance mode, WinForms is still capable of a surprise or two. How can .NET 5.0 introduce new features for something that isn't developing?
Other Articles
Book Review
---
Spark in Action, 2nd Ed (Manning)
Wednesday 20 Jan
Author: Jean-Georges Perrin
Publisher: Manning
Pages: 576
ISBN: 978-1617295522
Print: 1617295523
Audience: Java developers interested in Spark
Rating: 4.5
Reviewer: Kay Ewbank
This is a rewritten version of an earlier title from a different author, so whether it counts as a second edition or not is open to question. What actually matters, though, is how well it fulfills the task of showing how to use Spark for big data analytics.

Featured Articles
---
The Road to Silicon Valley
Historian
Silicon Valley is where it all happened and arguably is still happening. Why did it all start at this particular location?
---
Pi IoT In Python Using GPIO Zero - Complex Input
Harry Fairhead & Mike James
Input is more varied and challenging than output. In this extract from a new book on using GPIO Zero on the Pi in Python we look at its variety.
---
Hexadecimal
Harry Fairhead
Hexadecimal is the most common way of displaying the raw data sitting in a machine's memory, but if you are not familiar with it you might ask "What the hex..?"
---
Programmer's Python - Parameters
Mike James
Functions in Python are very important, even when you forget that they are objects. To make functions easier to use, there are a lot of additional features that have been added as Python developed. Parameters are explained in this extract from my book, Programmer's Python: Everything is an Object.
---
The Memory Principle - Computer Memory and Pigeonholes
Mike James
We discover why computer memory can be likened to pigeonholes and even include instructions for you to build your own memory device.
Unhandled Exception!
Scientist Tech Help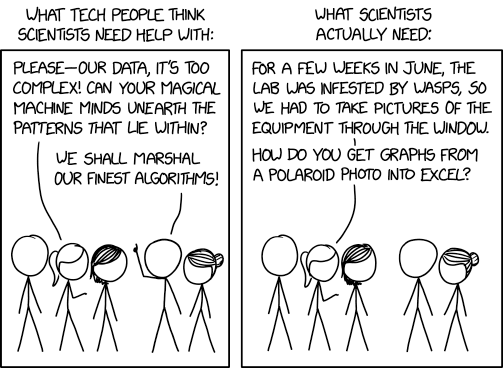 Click for larger image
So, so true. Not restricted to scientist tech help either. We often get hold of the wrong idea when it comes to providing any software. When we do find out what the user wants, it's often a big disappointment. I suggest this is why we hate requirements analysis. In an ideal world we should just deliver the toy that pleases us the most...
More cartoon fun at xkcd a webcomic of romance,sarcasm, math, and language
---
Book Watch

Follow Book Watch on Twitter

Book Watch is I Programmer's listing of new books and is compiled using publishers' publicity material. It is not to be read as a review where we provide an independent assessment. Some but by no means all of the books in Book Watch are eventually reviewed.
---
Competitive Programming in Python (Cambridge University Press)
Friday 22 Jan
Subtitled "128 Algorithms to Develop your Coding Skills" this is a collection of algorithmic techniques and programming skills chosen to be useful for job interviews in the tech industry and competing in coding competitions. Christoph Dürr and Jill-Jênn Vie are experienced coaches, problem setters, and jurors for coding competitions. They highlight the versatility of each algorithm by considering a variety of problems and show how to implement algorithms in simple and efficient code.
<ASIN:1108716822>
---
C++ All-in-One, 4th Ed (For Dummies)
Wednesday 20 Jan
Updated for C++20, in this book John Paul Mueller takes you from the fundamentals of working with objects and classes to writing applications that use paradigms not normally associated with C++, such as those used for functional programming strategies. The book also includes online resources such as source code, as well as showing how to use a C++ GNU compiler to build applications and how to use a mobile device for coding.
<ASIN:1119601746>
---
ASP.NET Core 5 and React, 2nd Ed (Packt)
Monday 18 Jan
With the subtitle, "Full-stack web development using .NET 5, React 17, and TypeScript 4, this updated second edition addresses the changes in the .NET framework and the latest release of React. Carl Rippon starts by taking you through React and TypeScript components for building an intuitive single-page application and then shows you how to design scalable REST APIs that can integrate with a React-based frontend. He then covers the latest features, popular patterns, and tools available in the React ecosystem, including function-based components, React Router, and Redux.
<ASIN:180020616X>
---
Math for Programmers (Manning)
Friday 15 Jan
With the subtitle, "3D graphics, machine learning, and simulations with Python", this book aims to provide the strong math skills you need to qualify for jobs in data science, machine learning, computer graphics, or cryptography. With lots of helpful graphics and more than 300 exercises and mini-projects, Paul Orland teaches the math you need for these hot careers, concentrating on what you need to know as a developer.
<ASIN:1617295353>
---
C++ High Performance, 2nd Ed (Packt)
Wednesday 13 Jan
This book, sibtitled "Master the art of optimizing the functioning of your C++ code" shows how to tweak the performance of C++ apps, so they can run faster and consume fewer resources on the device they're running on without compromising the readability of the codebase. Björn Andrist and Viktor Sehr begin by introducing the C++ language and some of its modern concepts in brief. They then move on to using algorithms, ranges, and containers from the standard library to achieve faster execution, write readable code, and use customized iterators.
<ASIN:1839216549>
More Book Watch
---
Previous Book Watch.
Follow Book Watch on Twitter.
Publishers send your book news to:
bookwatch@i-programmer.info
---