Programming News and Views
Send your programming press releases, news items or comments to: NewsDesk@i-programmer.info
---
Eclipse IoT Developer Survey 2019


19 Apr

|

Harry Fairhead



The Eclipse Foundation's IoT Working Group has released the results of its 2019 IoT Developer Survey, an annual exercise intended to deliver valuable insight into programming languages, platforms, infrastructure and tools for building IoT solutions.
---
C++ Experiences Comeback In TIOBE Index


19 Apr

|

Janet Swift



C++ is singled out for attention in this month's TIOBE Index. Having been pushed out of the top three programming languages by Python last September, it has returned to its long term third position, relegating Python to fourth.
---
Counting Vulnerabilities In Open Source Projects and Programming Languages


18 Apr

|

Alex Armstrong



The number of disclosed open source vulnerabilities skyrocketed in 2017, reaching a total of almost 3,500. Mozilla was the open source projects with the most vulnerabilities and C/C++ was the most vulnerable language.
---
Atom 1.36 Speeds Fuzzy Find Performance


18 Apr

|

Kay Ewbank



Atom has been updated! Version 1.36 has better fuzzy find performance and smarter handling of editing individual files.
---
Google Attempts To Fix AMP - Makes It Worse


17 Apr

|

Mike James



AMP is Google's attempt to speed up the web or to dominate it even more than it does at the moment - take your pick of these alternatives. In an attempt to address one of the biggest criticisms of AMP, Google has invented Signed Exchanges. A fix to a problem we didn't really need to have.
---
Open Source Visual Studio Code Without Trackers Launched


17 Apr

|

Kay Ewbank



An open source version of Visual Studio Code that doesn't pass telemetry data back to Microsoft has been released. VSCodium aims to offer a more private development experience to Visual Studio developers.
---
Apache Arrow Adds DataFusion Rust-Native Engine


16 Apr

|

Kay Ewbank



Apache Arrow has been updated with the addition of the DataFusion Rust-Native query engine for the Arrow columnar format.
---
Starting To Oust Sizzle From jQuery


16 Apr

|

Ian Elliot




jQuery 3.4.0 has just been released. It is the last minor release on the 3.x branch and in preparation for the removal of the Sizzle selector engine from the next major release, jQuery 4.0, it deprecates Sizzle's, non-standard, positional selectors.
---
EU Copyright Directive Passed Into Law


15 Apr

|

Sue Gee



The EU Council of Ministers today approved the Copyright Directive, which includes the controversial Article 17 (formerly 13). The legislation was voted through by a majority of EU ministers despite opposition from Italy, Luxembourg, Netherlands, Poland, Finland, and Sweden.
---
Databricks Runtime for Machine Learning


15 Apr

|

Kay Ewbank



Databricks Runtime for Machine Learning is now generally available, offering native integration with popular ML/DL frameworks, such as scikit-learn, XGBoost, TensorFlow, PyTorch, Keras, and Horovod.
---
The State Of AI According To Rodney Brooks


14 Apr

|

Mike James



AI - overhyped and oversold - or is it? Rodney Brooks, Robotics Professor at MIT, should know. He has been trying to apply it real world uses for a long time. He recently delivered the annual Sackler lecture under the auspices of the National Academy of Sciences with the title "The Science of Deep Learning".
---
Reconstructed Heath Robinson Codebreaking Machine Unveiled


13 Apr

|

Sue Gee



The latest addition to collection of World War II code breaking machines curated by UK's National Museum of Computing, a working Heath Robinson machine, has been unveiled after a seven-year reconstruction project.
---
April Week 2


13 Apr

|

Editor



This digest gives links to our news coverage, the Book Review and additions to Book Watch, one week at a time. We start with the feature articles - an extract from Fundamental C in which Harry Fairhead looks at some aspects of data in C that makes it different; and a history article about Konrad Zuse and his early German computers.
---
Microsoft Partners With HackerOne On Bug Bounty


12 Apr

|

Kay Ewbank



Microsoft's Bug Bounty program has been updated to pay out faster for valid vulnerabilities. The HackerOne hacker community has joined as a partner to speed up checks and handle payouts.
---
Wing Python Improves Code Warnings


12 Apr

|

Mike James



There's a new version of Wing Python. Version 7 has an improved code warnings and code quality inspection system that includes built-in error detection and tight integration with pylint, pep8, and mypy. This release also adds a new data frame and array viewer.
---
F# Adds Anonymous Records


11 Apr

|

Kay Ewbank



F# 4.6 has been released with the addition of support for anonymous records. The new version of F# will be included in Visual Studio 2019 when it ships.
---
Inaugural ACM Chuck Thacker Breakthrough Award


11 Apr

|

Sue Gee



The ACM has announced that Mendel Rosenblum, co-founder of VMware and a professor of Computer Science at Stanford is to be the first recipient of the newly established Chuck Thacker Breakthrough in Computing Award.
---
Is The Walled Garden About To Close Around MacOS?


10 Apr

|

Mike James



Apple's grip on the walled garden that is iOS is complete, but MacOS X comes from a freer time. Are the current moves to notarization a way of building a wall around MacOS apps? It's going to be the default for new devs in 10.14.5 and for all in a future version.
Other Articles
Book Review
---
Access 2019 Bible
Tuesday 16 Apr
Author: Michael Alexander and Dick Kusleika
Publisher: Wiley
Pages: 1136
ISBN: 978-1119514756
Print: 1119514754
Kindle: B07J1WJ1ZK
Audience: Access users and developers
Rating: 4.7
Reviewer: Kay Ewbank
This brick of a book has been updated for Access 2019, and while it isn't specifically aimed at developers, it does have 300 pages on programming with Access.
Featured Articles
---
Javascript Jems - Self Modifying Code
Ian Elliot
Javascript, being an interpreted language, can modify its own code as it runs. Self-modifying code can be dangerous but you should know about it and how it works. If you would like to experiment, read on.
---
Scientists, Data Scientists And Significance
Mike James
In a recent special issue of The American Statistician, scientists are urged to stop using the term "statistically significant". So what should we be using? Is this just ignorance triumphing over good practice?
---
Is This What It Now Means To Build A Computer?
Harry Fairhead
When I was young, building a computer was taken to mean soldering chips into place and low-level debugging. Now it seems to mean putting a prebuilt computer into a box.
---
Fundamental C - Variables
Harry Fairhead
Data is often under-regarded by programmers. It just isn't as exciting as writing the code that does something with that data. In fact, nothing could be further from the truth and C in particular is a language that was designed to have data at its core - but not for the same reasons that most modern languages do This extract, from my new book on programming C in an IoT context, looks at some aspects of data in C that makes it different.
---
Konrad Zuse And Z1, The First Working Computer
Historian
You may well never have heard of Konrad Zuse, but he has a better claim than most to be the man who invented the programmable computer in the sense of actually building one. He also could be the man who invented the first high-level programming language. So why don't we know more about him and what he did?
Unhandled Exception!
Differentiation and Integration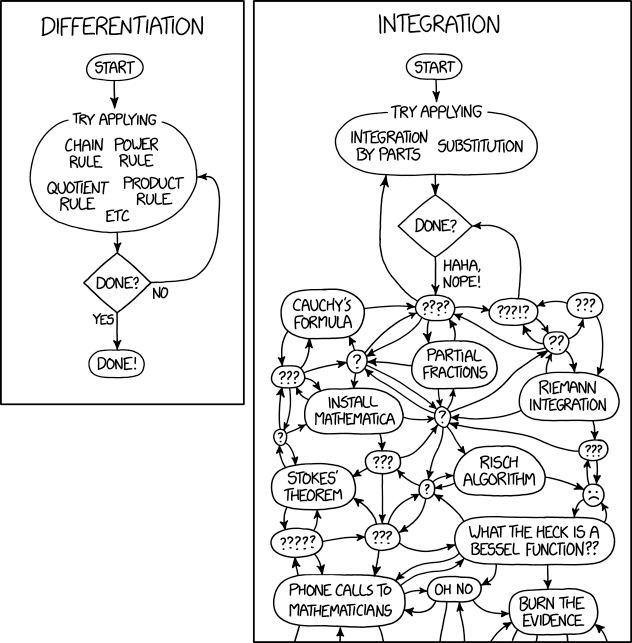 Click for larger image
Take a problem, almost any problem and if you can solve it with an algorithm then the chances are you can solve the inverse problem. You know x so you can work out y now given y, well x can be found, but often it is a little harder. There are some problems for which "little" becomes "a lot". So it is with many NP problems and it certainly is for calculus. If you have been there and know how terrible a task integration is, just stop for a moment and ask yourself why? Why is integration so very hard....
More cartoon fun at xkcd a webcomic of romance,sarcasm, math, and language
---
Book Watch

Follow Book Watch on Twitter

Book Watch is I Programmer's listing of new books and is compiled using publishers' publicity material. It is not to be read as a review where we provide an independent assessment. Some but by no means all of the books in Book Watch are eventually reviewed.
---
3D Printing: An Introduction (Mercury Learning)
Wednesday 17 Apr
This book is designed as an introduction to the field of 3D printing. It includes an overview of 3D printing technology in industry, education, and Do-It-Yourself. Author Stephanie Torta also takes a detailed look at the common 3D printers, materials, and software. Using full-color images throughout, the book shows how to set up printers and perform calibration tasks, including descriptions of printing methods, best practices, pitfalls to avoid, and how to finish a completed project.
<ASIN:1683922093>
---
Hands-On Unsupervised Learning Using Python (O'Reilly)
Monday 15 Apr
With a subtitle of "How to Build Applied Machine Learning Solutions from Unlabeled Data", this book shows how unsupervised learning can be applied to unlabeled datasets to discover meaningful patterns buried deep in the data, patterns that may be near impossible for humans to uncover. Author Ankur Patel provides practical knowledge on how to apply unsupervised learning using two simple, production-ready Python frameworks - scikit-learn and TensorFlow - using Keras with hands-on examples and code. He shows how to identify difficult-to-find patterns in data, detect anomalies, perform automatic feature engineering and selection, and generate synthetic datasets.
<ASIN:1492035645>
---
Learn Robotics with Raspberry Pi (No Starch Press)
Friday 12 Apr
This book shows how to build and code your own robot projects with just the Raspberry Pi microcomputer and a few easy-to-get components . Author Matt Timmons-Brown starts with instructions on building a two-wheeled robot powered by a Raspberry Pi minicomputer and then shows how to program it using Python. The book also shows how to improve your robot by adding increasingly advanced functionality until it can follow lines, avoid obstacles, and even recognize objects of a certain size and color using computer vision.
<ASIN:1593279205>
---
Murach's MySQL 3rd Ed (Murach)
Wednesday 10 Apr
This book shows how to code all the essential SQL statements for working with a MySQL database. Beyond that, author Joel Murach shows how to work with classic MySQL features such as summary queries, subqueries, functions, views, transactions, stored procedures, triggers, and security. He also covers newer MySQL features such as window functions, Common Table Expressions (CTE), and roles for database security.
<ASIN:1943872368>
More Book Watch
---
Previous Book Watch.
Follow Book Watch on Twitter.
Publishers send your book news to:
bookwatch@i-programmer.info
---