Programming News and Views
Send your programming press releases, news items or comments to: NewsDesk@i-programmer.info
---
A Robot Finally Learns To Walk


11 Apr

|

Lucy Black



The emphasis here is on "learns". Robots have been strutting their stuff for a while, with decreasing amounts of humour as they slowly manage not to fall over. What is new is that Cassie has taught itself to walk from scratch via reinforcement learning - no teacher needed.
---
April Week 1


10 Apr

|

Editor



Our weekly digest lists the week's news, new titles added to our Book Watch Archive and our weekly book review. This week we also have a new addition to Programmer's Bookshelf, where we include the top picks of books by our reviewers.
---
Top 10 Projects From Arduino Community Day


09 Apr

|

Lucy Black



If you want inspiration for what you can do with an Arduino, take a look at the ten projects chosen as the winners of the Arduino Day Challenge.
---
Microsoft Jumps on the OpenJDK Bandwagon


09 Apr

|

Nikos Vaggalis




Microsoft is releasing its own build of Java's OpenJDK, joining the likes of Azul, RedHat and Amazon. Why would Microsoft engage in that when there's so many choices already?
---
$200K Call For Code 2021 Underway


08 Apr

|

Sue Gee



Climate change is the focus of this year's Code For Code a contest for developers from IBM, the David Clarke Cause,United Nations Human Rights, and the Linux Foundation. Build and deploy an open source solution for the chance to win the $200K Grand Prize.
---
Zoom Releases Video SDK


08 Apr

|

Kay Ewbank



Zoom has released a video SDK that developers can use to create video-based applications and desktop experiences with native user interfaces. The Zoom video conferencing app has become more widely known and used during the coronavirus pandemic.
---
Fortran Re-enters TIOBE Index Top 20 While Objective-C Leaves


07 Apr

|

Mike James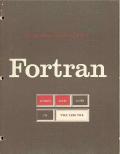 The two languages that are making headline news in the TIOBE Index for April 2021 are Objective-C which has left the top 20 and Fortran which is back there after more than 10 years.
---
Firefox Close To Offering Local Translation


07 Apr

|

Sue Gee



Project Bergamot is an initiative to provide client-side machine spoken language translation in Firefox. Under development since 2019 this work-in-progress it is now available in Firefox Nightly. Currently, it is possible to translate Spanish and Estonian to English and vice versa, and English to German.
---
Apache Isis 2 M5 Adds Spring Boot Integration


06 Apr

|

Alex Denham



There's a new milestone release of Apache Isis, the framework for developing UIs for domain-driven apps in Java. It provides JPA persistence support as an alternative to JDO and includes support for Spring Data.
---
JetBrains Releases Projector For Swing


06 Apr

|

Kay Ewbank



JetBrains has released the initial version of Projector, an open source tool and framework for running JetBrains IDEs and Swing apps remotely over your network.
---
Oracle V Google Android Case Settled


05 Apr

|

Mike James



At long last the 10 year case between Oracle and Google over the copyright or otherwise of the APIs used in Android is settled, the SCOTUS verdict is in.
---
Brendan Eich Talks About JavaScript & More


05 Apr

|

Sue Gee



In a recent Lex Fridman podcast, Brendan Eich, the creator 25 years ago of JavaScript and currently of the Brave browser, provided his views on early programming languages, outlined how JavaScript came to be, problems faced by Firefox and explains how his new browser takes a different approach.
---
Festo's BionicSwifts Fly Like Real Birds


04 Apr

|

Lucy Black



A new video from Festo shows its flock of five BionicSwifts moving gracefully in a coordinated and autonomous manner. Thanks to the way their wings are modelled on the plumage of real birds, these BionicSwifts have an even more convincing flight profile than previously.
---
March Week 4


03 Apr

|

Editor



Our weekly digest lists the week's news, new titles added to our Book Watch Archive and our weekly book review. This week's first featured article comes from Harry Fairhead's recently published Raspberry Pi IoT in C Using Linux Drivers. The second is a history article about the computer designed by Alan Turing.
---
Imagine Cup 2021 - Who Will Be World Champions?


02 Apr

|

Lucy Black



For 2021 the Imagine Cup became an all-digital challenge and is now entering it's final phase with four teams selected to compete in the World Championship for a top prize of USD $75,000 and mentorship with Microsoft CEO, Satya Nadella.
---
Free April From Pluralsight


02 Apr

|

Sue Gee



Pluralsight is again giving free, unlimited access to its entire library of more than 7,000 video courses for the entire month of April. New users have to sign up with an email address but don't need to provide credit card details.
---
What Programming Has Come To - Copy & Paste


01 Apr

|

Mike James



A new April Fools joke is no joke as it reveals what others think of us. In particular Stack Overflow should know better than to bring its own programming methodology into disrepute...
---
DataGrip 2021 Adds Azure MFA support


01 Apr

|

Kay Ewbank



JetBrains DataGrip has been updated with support for Azure MFA and the ability to edit data in MongoDB via its UI. This is the first of DataGrip's regular updates in 2021, hence the version number of 2021.1.
Other Articles
Book Review
---
Essential C# 8.0, 7th Ed (Addison-Wesley)
Monday 05 Apr
Author: Mark Michaelis
Publisher: Addison-Wesley
Date: October 2020
Pages: 1088
ISBN: 978-0135972267
Print: 0135972264
Kindle: B08Q84TH84
Audience: C# developers
Rating: 4.5
Reviewer: Mike James
The latest edition of a highly recommended book that combines reference and tutorial material.
Featured Articles
---
Thomas J Watson Sr, Father of IBM
Historian
The name of IBM occurs time and time again in any look back over the important events of computing. It is almost as if the company was a single creative force pushing the development of computing. Thomas J Watson Senior was the first of its guiding lights and is gnerally considered to be the Father of IBM.
---
Programming Book Choices For Fun
Kay Ewbank
There are lots of books on the 'mainstream' programming languages such as C++, JavaScript, Python, but what should you buy if you're wanting to encourage someone with the fun of programming, to either a child or a non-techie?
---
The Heart Of A Compiler
Mike James
Compilers are an essential part of using a computer - but there was a time when they simply didn't exist. First we had to realize that we needed such a thing and then we had to figure out how to build it.
---
Pi IoT In C Using Linux Drivers - GPIO Character Driver
Harry Fairhead
Linux drivers make working with devices so easy - assuming you know how. The most basic of all hardware is the GPIO and the sysfs way of working is now obsolete. Find out what the new way of doing things is all about.
---
Alan Turing's ACE
Historian
Alan Turing is known for the "Turing Machine", but this is a theoretical device used to prove what computers can do. What is less well-known is that he designed a real physical computer - the ACE, which is now featured on the Bank of England's new £50 note.
Unhandled Exception!
Depth and Breadth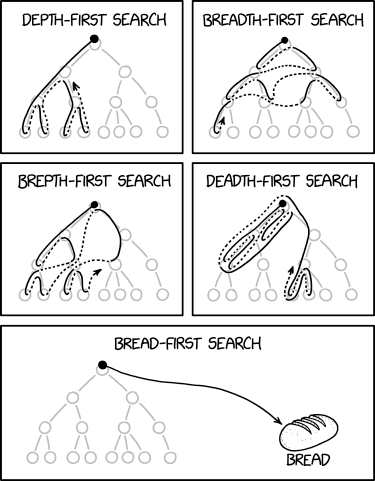 Click for larger image
Ah the joy of tree search. When you first meet trees computer science becomes real. Trees, branches, leaves it all sounds so real. Then someone decides to call them nodes and arcs...so abstract. Depth first, breadth first and, in my case, always bread first, but I am dyslexic.
More cartoon fun at xkcd a webcomic of romance,sarcasm, math, and language
---
Book Watch

Follow Book Watch on Twitter

Book Watch is I Programmer's listing of new books and is compiled using publishers' publicity material. It is not to be read as a review where we provide an independent assessment. Some but by no means all of the books in Book Watch are eventually reviewed.
---
You Look Like a Thing and I Love You (Voracious)
Friday 09 Apr
"You look like a thing and I love you" is one of the best pickup lines ever…according to an artificial intelligence system trained by Janelle Shane, creator of the blog AI Weirdness. In her book subtitled "How Artificial Intelligence Works and Why It's Making the World a Weirder Place", Shane creates silly AIs that learn how to name colors of paint, create the best recipes, and even flirt (badly) with humans.
<ASIN:0316525227>
---
GraphQL in Action (Manning)
Wednesday 07 Apr
Practical and example-driven, this book gives the tools to get comfortable with the GraphQL language, build and optimize a data API service, and use it in a front-end client application. Samer Buna shows how to create a complete GraphQL server, and easy ways to incorporate GraphQL into an existing codebase to offer simple, efficient, and scalable data APIs.
<ASIN:161729568X>
---
Genius Makers (Dutton)
Monday 05 Apr
Subtitled "The Mavericks Who Brought AI to Google, Facebook, and the World", this book looks at the way artificial intelligence has been built into our biggest companies, our social discourse, and our daily lives, with few of us even noticing. New York Times Silicon Valley journalist, Cade Metz, has based this book on hundreds of interviews at those companies. He presents the fierce conflict AI engenders between national interests, shareholder value, the pursuit of scientific knowledge, and the very human concerns about privacy, security, bias, and prejudice.
<ASIN:1847942148>
---
Micro:bit IoT In C, Second Edition (I/O Press)
Friday 02 Apr
The BBC micro:bit is capable of taking on a variety of roles including that of a powerful IoT device. In order to gain full access to its features and to external devices, however, you need to use C which delivers the speed which is crucial when you are writing programs to communicate with the outside world. The updated, expanded, 2nd Edition covers the new V2 version of the micro:bit and uses the VS Code for offline development. Writing for the electronics enthusiast with a programming background, Harry Fairhead presents details of sensors and circuits with several complete programs and provides downloadable templates for both V1 and V2 of the micro:bit to help you get started.
<ASIN:1871962676>
---
The C# Player's Guide 4th Ed (Starbound Software)
Wednesday 31 Mar
This book aims to "shake off the dusty, dull, dryness of the typical programming book, replacing it with something more exciting and flavorful: a bit of humor, a casual tone, and examples involving dragons and asteroids instead of bank accounts and employees". R B Whitaker shows how to program by doing instead of just reading, with over 100 hands-on programming challenges. The book covers the C# language from the ground up, but it also doesn't hold back on exciting, powerful language features.
<ASIN:0985580143>
More Book Watch
---
Previous Book Watch.
Follow Book Watch on Twitter.
Publishers send your book news to:
bookwatch@i-programmer.info
---