Democratizing Spatial AI With OAK-D-Lite
Written by Sue Gee
Wednesday, 29 September 2021
After its resounding success with a Kickstarter Campaign last year for OAK its Depth Sensing AI Kit, OpenCV has returned with a new Kickstarter, this time for OAK-D-Lite, a smaller device that is intended to bring Spatial AI to everyone.
It is thanks to the continuing efforts of Open CV that computer vision has come so far in such a short time. Back in 2015, when OpenCV 3.0 was released Mike James wrote:
Open CV has become the workhorse of day-to-day computer vision. Yes things have moved on to the point where computer vision can be a very ordinary task for programmers who aren't AI experts.
In case you've not followed its story, OpenCV was built to provide a common infrastructure for computer vision applications. It is BSD-licensed, so users can utilize and modify the code. In addition the OpenCV library has over 2500 optimized algorithms, including both classic and state-of-the-art computer vision and machine learning algorithms for a wide range of computer vision tasks, including:
detecting and recognizing faces
following eye movements
identifying and tracking objects
classifying human actions in videos
tracking camera movements
extracting 3D models of objects
producing 3D point clouds from stereo cameras
stitching images together to produce a high resolution image of an entire scene
finding similar images from an image database
recognizing scenery
establishing markers for augmented reality overlays
A leap forward was made last year when, to celebrate its 20th anniversary, OpenCV moved into hardware making two variants of its OpenCV AI Kit, abbreviated to OAK, available via a Kickstarter Campaign. The base model OAK-1 consists of a single RGB camera and has the powerful Intel® Myriad X™ VPU at its core. With a compute capability of 4 Trillion Operations Per Second (TOPS), this device can run modern neural networks on every video frame in real time performing tasks like image classification, object detection, image segmentation, and pose estimation. The enhanced model, OAK-D consists of a pair of stereo cameras for depth perception in addition to all the capabilities of OAK-1.
The Kickstarter campaign to fund the hardware project was phenomenally successful. It met its goal of $20,000 in 20 minutes and by its end 6,564 backers had pledged $1,358,318. Subsequently over 30,000 OAK-Ds were shipped, including 1200 to participants in OpenCV's 2021 Spatial AI competition sponsored by Microsoft Azure and Intel which challenged participants to build the OAK-D camera into a practical project.
OpenCV's answer to the question, What is Spatial AI? states:
It's the capability to for AI to be applied to the physical world – to tell you what an object is and where it is in 3D space – in real time.
The stated goal of the contest was:
Furthering the spread of AI through the global OpenCV community, making edge AI hardware more affordable and easier to access, and focusing that power on social good.
The contest attracted over 1200 submissions from 250 teams across six regions of the world and there were three Grand Prize Winners and 18 regional winners. Here is the video from Cortic Tigers, the First Grand Prize Winner (also placed 2nd in the North America Region), whose project has the title "Democratizing A.I. using the OAK-D with Charlie 2.0"
The next phase of democratizing spatial AI is now underway. OpenCV has developed OAK-D-Lite, a re-architecture of OAK-D that is just as powerful but is smaller lighter and cheaper and has easy-to-use software. It is currently on offer on a new Kickstarter campaign targeted at:
Students, Artists, Raspberry Pi Hackers, K12 Educators, RC Car Racers, Roboticists, Python Developers, AR/VR Enthusiasts, Unity Hackers, Computer Vision and AI Experts alike.
Here's its Kickstarter promo video:
In the video Dr. Satya Malick, CEO of OpenCV explains:
OAK-D-Lite represents and inflection point in spatial AI technology where something that was accessible only to research labs just a few years back is now in the hands of developers who need to have just a working knowledge of Python.
Halfway through the Kickstarter campaign, which had a very modest goal of $20,000, over $700,000 has been pledged by over six thousand backers. It is still possible to snap up a single OAK-D-Lite for $89, a 40% discount, and there are even better deals for buying multiple units. And as the video point out what's on offer isn't just hardware but joining in with a growing open source community dedicated to democratizing spatial AI.
More Information
Announcing The Grand Prize Winners of OpenCV AI Competition 2021
Spatial AI For Everyone Kickstarter
Related Articles
Kickstarter Campaign For AI Computer Vision Courses
OpenCV 3.0 Released - Computer Vision For The Rest Of Us
To be informed about new articles on I Programmer, sign up for our weekly newsletter, subscribe to the RSS feed and follow us on Twitter, Facebook or Linkedin.
---
Python Software Foundation Lowers Cost Of Membership
10/01/2023
The Python Software Foundation has introduced a sliding scale for membership fees in order to further its goal of diversity. You can now become a member for as little as $25 per year.
---
The Year of AI Breakthroughs 2022
30/01/2023
Louis Bouchard has compiled a great list of research papers covering AI breakthroughs that were published during last year. His introductions and links to the papers and even to code make this a great [ ... ]
More News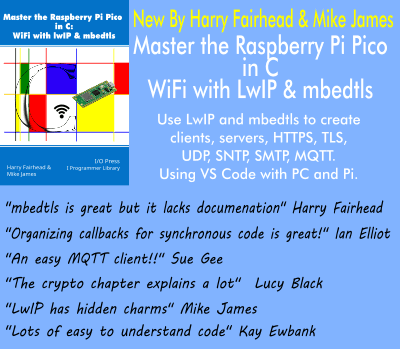 Comments
or email your comment to: comments@i-programmer.info
Last Updated ( Wednesday, 29 September 2021 )