How Trustworthy Is A Fake Face ?
Written by Lucy Black
Sunday, 27 February 2022
From a set of photographs, can you distinguish between a real face and one generated by artificial intelligence? Experimental results suggest that you can't. What's more you are more likely to trust the synthetic face.
The research comes from Dr Sophie Nightingale from Lancaster University and Professor Hany Farid from the University of California, Berkeley and is reported in PNAS, Proceedings of the national Academy of Sciences of the United States of America.
They conducted experiments in which participants were asked to distinguish faces generated by StyleGAN2 from real faces and what level of trust the faces evoked. StyleGAN, which depends on Nvidia's CUDA software, GPUs and Google's TensorFlow was originally introduced by Nvidia researchers in December 2018 and its source code was made available a few months later. StyleGAN2 was published in February 2020 and improved the image quality.
Real and sythetic faces and the percentage accurately classified.
In the first experiment, 315 participants classified 128 faces taken from a set of 800 as either real or synthesized. Their accuracy rate was 48%, close to a chance performance of 50%. After this 219 new participants were trained and given feedback on how to classify faces. They classified 128 faces taken from the same set of 800 faces as in the first experiment, but despite their training, the accuracy rate only improved to 59%.
The third experiment was designed to discover whether a perception of trustworthiness could help distinguish real from synthetic faces. The researchers asked 223 participants to rate the trustworthiness of 128 faces taken the same set of 800 faces on a scale of 1 (very untrustworthy) to 7 (very trustworthy) and the result was that the average rating for synthetic faces was 7.7% more trustworthy than the average rating for real faces which is statistically significant.
The four most and four least trustworthy faces and their trustworthy rating on a scale of 1 (very untrustworthy) to 7 (very trustworthy).
Commenting on this outcome the researchers note:
"Perhaps most interestingly, we find that synthetically-generated faces are more trustworthy than real faces."
Facial expression appeared to be important in evaluating trustworthiness, but the paper states:
A smiling face is more likely to be rated as trustworthy, but 65.5% of our real faces and 58.8% of synthetic faces are smiling, so facial expression alone cannot explain why synthetic faces are rated as more trustworthy.
Other findings from the third experiment were that women were rated as significantly more trustworthy than men and black faces were rated as more trustworthy than South Asian faces but otherwise there was no effect across race.
Summing up the research they conclude:
"Our evaluation of the photo realism of AI-synthesized faces indicates that synthesis engines have passed through the uncanny valley and are capable of creating faces that are indistinguishable – and more trustworthy – than real faces."
They go on to warn of the implications of people's inability to identify AI-generated images.
"Perhaps most pernicious is the consequence that in a digital world in which any image or video can be faked, the authenticity of any inconvenient or unwelcome recording can be called into question."
More Information
AI-synthesized faces are indistinguishable from real faces and more trustworthy
Related Articles
AI-Generated Painting Sells For $432,500 - A Deep Misunderstanding
Fake 70's Sci-Fi Courtesy Of Open AI
To be informed about new articles on I Programmer, sign up for our weekly newsletter, subscribe to the RSS feed and follow us on Twitter, Facebook or Linkedin.
---
Go 1.20 Adds Profile-Guided Optimization
07/02/2023
Go has been updated with a preview of profile-guided optimization (PGO) which means the compiler can perform specific optimizations for applications and workloads based on run-time profile information [ ... ]
---
Sysdig Exposes The Risk and Cost Of Cloud Usage
01/02/2023
Sysdig has published a new report into cloud and container security and usage. It confirms that supply chain risk and zero trust architecture readiness are issues of paramount concern and al [ ... ]
More News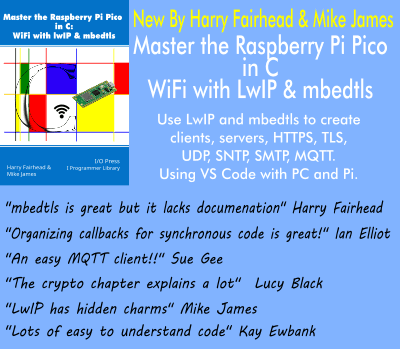 Comments
or email your comment to: comments@i-programmer.info
Last Updated ( Sunday, 27 February 2022 )