Green Dino Powered By IBM Watson
Written by Janet Swift
Saturday, 21 February 2015
The CogniToys green dino is internet connected and speech enabled. It is the first of a new generation of smart toy that can respond to children with age appropriate content thanks to IBM's Cognitive Computing Engine, aka Watson.
When CogniToys launched it's Kickstarter campaign last week it reached its target of $50,000 within 24 hours and had attracted 1,000 backers in less than 3 days. It is now introducing new rewards and stretch goals for the development of its smart toy that is designed to "interactively engage and grow with a child".
Here's the KickStarter promo which shows off the green dino's capabilities:
The forerunner of the green dino which doesn't seem to have a name, was FANG - the Friendly Anthropomorphic Networked Genome. This "cuddly plush companion" created by Majestyk Apps with the aim of helping "create and sustain an educational relationship between children and parents" emerged as one of three Grand Prize Winners of the IBM's Watson Mobile Developer Challenge. The prize was access to the Watson platform.
Elemental Path is the startup that is now developing CogniToys as:
Toys that not only provide entertainment but deliver personalized engaging experiences.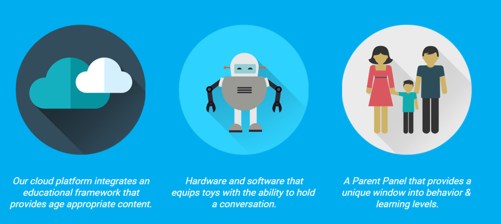 As well as being cloud and internet connected, which gives access to content, the toy is speech enabled and can engage in conversation and story telling. The child can ask questions and receive "age-appropriate answers", hear stories and knock knock jokes. What is special is that the relationship with the toy is designed to evolve over time based on the child's interaction with it. It is personalised in the sense that the toy will "get to know" the child and create an experience around each child's personal interests using favorite colors, favorite toys, interests to customize engagement.
To provide an educational aspect there are custom modules that include rhyming, spelling, vocabulary, mathematics that become more challenging as the child learns. There is also mention of a Parental Panel which suggests that there is some mechanism for recording developmental progress.
For those with long experience of tech toys, do you remember Barney, the plush purple dinosaur from Microsoft. What led it its extinction I'm not sure but CogniToys appear to be a cloud-enabled reincarnation. Let's hope it has staying power.
---
Grafana Adds New Tools
14/11/2023
Grafana Labs has announced new tools to make it easier to analyze application data on Grafana Cloud. The announcements are an Application Observability tool for Grafana Cloud, and Grafana Beyla, the e [ ... ]
---
Amazon Working On Olympus LLM
24/11/2023
According to Reuters, Amazon is working on a large language model (LLM), codenamed "Olympus". With, reportedly, 2 trillion parameters, it is twice the size of OpenAI's GPT-4 model.
More News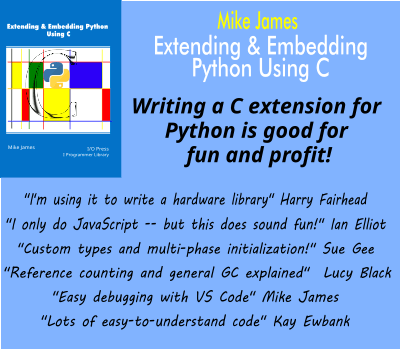 Comments
or email your comment to: comments@i-programmer.info
Last Updated ( Saturday, 21 February 2015 )