Android Experiment I/O Challenge
Written by Lucy Black
Saturday, 26 March 2016
Submit an Android Experiment and win the chance for it - and you - to go to Google I/O 2016. Enter your creative and innovative idea before April 13.
The top three winners of the contest will receive an expenses-paid trip to this year's Google I/O, and five runner-ups will get the new Nexus 6P.
The Android Experiments gallery was launched by Google last summer, see our report, with the idea of showcasing open source projects built with Android to encourage others to build more - not only can you admire apps in the gallery, you can see how they were made.
In announcing this contest, which runs from March 25 to April 13, Google is hoping that the lure of places at Google I/O will produce a flood of new exhibits and provides some guidance about what to submit:
So what makes a good Android Experiment? It's a project that utilizes the unique capabilities of the Android platform in an innovative way. Here are a few suggestions:
Creative uses of Android's new or distinctive features
Projects that explore how we interact with our devices, in small and big ways
Unique visual aesthetics
Open source projects that inspire other developers
Surprise us - we want to see the amazing things you're cooking up
The contest is open to those above the age of majority in most parts of the world - the exclusions being Italy, France, Quebec, Crimea, Cuba, Iran, Syria, North Korea, or Sudan. Anyone with a family connection to Google is also ineligible. There is a limit of one entry per person You need to submit apps that work on Android 4.4 and higher for inclusion by filling in a form which requires a link to the source code on GitHub and a list of the technologies used. You need to own or have a licence to use all material that you upload and written parts of entries must be in English. You are strongly encouraged to provide a YouTube video to preview your experiment. More details are provided in the terms and conditions.
If you'd wanted to attend Google I/O but were precluded by cost of the ticket and getting there the Grand prizes of both a ticket valued at $900 US dollars and $5000 US dollars to cover airfare, lodging, transportation and expenses sounds like quite an incentive to polish up your best Android project and submit it.
---
A Clock For 2023
05/03/2023
I have to admit I have a small passion for freaky clocks. They used to be hard to make, but now with powerful single-board computers and low cost displays they are not so difficult and the fun is inve [ ... ]
---
Pi Day - Irrational And Transcendental
14/03/2023
It's Pi day again... Even after so many, I still have things to say and think about this most intriguing number. The most important things about Pi is that it is irrational and one of the few transcen [ ... ]
More News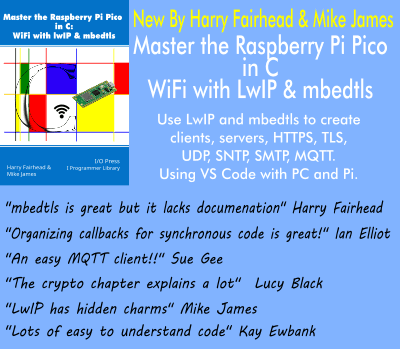 Comments
or email your comment to: comments@i-programmer.info
Last Updated ( Saturday, 26 March 2016 )