Python Is Everywhere - 2021 Survey Results
Written by Janet Swift
Wednesday, 08 June 2022
The results of the 2021 Python Developers Survey, conducted as a collaborative effort between the Python Software Foundation and JetBrains have been published. We take a look.
More than 23,000 Python developers and enthusiasts from almost 200 countries/regions took the survey in late 2021 to reveal the current state of the language and the ecosystem around it. This was the fifth edition of this survey and it shows there is remarkable stability in what Python is used for and that it continues to encompass most areas of computing.
Back in 2017 the proportion of respondents for whom Python was the main language was 79%, by 2018 it had risen to 84%, see Survey Results From More Python Developers, where it remained in 2019, see Python Developer Survey. In 2020 it edged up to 85% and in the latest survey has returned to 84%.
With regard to the other languages used together with Python there are few changes from previous year, the lower bar in the chart).
JavaScript is still the top language and as in every other year has shortened its lead. So having started out in 2017 with a 50% share, JavaScript now has 40%, down a percentage point from 2020. Also down a percentage point is the proportion of developers who only use Python, which is just 13% in the latest survey. C/C++ (now 30%), TypeScript (now 10%) and Go (now 9%) are the languages that have increased their showing.
In terms of what Python is used for, in the first survey in 2017 Web Development was the most popular use for Python with a 54% share. Web Dev was been overtaken by Data Analysis in 2018, the category that has held pole position ever since. However comparing 2021 with 2020 there really is very little change and it is evident that Python finds its way into many diverse apects of programming
Asked whether Python was being used for work or other reasons, the majority of respondents (52%) chose the option "Both for work and personal". As in 2020 there was an increase (to 29%) in the proportion choosing the "For personal, educational or side projects" leaving 19% choosing "For work".
Asked whether they worked in a team or independently the population was evenly split between the two and the vast majority worked on multiple projects with fewer than one in 5 claiming to work on one project.
Survey respondents came from all over the world. The United States (17%) was the top country, followed by India (9%), Germany (7%), Mainland China (6%) United Kingdom (5%), France (5%) and Russian Federation (4%). The peak age range was the 21-29 age band and a total of 77% were under 40. Over a third, 34%, claimed less than 1 year of coding experience and 68% fell into the up to and including 5 years of coding experience.
As in the previous survey, respondents' Python experience far exceeded their professional coding experience:
In terms of Python experience, the most popular response was 3-5 years (29%) whereas 36% claimed less than one year professional coding experience. This is largely explained by the fact that the proportion of students included in the survey was 14% with a further 6% choosing "Work student" for Employment status. Two thirds of respondents were either fully or partially employed by a company organization whereas only 12% claimed either self-employed or freelancer status. The vast majority (72%) of those working for a company were in a small team of 2-7 members.
More Information
Python Developers Survey 2021 Results
Related Articles
What Makes Python Great & Greater
Python Developer Survey (2019)
Survey Results From More Python Developers (2018)

To be informed about new articles on I Programmer, sign up for our weekly newsletter, subscribe to the RSS feed and follow us on Twitter, Facebook or Linkedin.
---
Microsoft Launches SharePoint Embedded
30/11/2023
Microsoft has launched SharePoint Embedded, a new API-only cloud-based file and document management system that can be used by app developers to make use of the Microsoft 365 file and document storage [ ... ]
---
Notepad++ Twentieth Anniversary
05/12/2023
An updated version of Notepad++ is available, on its 20th anniversary. The text editor first saw light in November 2003 when it was released on SourceForge.
More News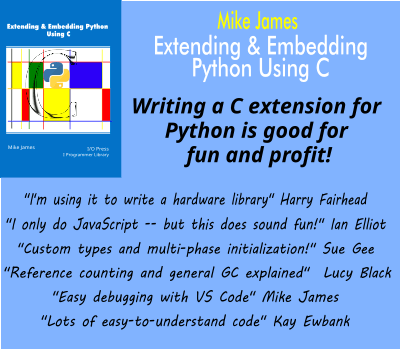 Comments
or email your comment to: comments@i-programmer.info
Last Updated ( Wednesday, 08 June 2022 )