Written by Sue Gee
Monday, 06 October 2014
Decimal point updates have recently been released of eric5 and eric4. The latest versions are 5.4.7 and 4.5.25 respectively.
If you are wondering why we are interested by such a minor upgrade, actually we are not.
We are much more interested in the existence of these two open source Python IDEs which have a history going back to 2007, and are based on the cross platform Qt gui toolkit and use its Scintilla editor control.
If you've not come across it before, eric is a full featured Python and Ruby editor and IDE, developed by Detlev Offenbach under the auspices of python-progects.org.
As its name suggests to any Pythonistas who are aware of the Monty Python connection, it is an alternative to Guido Van Rossum's IDLE, the "standard" Python IDE that is shipped with most distributions.
According to its website:
It is designed to be usable as everdays' quick and dirty editor as well as being usable as a professional project management tool integrating many advanced features Python offers the professional coder. eric4 includes a plugin system, which allows easy extension of the IDE functionality with plugins downloadable from the net.
Current stable versions are eric4 for Python 2 and eric5 for Python 3. The latest snapshot version of eric5.5 features the ability to execute it with Python2 - which will give eric5.5 the distinction of being a single version that caters for Python 2 and Python 3.
Like JetBrains' proprietary Pycharm, Eric is a "full" IDE with the full array of highlighting and autocomplete and even has an integrated web browser.
(click to open in new window)
The full list of features is:
Unlimited number of editors
Configurable window layout
Configurable syntax highlighting
Sourcecode autocompletion
Sourcecode calltips
Sourcecode folding
Brace matching
Error highlighting
Advanced search functionality including project wide search and replace
Integrated class browser
Integrated version control interface for CVS,
Subversion and Mercurial repositories (as plugins)
Integrated cooperation functions (chat, shared editor) (eric5 only)
Integrated sourcecode documentation system
Integrated python debugger including support to debug multithreaded and multiprocessing applications
Integrated, full featured Ruby debugger
Integrated profiling and code coverage support
Integrated automatic code checkers (syntax, errors and style [PEP-8]) (eric5 only)
Integrated task (todo items) management
Advanced project management facilities
Interactive Python shell including syntax hilighting and autocompletion
Interactive Ruby shell including syntax hilighting and autocompletion
Application diagrams
Running external applications from within the IDE
Integrated unittest support
Integrated CORBA support based on omniORB
Integrated rope refactoring tool (as optional plugin)
Integrated interface to cx_freeze (as optional plugin)
Integrated interface to PyLint (as optional plugin)
Many integrated wizards for regex and Qt dialogs (as plugins)
Localizations. Currently Eric is available in English, German, French, Russian, Czech, Spanish, Italian, Turkish and Chinese.
Tools for previewing Qt forms and translations
Integrated web browser
Integrated interface to the enchant spell checking library
---
Couchbase Connect Goes Online
02/10/2020
Couchbase has virtualized its annual NoSQL developer conference, Couchbase Connect, and is offering three days of free content on Couchbase for developers - who can sit on their own com [ ... ]
---
Android Cars App Library Enters Public Beta
19/10/2020
Google has extended the Android Auto options with a library that can be used for creating navigation, parking, and electric vehicle charging apps. Android for Cars App Library has now been released as [ ... ]
More News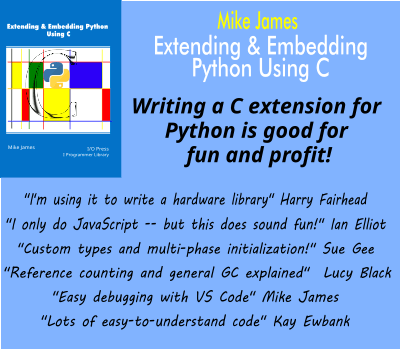 Comments
or email your comment to: comments@i-programmer.info
Last Updated ( Monday, 06 October 2014 )