Alexa and Connected Devices - The Good, The Bad and The Ugly
Written by Sue Gee
Sunday, 09 February 2020
It's easy to welcome the rise of voice-assisted smart technology for its convenience. But what about the problems? Being called Alexa today results in being bullied and home control devices are being used for domestic abuse.
I have to admit to being somewhat biased in coverage of voice assistants and smart home devices. For one thing we tend to focus on Amazon's Alexa rather than giving equal space to Google's Home Assistant. Perhaps worse is that, while extolling the benefits of the emerging connected home technology we've either disregarded the concomitant problems or made light of them. For example, we've commented on how voice assistants can misinterpret requests or sometimes makes an unexpected pronouncement prompted by hearing the wake word "Alexa" on the radio or in some completely unrelated phrase and found this amusing.
In reality however Amazon's choice of wake word has had devastating consequences for anybody, child or adult, called Alexa who now find themselves the target of teasing and bullying. Back in 2018 one mother wrote a letter to Jeff Bezos relating how her 6-year daughter was being bullied at school and in public:
"Kids are telling her, 'Turn on my T.V., tell me today's weather… They laugh at her and treat her like a servant, and this has been an ongoing issue, everywhere we go."
The response from Amazon was limited to an apology from a member of technical support on behalf of the CEO.
While Amazon isn't making a change, people are. One family has taken the drastic step of changing their young daughter's name by legal process and in England and Wales "Alexa" used to be fairly popular name. In 2011, three years before Amazon launched the Echo, the name "Alexa"was registered for almost 400 baby girls and in 2017 for over 300 but in 2018 this dropped dramatically to 118.
The most widespread concern about voice assistants is that they are also always-on listening devices. This introduces an element of surveillance that many people find unacceptable, especially as we really don't know how the data is being, or could be used. There has to be the suspicion that at some time Amazon, Google Apple, or whatever other big tech corp, might manipulate our behavior for their commercial gain.
It isn't just the devices' parent companies who have scope for spying on us, doorbell cameras and devices such as the Echo Show introduce domestic surveillance on a much more widespread scale than previously. While this can increase security it can be intrusive and also there's also suspicion about who is listening and how they might manipulate us.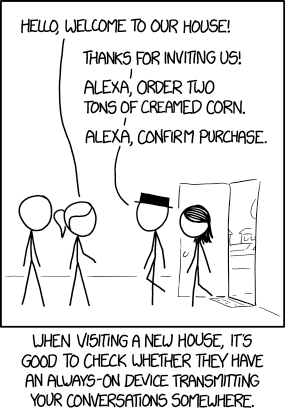 More cartoon fun at xkcd a webcomic of romance,sarcasm, math, and language
While this xkcd cartoon makes a lighthearted comment, there is a darker side. A particularly disturbing aspect of smart home control is its potential for malicious use. A report in the New York Times drew attention to the use of smart home technology such as Internet-connected locks, thermostats and lights in domestic abuse situations.
One woman had turned on her air-conditioner, but said it then switched off without her touching it. Another said the code numbers of the digital lock at her front door changed every day and she could not figure out why. Still another [said] she kept hearing the doorbell ring, but no one was there.
These incidents not only made the victims feel is if they were growing crazy, they were also powerless to stop it.
Abusers would remotely control everyday objects in the home, sometimes to watch and listen, other times to scare or show power. Even after a partner had left the home, the devices often stayed and continued to be used to intimidate and confuse.
It has always been the case that useful tools can become weapons to victimize others when in the hands of bad people use them. This should not deter good people from taking advantage of their convenience, but we need to be aware of their potential for misuse.
More Information
Amazon has ruined daughter Alexa's name
Thermostats, Locks and Lights: Digital Tools of Domestic Abuse
Related Articles
Siri Is Disingenuous, Alexa Caring and Google Professional
Big Boost For IoT With Connected Home
Amazon Alexa Extending Its Influence
Over 100 Million Alexa Devices Sold
To be informed about new articles on I Programmer, sign up for our weekly newsletter, subscribe to the RSS feed and follow us on Twitter, Facebook or Linkedin.
---
Holiday Gifts For Programmers
19/11/2023
As Black Friday looms, the well-organized among us are hitting the shops to be ready with our festive gifts, though I doubt many of us are as ready as the friend who told me they've already finished w [ ... ]
---
Notepad++ Twentieth Anniversary
05/12/2023
An updated version of Notepad++ is available, on its 20th anniversary. The text editor first saw light in November 2003 when it was released on SourceForge.
More News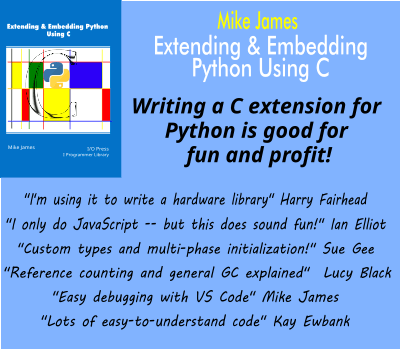 Comments
or email your comment to: comments@i-programmer.info
Last Updated ( Monday, 10 February 2020 )