MariaDB Enterprise Updated
Written by Kay Ewbank
Wednesday, 10 December 2014
There's a new version of MariaDB Enterprise that adds support for new platforms and extra tools and services.
The newly supported platforms are SUSE Linux Enterprise Server and openSUSE, with pre-built binaries available. The company is also adding support for IBM's Power Systems with POWER8 servers running Red Hat Enterprise Linux and Ubuntu. SUSE Linux Enterprise Server SLES support will be added soon on this platform. According to a blog post about the new version, MariaDB performs so well on POWER8 that IBM is incorporating it as a foundational component of its Turbo LAMP stack - a tuned and optimized LAMP stack for the most advanced enterprise workloads.
A new notification service is another improvement, giving enterprise customers a customized report before every release, laying out the relevant changes in the release.
The new tools are included as an optional toolkit that you can choose to install using an interactive script. The tools are those used by MariaDB support engineers to diagnose problems and optimize performance for MariaDB installations. The toolkit includes mydumper, a MySQL data dump tool; Percona's xtrabackup tool; innotop, an interactive "top" clone for MySQL/MariaDB; the SysBench database benchmark; and the DBT2 / DBT3 database test suites.
Another 'improvement' to the new version is the addition of certified binaries. As the blog post puts it, the company is "smoothing the rough edges of a cutting edge open source database project with certified binaries".
The community version of MariaDB contains the most up-to-date additions, but the company says that while it's great stuff, it's not always at "enterprise" grade. The certified binaries contain the selected stable, production ready features that have been tested and hardened, with some back-ports of some critical fixes from later community editions to improve stability. Partially as a result of this work, MariaDB Enterprise now supports MariaDB 5.5 as well as MariaDB 10.0. The Enterprise release also includes optimized configuration files and all supported optional components. The option installation system prevents administrators from installing unsupported components and plugins without their active approval.
---
Python Extends Its Lead In IEEE Spectrum Rankings
31/08/2023
This is the 10th year for the annual Top Programming Languages exercise. Python coming top isn't news. It has now done so eight years in a row. What is important is that it is even further in the lead [ ... ]
---
Secure Code Warrior Announces Devlympics
29/09/2023
Secure Code Warrior is to host its third annual Devlympics secure coding competition on October 17-18, 2023. Devlympics is a free tournament of coding challenges for developers of all levels of expert [ ... ]
More News
Summer SALE Kindle 9.99 Paperback $10 off!!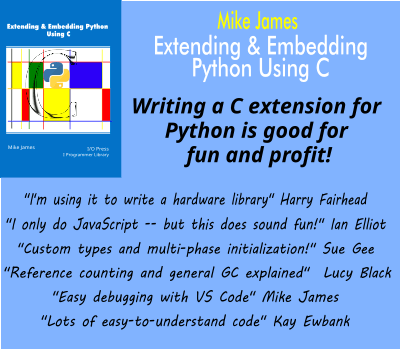 Comments
or email your comment to: comments@i-programmer.info
Last Updated ( Monday, 15 December 2014 )