Manifest 3 - Firefox's Big Chance?
Written by Ian Elliot
Wednesday, 22 February 2023
Firefox has been losing users to Chrome for a long time and there seems to be little it can do to catch up - or is there? Chrome is about to adopt Manifest 3 and Firefox has little choice but to do the same - or does it?
It is surprising that Google, whose revenue comes from advertising, is responsible for the most popular browser Chrome yet it supports ad blockers. You would think that it would do something about this absurd situation and many think that with Manifest 3 it is. The idea is that browser extensions have to conform to a set of rules that defines the interface between the extension and the browser. The rules define how much information the extension can have about what the browser is doing. Manifest 3 limits the number of rules that it supports to 30,000 static rules per extension and this is not enough for an ad-blocker to do a good job. Add to this the fact that the rules have to be built into the extension at installation time and there is even more of a problem.
It's not that ad-blockers are disallowed, it's just that they are limited. Google probably thinks that this is about as far as it can go without scaring away users. Sooner or later it will stop supporting Manifest 2 and at that point a lot of users are going to have to switch to probably less effective ad-blocking.
Now we come to Firefox. Back in the early day's Firefox supported an amazingly good way for extensions to integrate with it. They could effectively take over the inner workings of the browser. This made for powerful extensions, but possibly dangerous extensions. When Chrome started to become popular it was a lot of work to support the different extension mechanisms on Chrome and Firefox so eventually Mozilla chickened out and dropped its method of supporting extensions and started to use Chrome's.
This is still the situation today and really Mozilla doesn't have much choice but to move to Manifest 3 before Google drops support for Manifest 2. Firefox is now such an underdog that most programmers aren't going to bother going to the trouble of porting their work to Firefox if it doesn't support the same extension method as Chrome.
At first look is seems as if Mozilla has no choice but to go along with helping Google to get more ads on more pages. but a blog post suggests otherwise:
"But rest assured that in spite of these changes to Chrome's new extensions architecture, Firefox's implementation of Manifest V3 ensures users can access the most effective privacy tools available like uBlock Origin and other content-blocking and privacy-preserving extensions."
No word on how this is going to work, but presumably Mozilla is raising the limit on the number of rules allowed in some way that doesn't break compatibility.
So in the near future users are going to have a choice of Chrome which allows some ad-blocking or Firefox that allows whatever ad-blocking you want to implement.
Is this enough to drive users back to Firefox?
Ian Elliot is the author of several JavaScript books including JavaScript Async which covers service workers.
More Information
Here's what's going on in the world of extensions
Related Articles
Google Delays Manifest V3 Again
Google Stays Execution Of Adblockers
Google To Limit Ad-blockers In Manifest V3
Google Changes API Making Chrome Adblocking Harder
Google Adds New Chrome Extension Badges
To be informed about new articles on I Programmer, sign up for our weekly newsletter, subscribe to the RSS feed and follow us on Twitter, Facebook or Linkedin.
---
Chatbots Hallucinate - Word Of The Year
25/11/2023
The propensity of AI-powered chatbots to provide misinformation is referred to as "hallucinating" and is something that has come to popular attention - to such an extent that the verb "hallucinate" ha [ ... ]
---
Eclipse Launches Dataspace Working Group
07/12/2023
The Eclipse Foundation has launched a dataspace working group with the intention of 'fostering global innovation in trusted data sharing'.
More News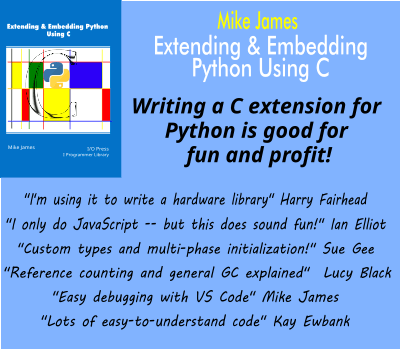 Comments
or email your comment to: comments@i-programmer.info
<ASIN:1871962560>
<ASIN:B07SCYZ75R>
Last Updated ( Wednesday, 22 February 2023 )