Full Visual Studio Now Free
Written by Ian Elliot
Friday, 14 November 2014
Microsoft has announced Visual Studio Community edition, which is in no way a cut down version. It is free not only for education and open source projects but for individual developers and teams of five and fewer.
Perhaps the most unambiguously welcome announcement made by Scott Guthrie in his keynote at the Microsoft Connect() developer event this week was that the full Visual Studio 2013 is now available free for almost all non-enterprise apps.
In his summary of the event's key news, Somasegar states:
Visual Studio Community 2013 is a new, free and fully featured edition of Visual Studio, available today, with access to the full Visual Studio extensibility ecosystem and support for targeting any platform, from devices and desktop to web and cloud services.
Providing more information Scott Gu's blog post explains that the new Visual Studio Community 2013 edition is:
a full-featured IDE. It supports multiple project types in one solution file in a single IDE, and has all of the productivity features and IDE extensibility capabilities (meaning you can use Xamarin, ReSharper, VsVim, and any other VSIX extension) that developers love in Visual Studio.
It is now available completely free for:
Any individual developer working on a commercial or non-commercial project
Any developer contributing to an open source project
Anyone in an academic research or course setting (e.g. students, teachers, classroom, online course)
Any non-enterprise organization with 5 or fewer developers working on a commercial/non-commercial project together
Guthrie concludes:
There is no program you need to join to use it – simply visit www.visualstudio.com, click the download button, and you are good to go. It is going to enable even more developers to take advantage of Visual Studio and build even better applications. We are looking forward to seeing what you build with it.
Are there any catches - none that we can see apart from perhaps some 6- or 7-man teams might suddenly shed one of two members.
Some devs are asking what happens to the Visual Studio Express editions?
Well useful as they were, they had their limitations, which the Community Edition sweeps away. So as long as you are not an enterprise developer working in a large team you can now have access to the full SDK and its extensions without having to shell out a single cent.
Of course this puts Visual Studio in full competition with Eclipse, Netbeans and even Android Studio and a number of other commercial IDEs.
Why would Microsoft give away Visual Studio?
The simple answer is that it is another hook to get you started on Microsoft products. If you start out using it, then you will presumably graduate to the paid version in time, and even make use of Azure services rather than any other. Microsoft isn't likely to make any great losses on the deal because most of the new users of Visual Studio Community Edition are unlikely to have paid for the full version anyway.
---
Spatial Data Management For GIS and Data Scientists
24/11/2023
Videos of the lectures taught in Fall 2023 at the University of Tennessee are now available as a YouTube playlist. They provide a complete overview of the concepts of GeoSpatial science using&nbs [ ... ]
---
VS Code Gets Better At Make C/C++
06/12/2023
VS Code is a "go-anywhere, work-with-anything" dev system. However, not all languages are created equal and build systems for C/C++ are particularly challenging. The latest VS Code does something to m [ ... ]
More News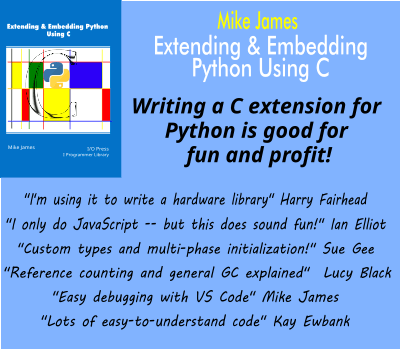 Comments
or email your comment to: comments@i-programmer.info
Last Updated ( Friday, 14 November 2014 )