Five Million - That's A Lot Of Raspberry Pi
Written by Harry Fairhead
Monday, 23 February 2015
The Raspberry Pi Foundation reports that it has sold over five million of the tiny low cost computer. For any curious person surely this has to raise the question - what are they all doing!?
There is no disputing the amazing success of the Raspberry Pi - the low cost ARM based machine that seems to be the computer nearly every one wants. The real question is, why has it been so successful?
With the benefit of hindsight, yes you can see that it had potential as a cheap, just good enough, piece of hardware, but if you are honest, I doubt that you would have guessed the size of the demand. Even the people involved seem to not have anticipated their degree of success. Liz Upton, wife of project co-founder Eben Upton and Head of Communications, comments:
"Three years ago today, I was sitting at my kitchen table stuffing stickers into envelopes (we were selling them for a pound a throw to raise the money we needed to kick off the original round of manufacture). Today, I'm sitting in an office with nineteen other people, and if I'm quite honest, we're not quite sure how we got so far so fast. It definitely feels good, though."
If you were paying attention at the time of the launch I think most people's expectations were that the Pi would be a modest success selling to a niche audience of geeks. As to the plan for it to be a big driver of computer education, that seemed totally unlikely, and perhaps even not desirable given the number of under-used machines gathering dust in classrooms and the extra difficulties of working with such a "raw" computer board.
It still isn't clear what the impact of the Pi in education actually is. There is no doubt that it has resulted in many teacher training events and resources. It is also clear that there are many educational establishments that have made good use of the Pi. What isn't so clear, and probably won't be for some time is the total size of the effect.
However the Raspberry Pi Foundation is a charity and the profits it makes fund educational projects. As well as providing educational resources it also funds open source projects - XBMC (now Kodi), PyPy, Libav, Pixman, Wayland/Weston, Squeak, Scratch, Webkit and KiCad. Some of these provide software that make the Pi a useful computer; others are potentially useful for the future.
So what are all these Pis actually being used for?
The first thing to say is that the price point for the Pi changes the way that it is viewed. At $35 you can buy a Pi on the off chance it might be useful. What is more, given the Pi has an HDMI output and USB power connector, the chances are you have a TV or monitor and unused phone power supply to get started. If you also have a USB keyboard and mouse that you can borrow, the cost of getting going really is close to the headline price of $35.
This makes the Pi very close to a disposable computer.
I have five Pis with only one in use doing a real job. What do I use the others for? They are ready and waiting for me to start a new project when one, perhaps two of them will get a brief outing to try something out.
Perhaps the majority of the five million are doing - nothing much.
Of course, there are plenty of examples where large numbers of Pis are doing standard jobs like running video kiosks, interacting with museum visitors and even forming cheap super computers. I have no idea how such real uses account for the consumption of Pis, but I know of enough other people who have Pis in their cupboards to have doubts.
So is the show over?
Is five million the top of the curve?
It seems not. At the moment the sales curve seems to be on an exponential up. The main Pi factory is currently making 20,000 per day which means that the next five million Pis should be sold in fewer than 250 days. With the launch of the Pi 2, which has enough power to be treated as a desktop PC, and at the same low price, there are lots of new uses for the Pi. A rack of Pis could easily be used as a server farm and the new speedy Pi makes the free version of Mathematica for it look much more attractive.
Perhaps the market isn't going to saturate for a while yet.
It is difficult not to foresee the future earth covered in a purple goo of Raspberry Pi.
---
Grafana Adds New Tools
14/11/2023
Grafana Labs has announced new tools to make it easier to analyze application data on Grafana Cloud. The announcements are an Application Observability tool for Grafana Cloud, and Grafana Beyla, the e [ ... ]
---
Hydra Turns PostgreSQL Into A Column Store
13/11/2023
Hydra is an open-source extension that adds columnar tables to Postgres for efficient analytical reporting. Version 1.0 is generally available.
More News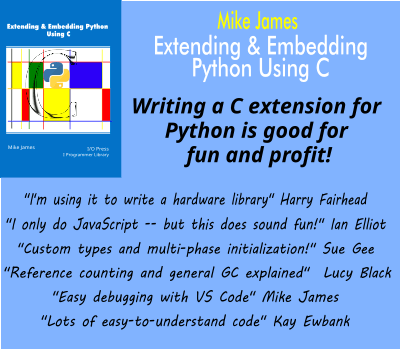 Comments
or email your comment to: comments@i-programmer.info
Last Updated ( Monday, 23 February 2015 )