CHIP - $9 Computer To Beat Pi & Arduino
Written by Harry Fairhead
Monday, 11 May 2015
I have seen a lot of amazing low-cost, single-board computers recently, but the CHIP is perhaps an amazement too far. It's not that I don't believe in it, I do, it is more that this really does threaten to be a revolution and I hope it succeeds.
The C.H.I.P is a small computer, similar to the Raspberry Pi with Arduino compatible I/O, that is set to cost only $9!
Even if it cost a little more it would still be a revolution because it has Bluetooth and WiFi built in. If this isn't enough for you, then consider that is powered by a LiPO battery without needing any extras.
There is a Kickstarter running at the moment and it has already exceeded its goal of $50,000 reaching over $350,000 with 28 days still to go. It has been funded but you can still buy a CHIP for a $9 pledge. The company behind the project has run one successful Kickstarter project before, see OTTO - The Hackable Raspberry Pi GIF Camera.
If you are expecting some limited PIC chip running the show then you would be wrong. The device has a 1GHz ARM A13 (Single core Cortex A8) compatible processor with 512MB of RAM and 4GB of Flash storage. It also has a Mali GPU with OpenGL support. Notice that the latest Pi 2 has quad core A7 running at 900MHz and the original Pi has a single core version 6 ARM running at 700MHz - so the CHIP is some where between the original Pi and the new Pi in terms of processor.
It is also more powerful and an Arduino and it has a composite video output which can be converted to VGA or HDMI as required. The first models to be available will only have the composite output converters will be available later. You can connect a keyboard and mouse via Bluetooth or via USB. There are two USB ports a full size USB and a micro USB with OTG. This means that you can use a CHIP as a "desktop" computer if you want to.
And if you do want to then there is Pocket CHIP. This is a slightly unlikely, tiny, case for the CHIP complete with tiny keyboard and 4.3-inch touch screen. It claims to operate for 5 hours from a battery and it will fit in your pocket. I'm not at all sure what this could be useful for, but I still want one. The case also has a full GPIO breakout connector on the back so one possible use is as a teaching/experimental IoT setup. A CHIP plus a Pocket CHIP costs $49.
Turning to its IoT capabilities, the first thing to say is that this is already WiFi-enabled so no need to use Zigbee or Zwave to get connected. The basic CHIP has connectors that are compatible with Arduino shields, although there is no way to know what will or will not work.
As standard you get eight GPIO lines, PWM, I2C, SPI and a UART. There is also support for MIPI-CSI cameras and LCD display. The connector for the 3.7V LiPo battery is also a charger and power can be supplied via the microUSB connector. There is also an audio connector.
It comes with a version of Debian Linux and a lot of standard software such as LibreOffice and Scratch. Of course you can install other applications using the usual package manager.
Take a look at this OTT video and try not to be put off the really good idea:
Why is CHIP so cheap?
THe answer given is:
"QUANTITY. Our partners at Allwinner worked hard to help us find how to reduce costs, so that we could introduce C.H.I.P. to EVERYBODY. To sell C.H.I.P. for $9, we need to order tens of thousands of chips. By using common, available, and volume-produced processor, memory, and wifi chips, we are able to leverage the scales at which tablet manufacturers operate to get everyone the best price."
Allwinner is a Chinese chip manufacturer responsible for the chips that power so many of the low cost (around $50) Android tablets that you can buy at the moment. Even so, $9 seems like a very low price and it is hard to see where the profit is coming from on the basic model. However, if you want a VGA or HDMI adaptor as well the price rises to $19 and $24 respectively. Add a PocketCHIP and an HDMI adapter to the basic CHIP and you arrive at a cost of $64. Still amazing value, but there might be a little more margin built in.
You might be wondering why I think this might be a revolution?
There are two aspects to the revolution that a successful CHIP might bring about.
The first is in the hi-tech world of IoT. A battery-backed SBC with WiFi connection for $9 makes it possible to think of building disposable sensors. If you need to measure something, throw a CHIP with a sensor at it. You can instrument lots and lots of things without having to justify the cost. In the same way an appliance module based on CHIP could control lights, motors and other equipment without using unreliable and complex radio protocols such as Z-wave.
This might just be where the IoT revolution actually starts.
The second is in computers as appliances. If an additional computer just costs $9, you can always throw another CPU at the problem. In education you can use Pocket CHIP and give one per student and still have some over for spares. You can assign a media server to each TV, have your own VPN server, mail server and so on.
This is the move from personal computing to personal disposable computing and it could be as revolutionary as the move from the fine handcrafted pen to the ballpoint.
And, of course, it is all open source.
The first units should ship in December.
---
SQLite 3.44 Extends Aggregate Functions
06/11/2023
SQLite 3.44 has been released with new C-language APIs and extensions to aggregate functions.
---
AWS Lambda Adopts Java 21
27/11/2023
AWS Lambda functions can now use all the new and useful language features as well as performance improvements introduced in Java 21 as part of the Amazon Corretto JDK implementation.
More News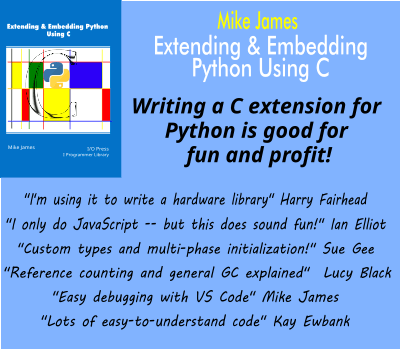 Comments
or email your comment to: comments@i-programmer.info
Last Updated ( Sunday, 10 May 2015 )