IoT Poised To Reshape E-Commerce
Written by Janet Swift
Wednesday, 27 January 2016
The Internet of Things will fundamentally change the shape of e-commerce and will become an important revenue generator for a group of devs who are currently the worst off.
This conclusion can be drawn from Vision Mobile's latest report The Commerce of Things, based on findings its May 2105 survey of mobile developers, which had more than 13,000 respondents.
This survey found that while mobile devs using e-commerce for revenue enjoyed the highest income - with a median monthly revenue of $1,000-$2,000 compared to the overall average for all respondents of $200-$350, only 9% had opted for this revenue model.
Among devs making money from e-Commerce, iOS devs are doing best with 50% of them making $10,000 or more per month:
Over 3000 of those in the survey are Internet of Things developers and in terms of app poverty, a major focus of Vision Mobile's main Developer Economics State of the Developer Nation Q3 2015, they are the worst off. Even though the App poverty line is set at only $500 per month, 59% of IoT devs fall below it. However. e-commerce models generate good returns for IoT devs with 16% of those working with e-commerce of physical goods generating more than $10,000 per month, while the equivalent figure for those working with e-commerce of digital goods is 20%
(click in chart to enlarge)
Basing its predictions on forecasts from both Ericsson and IDC, Vision Mobile anticipates rapid growth for both e-commerce and the IoT:
From $655.8 billion in 2014, the worldwide IoT market is set to grow to $1.7 trillion in 2020. This implies the IoT market will grow with a compound annual growth rate (CAGR) of 14.7%, with devices, connectivity and IT services making up the majority of the IoT market in 2020. Modules and sensors alone should by then represent 31.8% of the total IoT market.
It foresees an even more marked growth rate for the IoT developer population:
In a future where any connected object could become a distribution surface and customer acquisition channel for consumables, Vision Mobile argues that:
An unconnected 'thing' is a missed business opportunity.
The report elucidates:
Put simply, connected devices will become the optimum point-of-sale for e-commerce, search boxes and app stores for services, at the ideal place and ideal context of a purchase intent.
Programmatic e-commerce will in future be able to monetize by Cost-per-Action (CPA) in the physical world at the same time as connected appliances deliver an enhanced experience.
This clearly provides opportunities for the IoT devs who programs and interfaces enable it to happen.
---
Deno Supports Built-in Node Modules
02/03/2023
Deno has been updated to add support for built-in Node modules. Deno is the JavaScript and TypeScript runtime from the creator of Node.js.
---
Google's Large Language Model Takes Control
08/03/2023
of a robot. No it isn't Skynet just yet, but it is looking a more likely scenario. Until recently I thought that much of the hype about large language models was just that - hype. Now I'm not so sure. [ ... ]
More News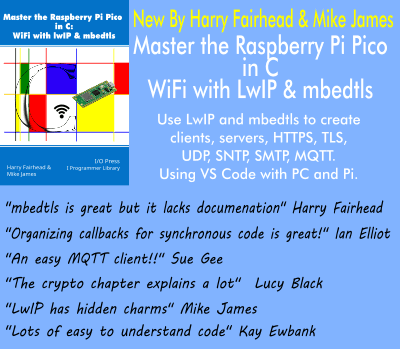 Comments
or email your comment to: comments@i-programmer.info
Last Updated ( Wednesday, 27 January 2016 )