Have Your Say In The Kotlin Survey
Written by Mike James
Friday, 29 November 2019
Kotlin is a young language, but one that is very definitely on the fast track. To help it develop in the right direction, Android and iOS developers who use Kotlin are being asked to take part in the first Kotlin-specific survey.
Kotlin is an open source language, but it was originated by JetBrain and the company continues to oversee its development and to take particular interest in it. Because of this Kotlin was singled out for attention in the 2019 edition of the JetBrains' Developer Ecosystem Survey which asked:
This question was directed at the 6% of survey respondents. (some 360 people) who nominated Kotlin as a primary language and revealed that two-thirds of them (~240) target Android.
Now JetBrain's is asking mobile developers, iOS as well as Android, to answer a few quick questions to help its efforts to improve Kotlin for mobile development.
Andrey Breslav, Kotlin's lead language designer at JetBrain's tweeted:
Mobile developers, we value your opinions! We'd like to have a better understanding of your needs, so we're asking you take this short survey. If you work as an Android or iOS developer, you could really help us out!
The Kotlin for Mobile Developers survey really is a very and as there are no open ended questions it should take no more than five minutes - indeed if you answer "I am not a mobile developers" to the first question then you won't even be asked the other seven questions.
The first question distinguishes between freelancers, companies developing apps for in-house use and those developing for others and has not employed as the fourth option. Next you have to choose a country of residence from an alphabetical list. Next comes a question on the number of developers working on your project on both iOS and Android platforms.
The rest of the questions are app-specific and set out to characterize the app and look at what it involves with two questions, the second of which accepts multiple answers:
Which of the following best describes your app?
The final two require you to make choices on 7-point scales ranging from Not at all important to Very important to the two questions:
How important is it for you that your app UI has a native appearance?
How important is it for you that your app UI has a high performance?
The easy answer is that we want both! The problem being that both imply a high degree of customization for each platform supported.
Mike James is the author of The Programmer's Guide To Kotlin (I/O Press) and Android Programming in Kotlin: Starting With An App (I/O Press).
More Information
Related Articles
JetBrains Survey - Do You Dream Code?
Kotlin Gains A Foundation and A Portal
Programmers Choices and Regrets
Kotlin Enters RedMonk's Top 20
Kotlin - New Language For Android
JVM Ecosystem Report Reveals the State of Java
Why Do Some Languages Always Come Top?
To be informed about new articles on I Programmer, sign up for our weekly newsletter, subscribe to the RSS feed and follow us on Twitter, Facebook or Linkedin.
---
Free Resources For Machine Learning
06/09/2021
A browser extension and two free courses, "Machine Learning with Graphs" from Stanford and "Introduction to Deep Learning" by Sebastian Raschka are three excellent resources for mastering Machine Lear [ ... ]
---
Atlas Does Parkour And The Team Explains Why And How
22/08/2021
You have seen Boston Dynamics robots do amazing things and, yes we have another amazing video. But this time we also have a video which explains some of the techniques and motivations.
More News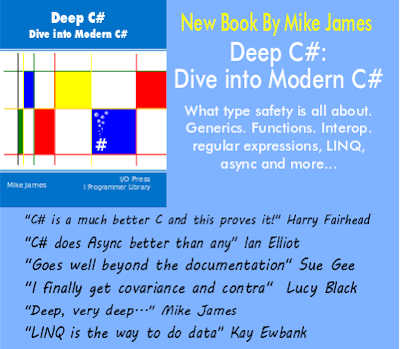 Comments
or email your comment to: comments@i-programmer.info
<ASIN:1871962552>
<ASIN:1871962536>
Last Updated ( Friday, 29 November 2019 )