JetBrains Survey - Do You Dream Code?
Written by Mike James
Wednesday, 19 June 2019
For the third year running JetBrains has conducted its Developer Ecosystem Survey and has reported on some of the answers from 7,000 developers from 17 countries. Here's a look at just a handful of the findings.
The findings revealed that 69% of developers had used JavaScript in the last 12 months and 5% plan to adopt it, this made it the most used overall language. Meanwhile Java was reported to be the most popular solo (i.e. programmers who only used Java) primary language.
Go was designated the most promising programming language as it had expanded its share from 8% to 18% since the first survey in 2017 and now has the largest number of developers wanting to adopt it or migrate to it as shown here:
As well as being in the top three languages, Python had the distinction of being the most studied language with JetBrains reporting that:
27% of respondents have started or continued to learn Python in the last 12 months.
The survey also looked further into Python usage:
With regard to Python versions, JetBrains commented:
Python 2 is dwindling rapidly as 9 out of 10 developers claim to be using Python 3 in 2019. Last year, a quarter were still using Python 2.
and regarding what the language is used for, noted:
Web development and data science are still the two main types of Python development. As Python is reported to be one of the best tools for data science, it's not surprising that the number of Python developers involved in Data analysis and Machine learning is so high.
Certainly from JetBrains findings, Python again emerges as a powerful general-purpose language as we reported earlier this month in relation to the Packt SkillUp Survey.
Being its original and continuing main developers JetBrains is particularly interested in Kotlin, even though it is only nominated as a primary language by 6%. This means that only a subset of some 360 developers answered this question:
which revealed that two-thirds of them (~240) target Android.
JetBrain's Infographic Report includes a Fun section that reports that:
The more people code at work (as a primary activity), the more likely they are to code in their dreams.
While I can't claim to write code while asleep, I frequently wake up with solutions to problems and fresh algorithms ready and waiting to be coded so this finding seems perfectly convincing
More Information
The State of Developer Ecosystem 2019
Related Articles
Survey Results From More Python Developers
Programmers Choices and Regrets
Packt Skill Up Survey Shows Programmers Are Mostly Full Stack
Language Learning Insights From HackerRank 2019 Survey
What Programming Languages Should Students Learn
Stack Overflow Publishes Largest Ever Survey
Kotlin Enters RedMonk's Top 20
To be informed about new articles on I Programmer, sign up for our weekly newsletter, subscribe to the RSS feed and follow us on Twitter, Facebook or Linkedin.
---
.NET Aspire Now In Preview
28/11/2023
Microsoft has previewed .NET Aspire, which they describe as stack for building observable, production-ready cloud-native applications. Aspire is included as part of .NET 8.
---
AI Ready - Certification From Amazon
29/11/2023
Amazon aims to provide free AI skills training to 2 million people by 2025 with its new 'AI Ready' commitment. Building on its existing scholarship program with Udacity, next year Amazon is [ ... ]
More News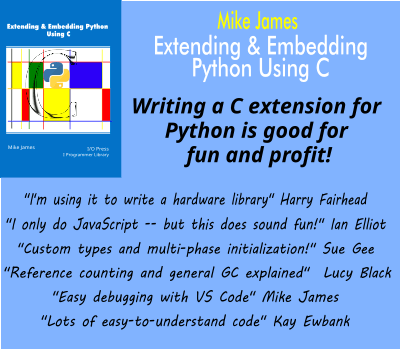 Comments
or email your comment to: comments@i-programmer.info
<ASIN:1871962587>
<ASIN:B07S1K8KLW>
<ASIN:1871962536>
<ASIN:1871962544>
Last Updated ( Wednesday, 19 June 2019 )