Haskell Foundation Launched
Written by Sue Gee
Thursday, 05 November 2020
Launched at this week's Haskell eXchange online event, the newly formed Haskell Foundation has been established as a non-profit dedicated to broadening the adoption of the Haskell programming language.
Haskell is named after the logician Haskell Brooks Curry (1900-1982), who has the, perhaps unique, distinction of having for all three of his names used by programming languages, as well as the concept of currying.
According to Wikipedia, Haskell is:
a general-purpose, statically typed, purely functional programming language with type inference and lazy evaluation. Developed to be suitable for teaching, research and industrial application, Haskell has pioneered a number of advanced programming language features such as type classes, which enable type-safe operator overloading. Haskell's main implementation is the Glasgow Haskell Compiler (GHC).
The launch announcement of the Haskell Foundation came from Simon Peyton Jones, a major contributor to the design of Haskell and lead developer of the, open source, Glasgow Haskell Compiler who introduced it as:
an independent, non-profit organization dedicated to broadening the adoption of Haskell, by supporting its ecosystem of tools, libraries, education and research.
Referring to the nascent foundations principles and ethos, he listed:
Empowering the community, NOT taking over, still less replacing, existing groups. Rather supporting them to be more effective.
Open friendly and diverse
Transparent
Open source
True to Haskell's principles. Success yes, but not at all costs
and makes the point that is is open to the whole Haskell community and that everyone is invited to engage with it, influence it and contribute to it:
Giving advice on how to do this, Jones directs us to the website:
with the instructions to stay informed by subscribing to a mail list that will provide feedback on progress or, for a more active role to a discussion group and to nominate members for the foundation's board of which Jones is the Chair.
Another part of the announcement revealed that the Haskell Foundation already has over $200,000 in funding for its first year with sponsors including GitHub, Obsidian, Skills Matter, Tweak and Well Typed. The donor of the largest amount ($125,000) is the blockchain engineering company, IOHK. Its CEO, Charles Hoskinson, said:
"IOHK believes in the power of functional programming, open-source software, and open governance. As a result, our sponsorship and continuing support of Haskell is a no-brainer. We are delighted to be able to join other key companies in supporting the future growth and adoption of Haskell."
So will this the new foundation achieve its goal of increasing the use of Haskell? Time will tell. Meanwhile here's one wry comment that pre-dates it by quite a while: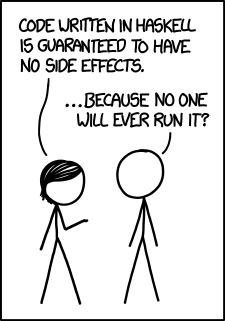 More cartoon fun at xkcd a webcomic of romance,sarcasm, math, and language
More Information
Related Articles
Haskell From the Very Beginning (Book Review)
To be informed about new articles on I Programmer, sign up for our weekly newsletter, subscribe to the RSS feed and follow us on Twitter, Facebook or Linkedin.
---
Microsoft's Generative AI for Beginners
21/11/2023
A free, self-paced online course about Generative AI is on offer from Microsoft's Azure Cloud Advocates. It's a 12-lesson curriculum targeted at complete novices to LLMs.
---
Apache Kyuubi 1.8 Adds Web UI
20/11/2023
Apache Kyuubi 1.8 has been released with improvements including a new experimental Web UI and a new chat engine with OpenAI ChatGPT backend.
More News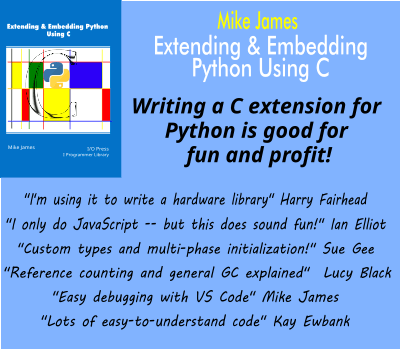 Comments
or email your comment to: comments@i-programmer.info
Last Updated ( Thursday, 05 November 2020 )