Random Gifts For Programmers
Written by Lucy Black
Sunday, 19 December 2021
Not really random. Not even pseudo random, more stuff that caught my attention and that I, for one, would like to be given. And, yes, if I'm not given them, I'd probably buy some of these.
I Programmer gets a very small reward if you place an order using the links in this article, but this has in no way affected our choice - there are just far too many to pick from!
These are great! They are coasters in the form of 3.5 inch diskettes and they are great for nostalgia seeking programmers. Actually, if you remember using, them then putting a hot cup of coffee down on one makes your heart skip a beat as you think of all that data at risk - well not that much data actually. If you don't remember them then just ask one of the "old guys" and they will regale you with tales of the 5.25 inch floppy - now that was a real floppy - or perhaps even the 8 inch floppy, which was even floppier. If your really lucky then they might get on to 1 inch tape and ...
Click for more information.
Whenever I go to a conference or a code-in I always feel that my portable doesn't have enough stickers and I'm consistently out ranked by my fellow attendees. This gift solves the problem and I can see several language stickers I'd use straightaway. The rest I can give away to all my colleagues with different tastes to mine...
Click for more information.
We already have a whole item devoted to t-shirts but this caught my eye and struck a chord:
If you know of a newly initialized programmer, or its system administrator, who deserves a present, then what could be better than:
Click for more information.
Available in a range of colors and sizes and if you include some stickers from the previous present customization is possible!
Cats! Programmers and cats go together, as is a well-known fact. Perhaps it's because we love they way they generate random key presses in the middle of our finely crafted code while sitting on the keyboard. Perhaps it's because we like the way they imitate the programmer's "cut above the others" attitude and are cool, collected and indifferent' no matter what the world throws at them. So what better than a catty calendar/ planner/ notebook - paper based, that is? What, you don't know what paper is!? You need to get outside more...
Click for more information.
And if cats don't hack it for you, although I can't imagine that, then why not a bug/feature planner with dotted grid paper so you can draw icons, sprites and flowcharts - what's a flowchart? The answer to the previous trick question is that paper is like an external drive for humans.
Click for more information.
If you have to work in a cold office, or home, then what about a pair of heated mittens. They are USB-powered and while they won't defrost a turkey if you start with warmish hands they will keep them warmish. You can still type because your fingers stick out the end.
After all these novelty items I have a serious suggestions, something that was new to me when I was given one recently - a magnetic USB cable. If you have any sort of micro USB charging needs then you will probably struggle to plug the lead in and you will have worried about the eventual destruction of the USB socket due to frequent plugging and unplugging. I had to have my fave tablet repaired simply because I could no longer get a good connection to recharge it. A magnetic USB cable has a small plug that you insert into the USB socket and leave it there. The cable has a magnetic end and this snaps onto the plug as soon as you bring it near. To detach you simply turn the cable a bit to weaken the magnetic attachment and it comes free. No more plugging and replugging. There are lots of different types which come in different lengths and different types of plug:
Click for more information.
Finally I can recommend a monthly subscription to Amazon Music Unlimited - I know that this isn't as popular as some other music streaming services, but I'd already uploaded my CDs to Amazon MyMusic and now I don't buy CDs very often because Unlimited has just about everything I want to listen to. I'm a contemporary classical music fan and I have to admit that Unlimited isn't geared up for classical music, but tell me a streaming service that is. I get my quota of Philip Glass, John Adams, Steve Reich, Arvo Pärt and many I'd never heard of, without any problems, and I can search Amazon as if I was about to buy a CD and in most cases simply stream it without having to buy it. The price is $9.99 per month but there's currently an offer of 3 months free to try it out. Or go for a 30-day free trial of Prime Music.
Programmers run on beverages and its the norm to keep ypu own mug in the office (or in your home office). In addition to those recommended in Ten Programmer's Mugs here's one that seems suitable:
Related Articles
A Tee Is Not Just For Xmas - Ten Top Tees
The Art Of Computer Programming Progresses - A Great Present
Programmer Gifts - Pi For Xmas
To be informed about new articles on I Programmer, sign up for our weekly newsletter, subscribe to the RSS feed and follow us on Twitter, Facebook or Linkedin.
---
MongoDB 7 Adds Queryable Encryption
04/09/2023
MongoDB 7 has been released with full support for encrypted queries and easier management of Atlas Search indexes.
---
GitHub Enterprise Server 3.10 Improves Security


01/09/2023




Version 3.10 of GitHub Enterprise Server, the self-hosted version of GitHub that organizations can install on their own servers, has been released with improved security and compliance controls.

[ ... ]

More News
Summer SALE Kindle 9.99 Paperback $10 off!!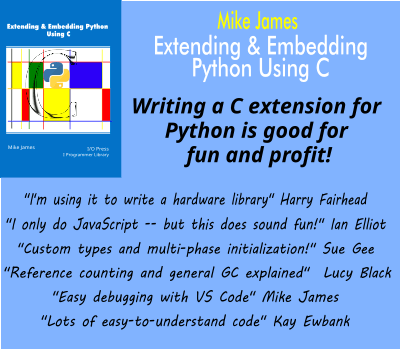 Comments
or email your comment to: comments@i-programmer.info
Last Updated ( Sunday, 19 December 2021 )